19 September 2023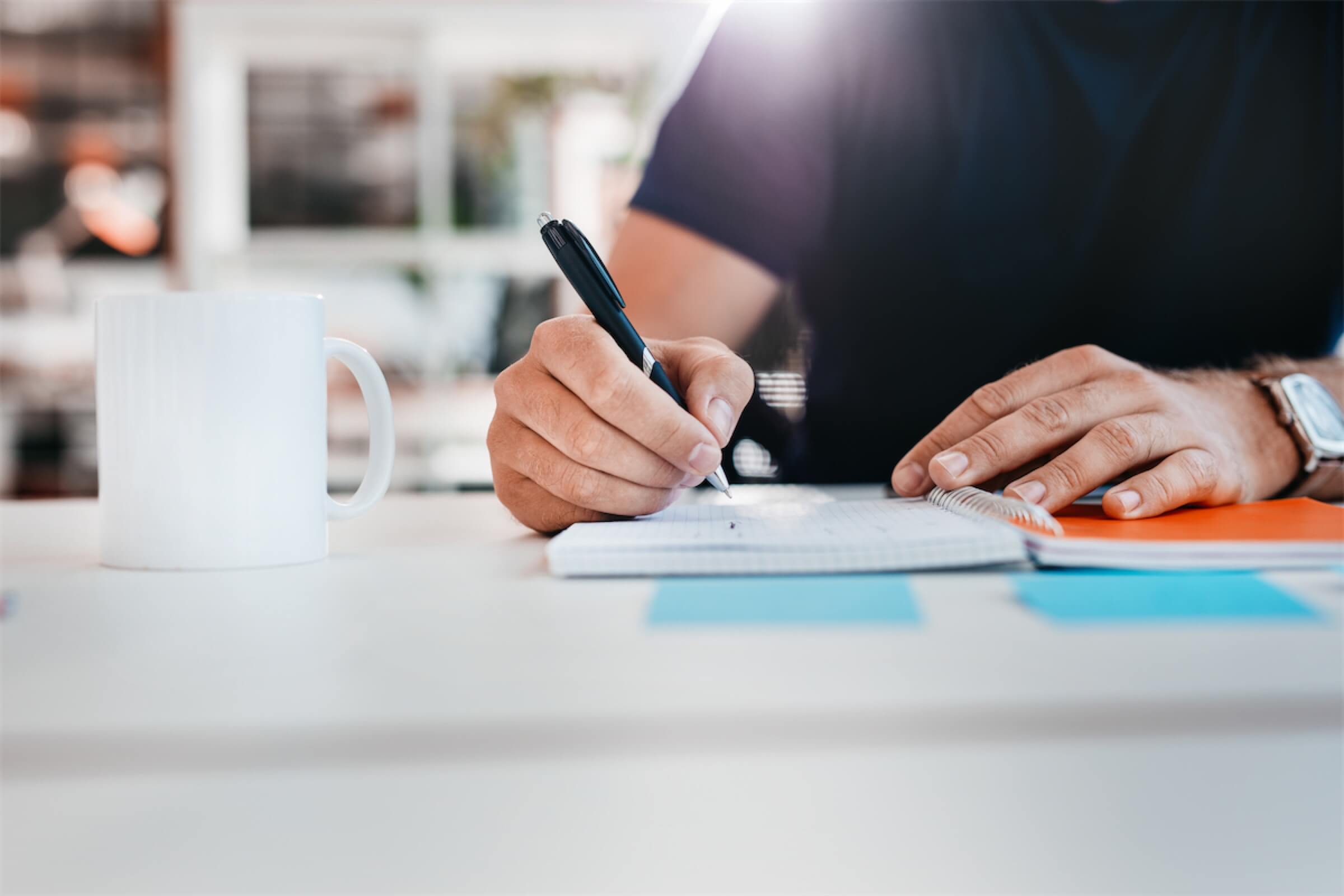 The cost of living is high in Singapore. There are times when we inevitably run into money problems and need cash to tide over difficult periods. For some, it could be money needed to last until their next payday, more money for their wedding, home renovation, or for a financial emergency. According to the Credit Bureau Singapore (CBS), it has become routine for Singaporeans to take on multiple loans.
There are a few ways you can borrow money. Getting a personal loan from bank is one of the more conventional options. Banks in Singapore take days to process your loan application as they have many administrative processes. In unfortunate situations, your loan application might even get rejected because of your income level or because of your credit score! 
Learn more about what might cause your personal loan application to be rejected here. 
An alternative to dealing with your financial emergency and problem might be applying for a loan with a licensed money lender in Singapore. We share more about them in this article. 
What Is A Licensed Money Lender In Singapore? 
Most Singaporeans might have heard about licensed money lenders. Are they loan sharks? Are they legal?
Well, licensed money lenders in Singapore have to pass through stringent checks by the Ministry of Law and have a huge paid-up capital. They provide another option for Singaporeans and foreigners who need money urgently, often offering greater flexibility, and faster processing time.
Applying For A Loan In Singapore From A Licensed Money Lender In Singapore
How Much Can I Borrow From A Money Lender?
Banks and licensed money lenders in Singapore offer both secured and unsecured loans. In general, secured loans have no cap in the loan amount, but will require you to provide collateral. Unsecured personal loans however have varying amounts you can borrow. 
Here's how much you can borrow from a licensed money lender for an unsecured loan: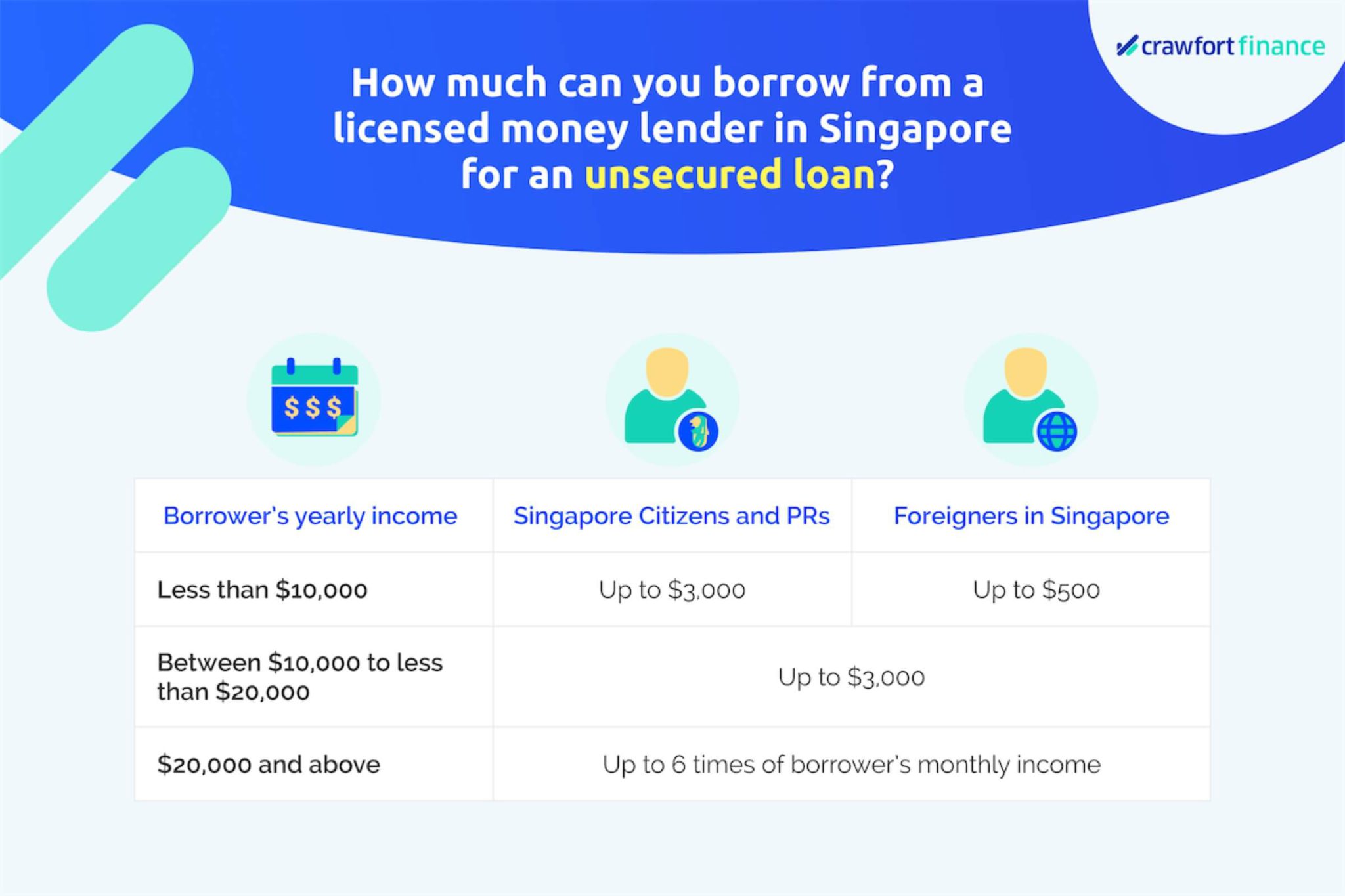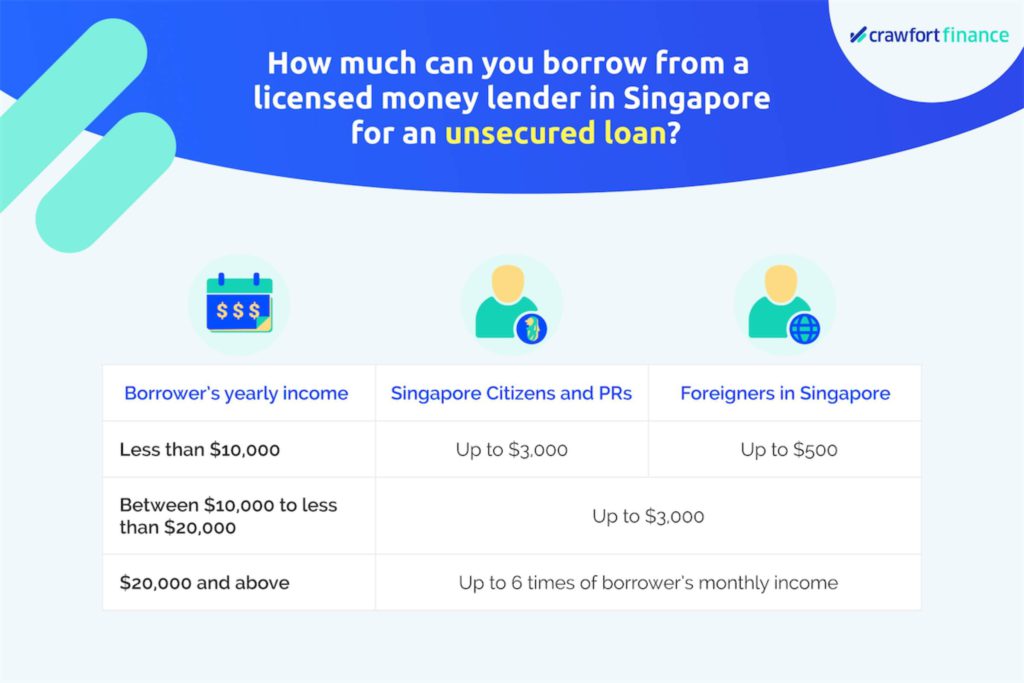 Licensed money lenders such as Crawfort offer unsecured loans, processed and approved in under 8 minutes. So if you're looking for a quick loan, they are usually your best bet. 
What Do I Need To Provide When Borrowing From A Licensed Money Lender In Singapore? 
To apply for a loan, you will be required to provide the following:
Full name
Date of birth 
Personal identification number
Nationality
Residential address
Email 
Contact number 
Loan amount required 
Surety
Payslips / income tax statements / proof of income for 3 months 
What Are The Fees Licensed Money Lenders In Singapore Can Charge?
Will I Be Charged Exorbitant Interest Rates? 
We have all heard horror stories about loan sharks charging extremely high-interest rates and harassing friends and families. 
Well, rest assured that licensed money lenders are not allowed to do that! There are regulations licensed money lenders have to abide by. For example, the maximum a licensed money lender in Singapore can charge is 4% interest per month for the loan amount. This interest cap applies for all loans, regardless of your income or the type of loan. 
What About Late Repayment Charges?
If you fail to make punctual repayments, licensed money lenders are only allowed to charge a maximum of 4% per month for each month of late repayment. 
For example, let's say Mr Lim takes up a personal loan of S$20,000 with a licensed money lender in Singapore. If he has repaid S$5,000, only the remaining S$15,000 can be calculated for interest.
Unknown to many, late interest can only be charged on the amount that is repaid late. Late interest should not be charged on the entire loan amount. 
In this case, if Mr Lim took on a loan of S$20,000 and failed to make the first repayment of S$2,500, the lender may only charge late interest on the S$2,500, and not on the remaining S$17,500 that is due. 
Are There Other Fees That I Should Take Note of?
Licensed money lenders in Singapore may impose certain fees such as administrative fees, late interest, and late fees among many others.
However, it's important to note that the total charges, consisting of interest, late interest, upfront administrative, and late fees cannot exceed the principal loan amount. If you're taking a loan of S$3,000, the interest, late interest, 10% administrative fee, and S$60 late fee cannot exceed S$3,000.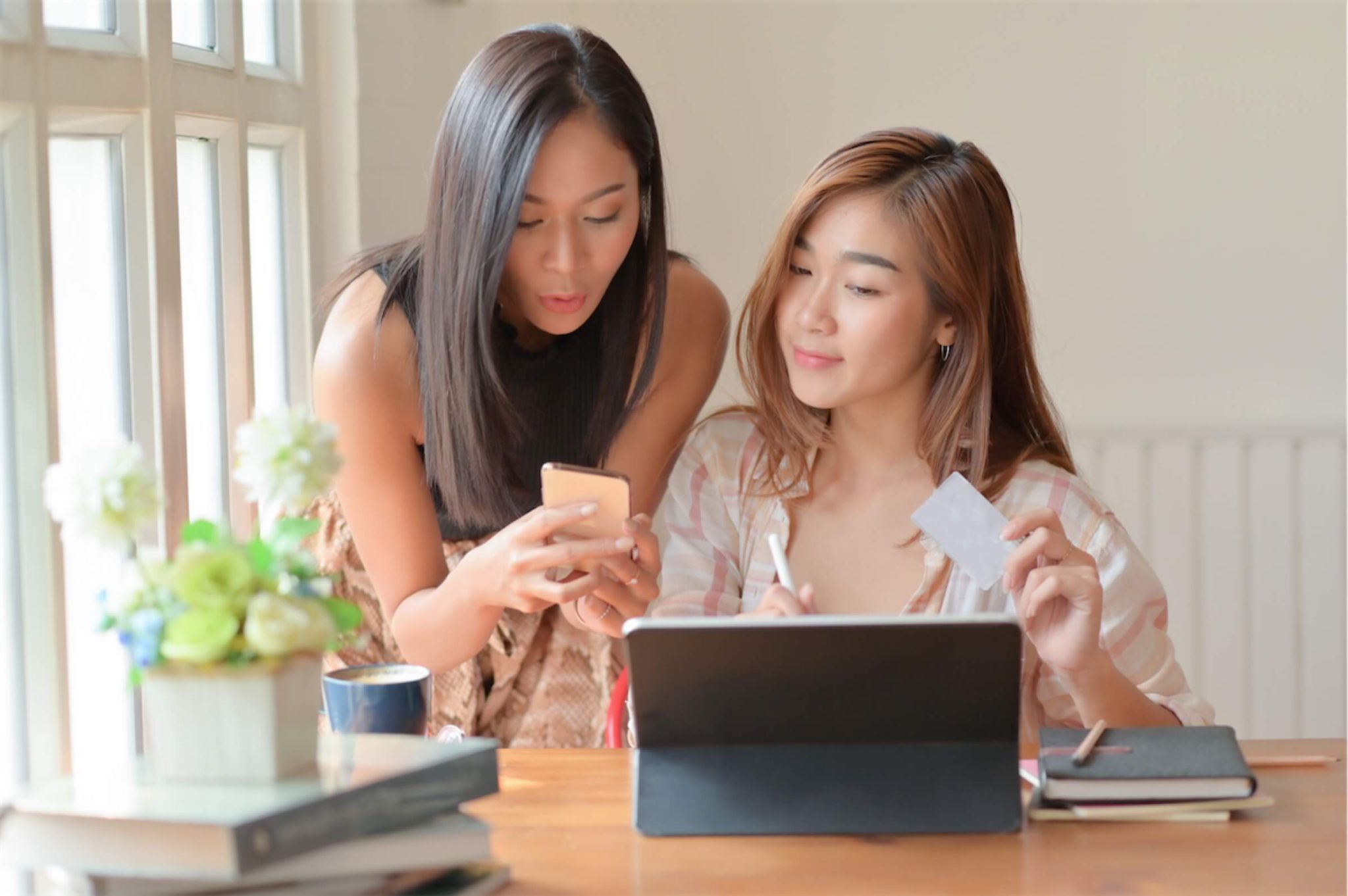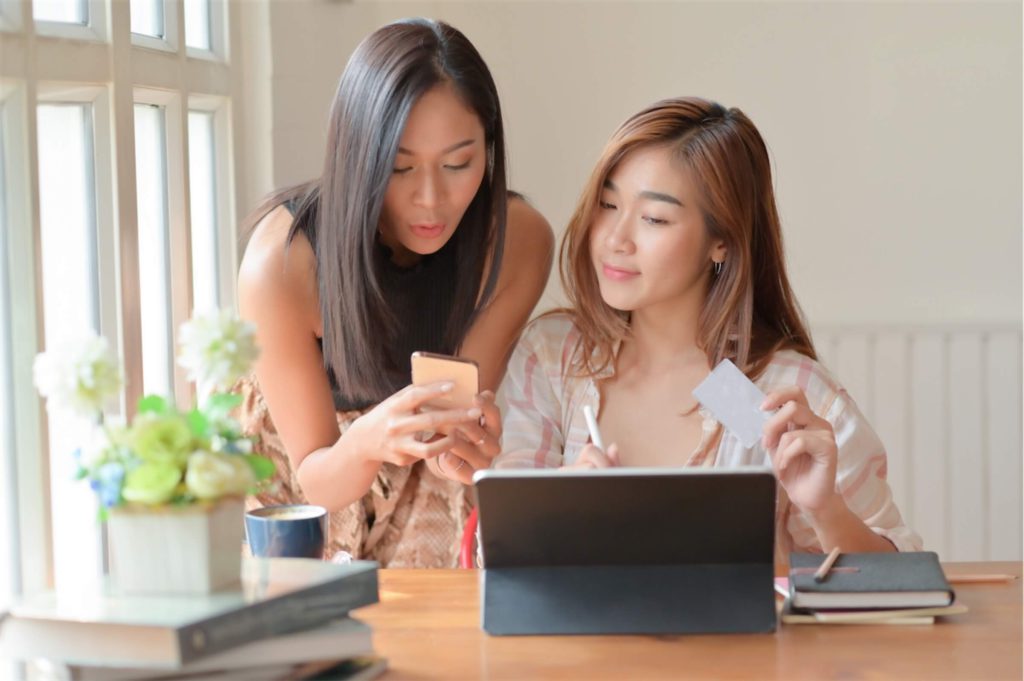 What Money Lenders Must Inform You 
Before Signing The Loan Contract
Contracts are legally binding. Before you sign anything, it's best to make sure that all of the information is correct. 
Before giving you the loan, licensed money lenders in Singapore have to provide the nominal interest rate, late interest charges, other chargeable fees, and instalment payment details in writing. All of these should be stated clearly! If you are confused, you should check with them and clarify your doubts quickly. 
Other information money lenders will provide is the warning signs of offensive lenders and where to lodge a complaint when needed. 
What Happens After My Loan Is Approved? 
Once your loan has been approved, they will disburse the correct principal amount. One rule is that they can only deduct up to 10% upfront as the loan approval fee, nothing more than that. 
As stipulated by the Ministry of Law, licensed money lenders are not allowed to disburse loans without physical face-to-face verification. If they do so, they are likely illegal. With a licensed money lender, you'll have to go down to their office to collect your approved loan in cash or cheque. 
After getting the money, do remember to get a copy of the loan agreement. Whenever you make a repayment, make sure to get a receipt or an official letter of proof. 
Top 3 Common Loan Scams In Singapore To Watch Out For
Today, more and more are becoming victims of loan scams in Singapore. Sadly, these unethical organisations have been cheating people of their hard-earned money.
As a borrower, you have to be alert when applying for a personal loan. You don't want to fall into the trap of loan scams. Here are some tips to look out for:
What to look out for
Illegal Lenders
Licensed money lenders
Soliciting loans
– Send texts or WhatsApp messages to you offering loan services
– Prohibited from soliciting loans via texts or WhatsApp messages
 – Can only advertise through 3 channels:
1. Business or consumer directories (in print or online media)
2. Websites belonging to them
3. Advertisements placed within or on the exterior side of the wall, door, shutter, gate, or window of the approved place of business 
Direct transference
– Disbursing loan without a physical face-to-face verification
– Require borrowers to make a trip to their physical outlet for face-to-face verification.
Upfront fees
– Tell you to transfer a certain amount of money over before granting the loan
– Will never ask you to pay fees upfront
– Upfront processing fees will be deducted from the loan instead
Don't allow yourself to fall victim to illegal organisations. Learn more about loan scams here. You can also protect yourself by cross-checking with the Ministry of Law's list of licensed money lenders in Singapore. 
Learn more about the difference between an unlicensed and a licensed moneylender here. 
Unable To Pay A Money Lender in Singapore? What Do I Do If I Can't Pay Back My Loan? 
Sometimes, unexpected problems may occur. If you run into problems while repaying your loan, be honest with your lender. These financial institutions are often flexible and willing to listen and lend a hand. You can try to negotiate for a loan extension or a refinancing plan. 
If you can't repay your debt on time, there are a few things you can do to prevent legal actions against you. Read about them here. In worst-case scenarios, do note that licensed money lenders have the legal right to sue borrowers. 
Who Do I Look For If I Am Harassed Or Threatened By A Licensed Money Lender? 
Contact the Registry of Moneylenders at 1800-2255-529 or lodge a complaint online here. 
There are many things a licensed money lender in Singapore cannot do when collecting debts. It's good to educate yourself on what is legal and illegal when borrowing from a licensed money lender in Singapore.
Looking for a personal loan? We can tailor our loans specifically to your needs. Reach out to us to understand more about our commitment to responsible lending.