15 June 2020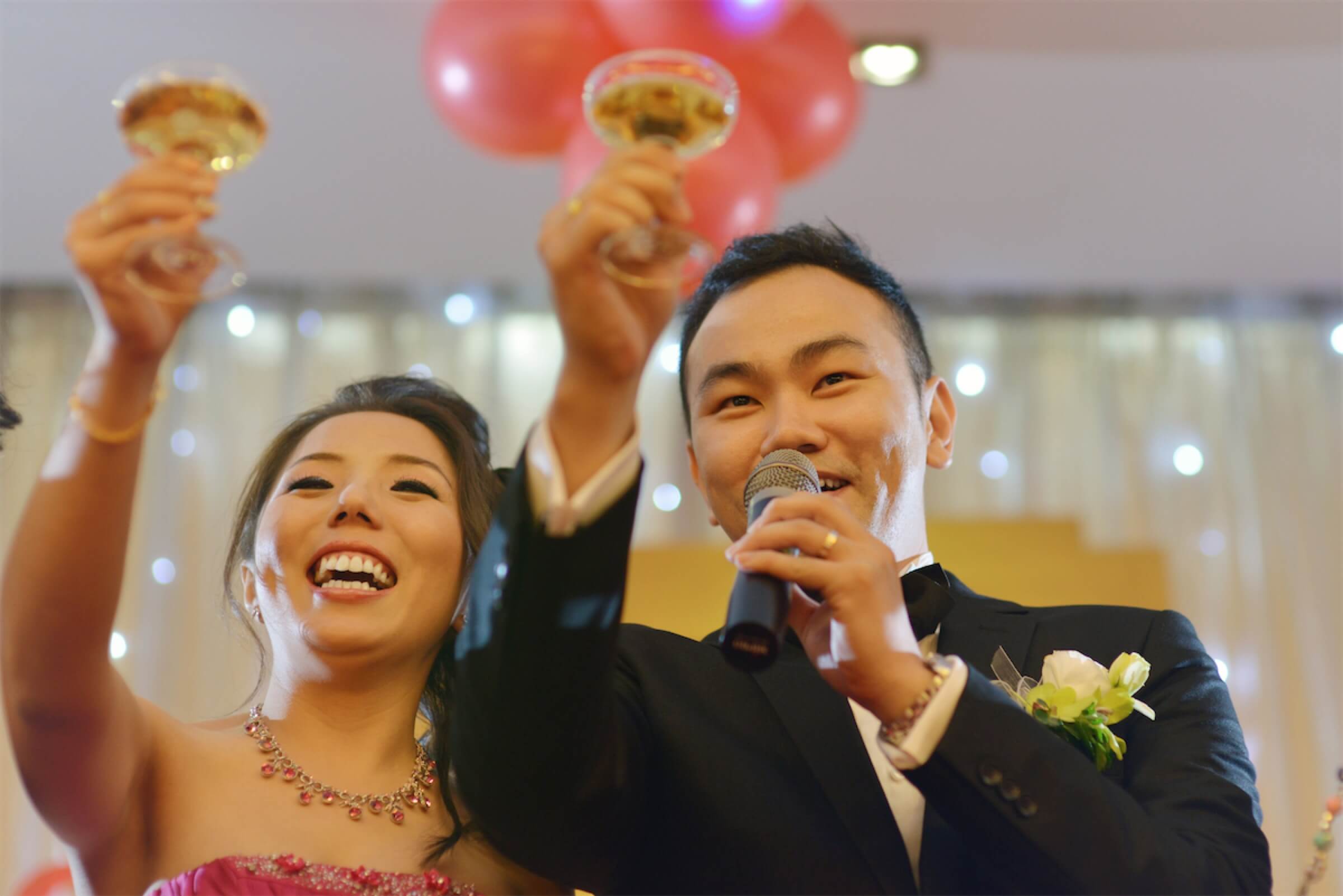 Your wedding day is undoubtedly one of the most important days of your life. If you've been saving diligently after meeting "the one", kudos for planning in advance! However, it may be the case that your savings still aren't enough to cover the costs of your dream wedding. 
To help you along on your journey, we share some tips on how to reduce your wedding expenses, as well as how a personal loan in Singapore can help. 
Learn how Singapore's fastest growing micro financing company can help make your big day a reality.
How Much Can A Wedding In Singapore Cost? 
If you're planning or getting ready to tie the knot, chances are that it won't be cheap. Like most things in Singapore, weddings are costly. In fact, weddings typically cost more than what people expect—a wedding in Singapore has an average cost of S$40,000 in Singapore. If you want a really glamorous wedding, it can cost up to S$100,000. 
There are lots of cost items within a wedding budget. Here are the common ones for a wedding in Singapore.
| | |
| --- | --- |
| Component | Cost |
| Solemnisation ceremony | S$1,000 to S$5,000 |
| Wedding banquet in a hotel | S$18,000 to S$40,000 |
| Bridal package | S$3,000 to S$6,000 |
| Wedding photography  | S$2,500 to S$4,000 |
| Miscellaneous (e.g. red packets) | S$1,000 to S$2,000 |
Source: Value Champion
Typically, your largest expenditure would be for the wedding banquet and bridal package. If you want these extra fancy, don't be surprised that they will cost a bomb.
3 Ways To Reduce Your Wedding Expenses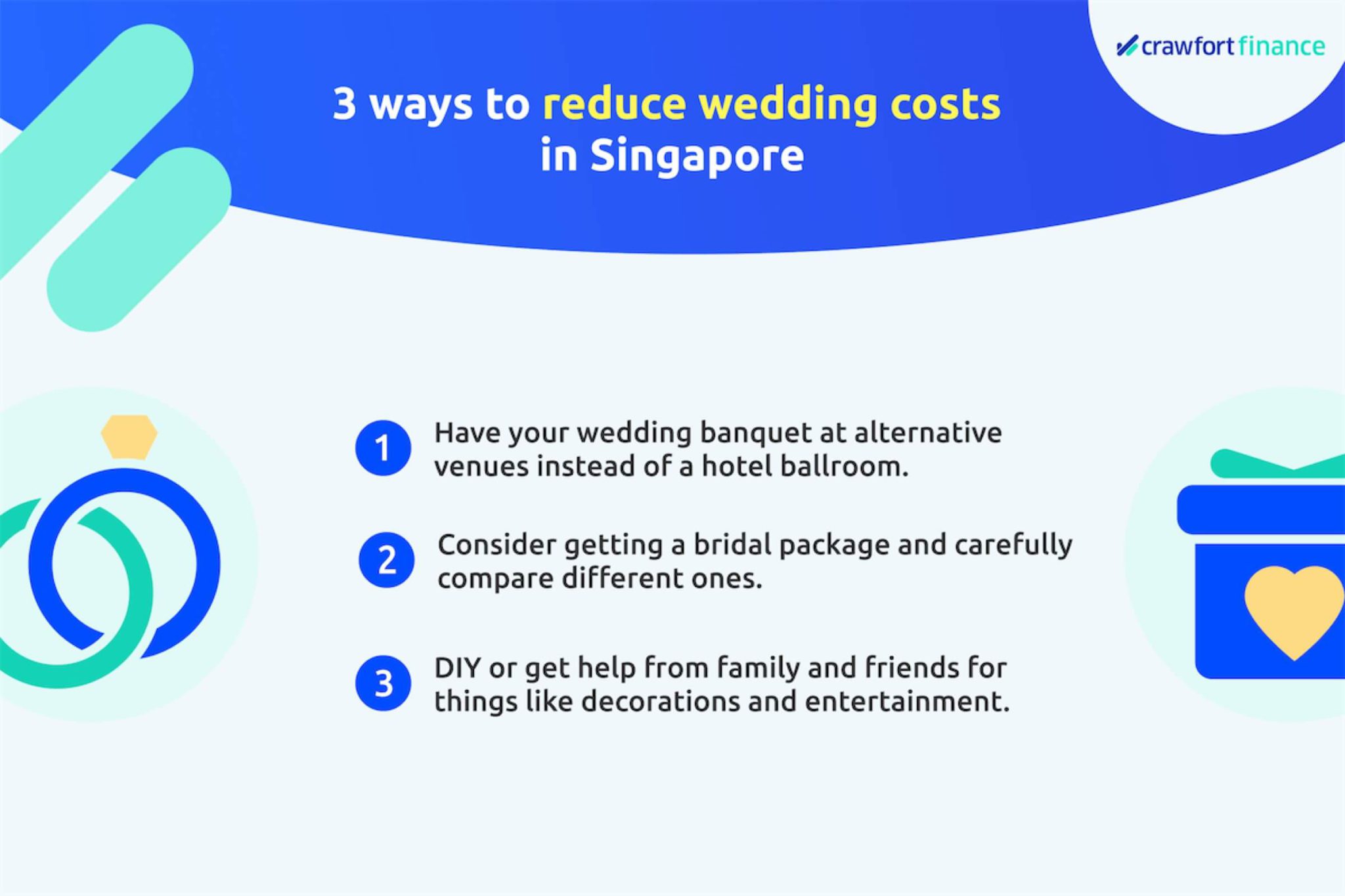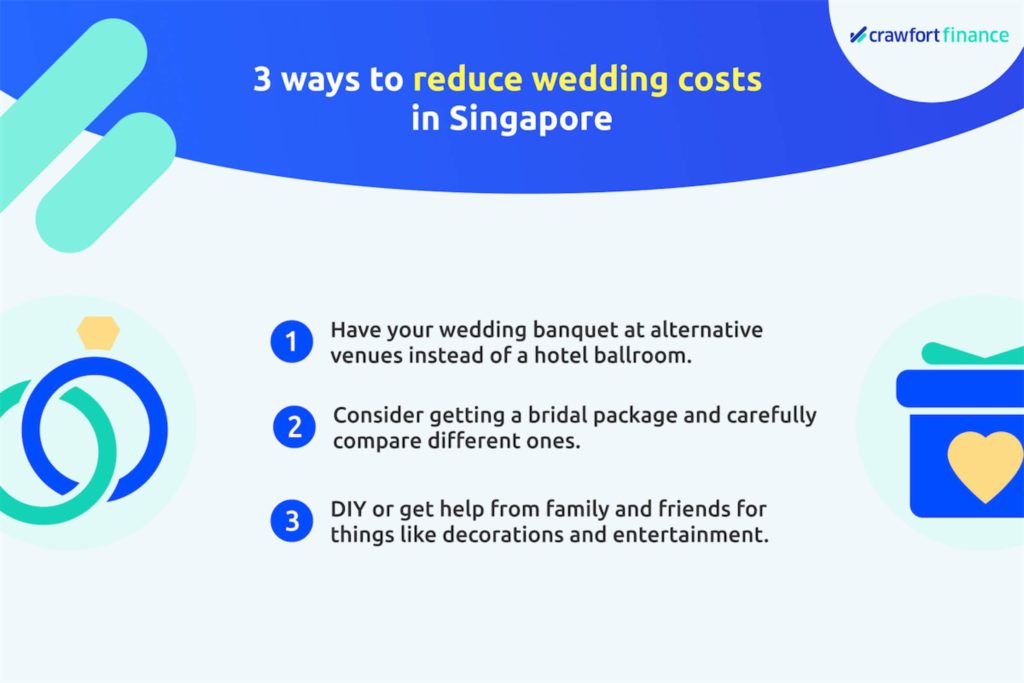 You probably have a vision of how you want your wedding to be, and it's understandable that you don't really want to compromise on certain aspects. However, many couples have the tendency to get carried away when spending on their wedding.
Thankfully, there are many ways that you can cut down on expenses without scaling back too much on your dream wedding. Apart from reducing your number of guests, here are 3 ways you can reduce your wedding expenses and keep within your budget. 
1. Pick An Alternative Venue Or Unconventional Location Instead Of A Hotel Ballroom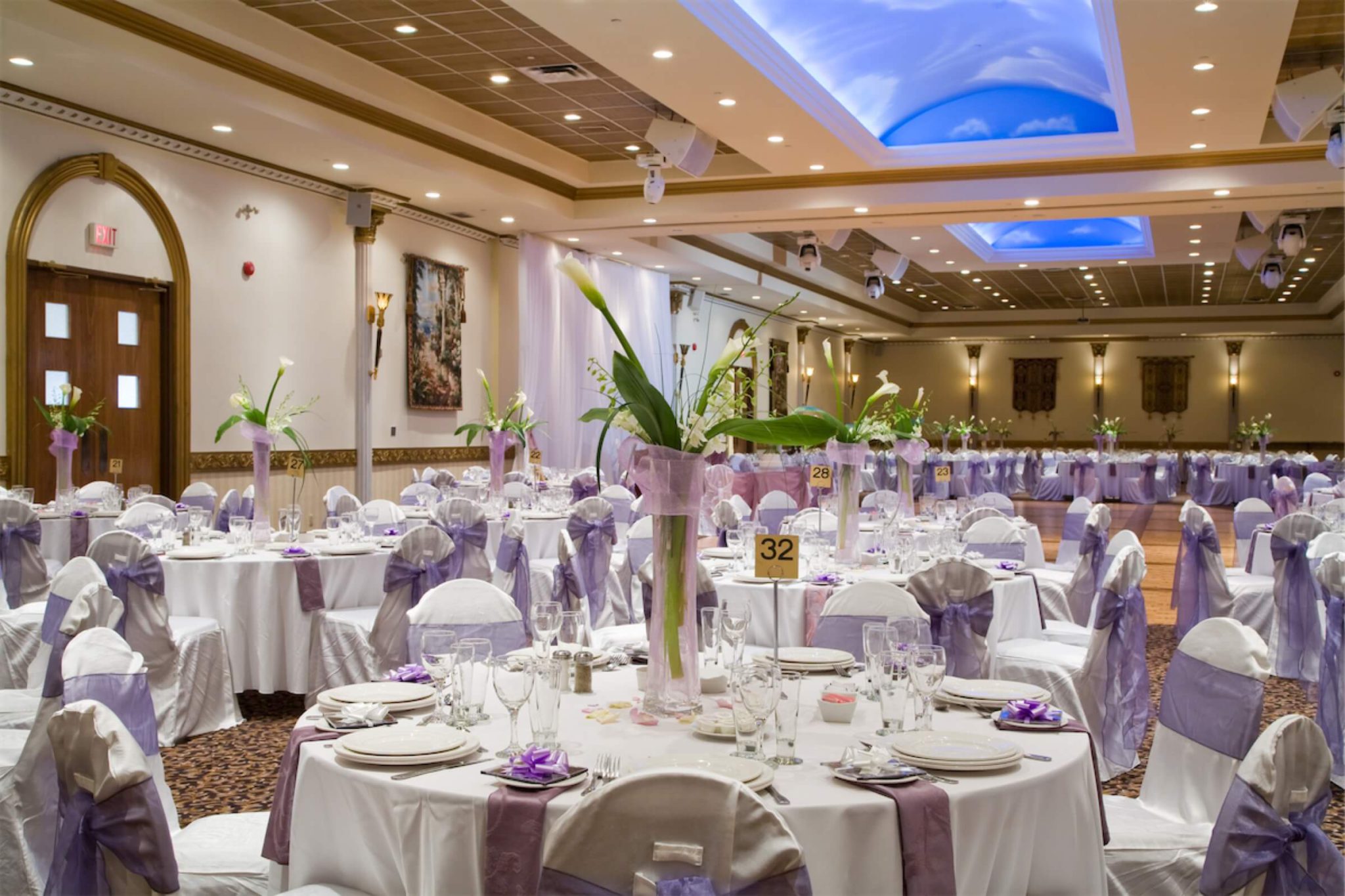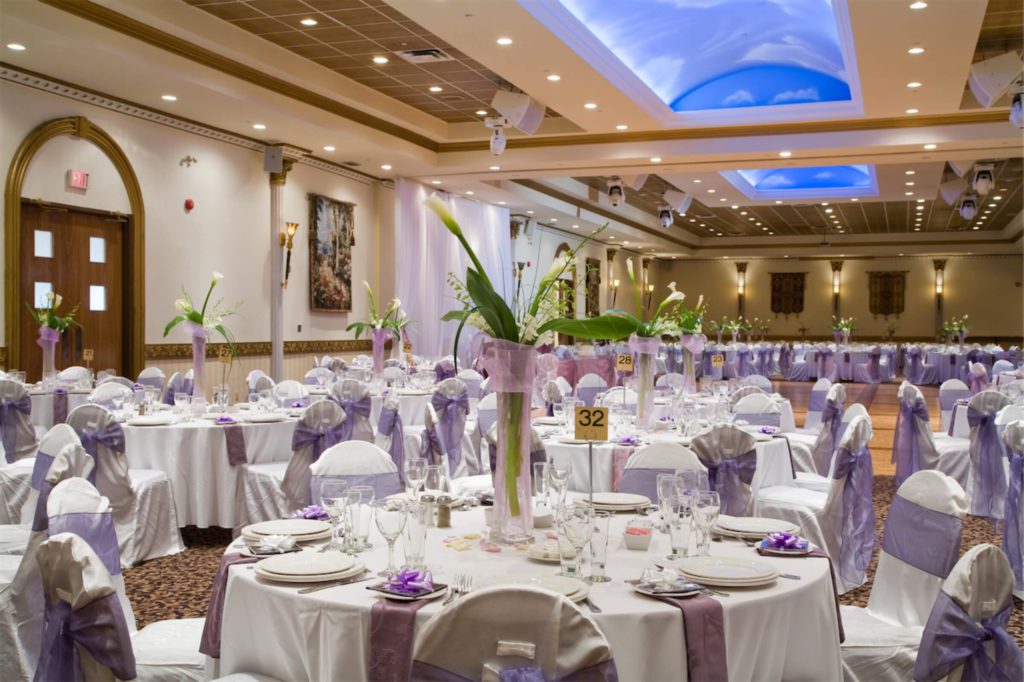 One of the best ways to cut down on wedding costs is to target the component you'll be spending most of your money on: your wedding banquet! 
Depending on the exact venue you choose, 5-star hotel wedding venues can begin at about S$200 per pax. However, many couples these days are opting for alternative venues or unconventional locations such as restaurants, event halls, and parks instead of hotels. Not only will these options be potentially cheaper, they offer something different for your guests too—who may enjoy a different kind of venue for a change.
If your parents are more traditional and insist on hosting your wedding in a hotel, you can go for 3 or 4-star hotels, or a boutique hotel to save on cost. 
You can also hold the solemnisation ceremony just before the banquet to skip the lunch reception. Choosing to host your wedding on a weekday (instead of a weekend) can also save you money. 
Just remember to keep an open mind!
2. Consider Bridal Packages And Carefully Compare Them
Bridal packages are popular as they're often one-stop solutions. 
A bridal package can include a wedding gown, suit rental, photography (pre-wedding and actual day), hair styling, and makeup services. It might make the most sense to get a bridal package since engaging different vendors for different services can easily burn a hole in your pocket. 
That said, make sure you do your research and carefully compare different bridal packages out there. Also, bridal studios typically provide you with a comprehensive list of things you want in your package for you to tick off. Be selective and make sure to include only what you really need, as well as switch any items if needed.
If you wish to go ala-carte for your gown because you want a specific style for your gown, note that this will be more expensive. Renting a gown starts from about S$600, whereas the starting price of customising your own gown is double that.  
In addition, you can consider getting a wedding planner. While most think that doing so will only increase your wedding expenses, it might not necessarily be the case. Wedding planners usually have their own network of vendors that can offer discounts, and could help you save especially if you're planning a large-scale wedding. 
3. DIY Where Possible Or Get Help From Family And Friends 
Why not save on things such as wedding decor and entertainment expenses by taking care of it yourself? Do you have friends or family members who have artistic flair, musical talent, or are passionate about photography? It might be a good idea to request favours from them. 
Your friends or family members may be more than happy to help, and may even be thankful for the opportunity to flex their talent! With all your loved ones helping out on your big day, this would be a great opportunity for them to have some quality bonding time.
What Are The Benefits Of Taking A Personal Loan In Singapore For Your Wedding?
Weddings are a costly affair. Even if you've decided to try your best to cut down on cost, you may still find yourself having not enough. If you find yourself in such a situation, taking a personal loan in Singapore could help.
Personal loans are a fast and easy way to get some extra cash when you have to pay for deposits or cover expenses quickly for a wedding. 
Let's look at some of the key benefits of taking out a personal loan in Singapore for your big day.
1. You Won't Have To Borrow From Family Or Friends 
As close as you may be with your loved ones, you may have reservations about borrowing money from them for the wedding. After all, you might not want to place a financial burden on them, or you might have a personal principle of not borrowing from family or friends.  
Whichever the reason, you can have peace of mind by borrowing from a licensed money lender in Singapore instead. 
2. You'll Have A Greater Sense Of Autonomy Over Your Wedding
Most of us want to have a substantial say in how our wedding turns out without feeling like we need to give in to the preferences of family or friends.
Knowing that you're fully responsible for financing your wedding gives you the sense that you're in charge of your special day. This will give you and your spouse-to-be a better frame of mind to plan and execute your big day, without feeling obligated to submit to requests from friends or family.
3. Making Your Wedding A Truly Special Day
Having sufficient finances for your wedding can give you the chance to plan for and realise your dream wedding. This will make for a wonderful and unforgettable experience that you would look back on with a smile for many years to come.
4. Saving Funds For More Important Or Unexpected Matters
Some people have sufficient cash for their weddings, yet they choose to take up a personal loan instead. Why is that so?
Having reserve funds and savings is essential, especially when it's impossible to predict what may happen in the future. 
Thus, taking up a personal loan in Singapore so that you have extra cash available might be a better option than emptying your bank account.
Learn more about how a personal loan can help with your wedding expenses here.
Still wondering if you should take a personal loan for your wedding? Here are some things to consider. 
What Are The Requirements For Taking A Personal Loan In Singapore?
Open to the idea of taking a personal loan in Singapore for your wedding? Here are some criteria to meet when borrowing from a licensed moneylender in Singapore.
You can also read about what to consider when borrowing from a licensed money lender.
Age And Income
Firstly, you'll need to be at least 21 years of age.
If you're a Singapore Citizen or PR, you can borrow up to 6 times your monthly salary—provided you earn at least S$20,000 annually. If you don't meet this income requirement, you can borrow up to S$3,000.
Citizenship
Foreigners in Singapore can also borrow from licensed money lenders. You may be required to submit additional documents such as your passport, valid employment pass, and bank statements.
As shown in the table below, you can only borrow up to S$500 if you earn less than S$10,000 annually.
| | | |
| --- | --- | --- |
| Annual Income  | Singapore Citizens and PR | Foreigners living in Singapore |
| Less than S$10,000 | Up to S$3,000 | Up to S$500 |
| Between S$10,000 to less than S$20,000 | Up to S$3,000 | Up to S$3,000 |
| At least S$20,000 | 6 times monthly income | 6 times monthly income |
Employment 
Naturally, licensed money lenders in Singapore want to know if you're capable of repaying your personal loan. As such, you also need to show that you're earning a steady income. This can be proven through your income tax statement or payslips.
Creditworthiness
A licensed money lender in Singapore will also look at your creditworthiness. They can do so by accessing your credit report from the Moneylenders Credit Bureau (MLCB), which will contain information like your active loans and how regularly you make payments. This will help the licensed money lender determine whether you are creditworthy, and if you're a feasible candidate to loan to.
Keen on taking out a personal loan for your big day? Crawfort can offer one that's tailored to your needs.