8 December 2023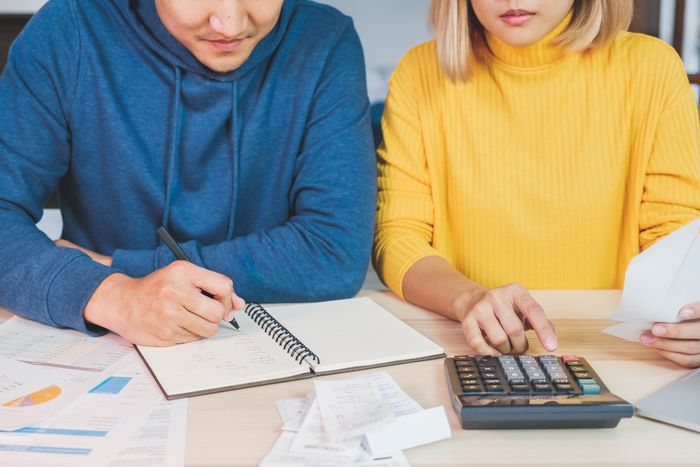 Taking personal loans in Singapore can be something worth considering. This is essential to help you reach your financial goals.
Before applying for a low interest personal loan in Singapore, let's explore more about it. Let's find out whether or not it can cater to your needs and help you achieve your goals.
What Is A Personal Loan?
A personal loan is an unsecured fast cash loan in Singapore. It's "unsecured" because it's not bonded to collateral — a house, for example.
This means that the lender doesn't possess the right to seize your assets when you're unable to pay back the loan.
Conversely, the common "secured" loan is a mortgage loan, in which the lender is capable of seizing your assets when you fail to pay your debt.
Still unclear about a personal loan? Learn more about how it works here. 
How Does Personal Loan Work In Singapore?
Taking a personal loan means that you will receive a lump sum of money first based on the approved loan amount.
When it comes to repayment, it does not only stop by paying just the lump sum. Interest and other fees are also included. The total amount of money must be repaid within a specified time period by your lender.
Most personal loans such as personal instalment loans have fixed interest rates and repayment periods. This simply means that you need to repay it on an instalment basis that can span from months or over years.
Thus, being fully amortised, allows the borrower to repay the interest rate plus the principal amount. With an amortised loan, it does allow the borrower to prepare for their repayment schedules.
Do You Really Need A Personal Loan?
It's good to consider taking a personal loan, particularly when you need to get a relatively large sum of cash urgently or looking for a fast cash loan in Singapore. Despite the need to pay it off over a period of time, it's still a viable alternative to meet your short-term needs.
Before you apply for a low-interest personal loan in Singapore, ensure that you're able to pay back your debt.
Here are some common reasons in which a personal loan may come in handy.
Medical And Family Emergencies
While it's always good to save up a good sum of money for a rainy day, accidents and other emergencies are often unpredictable.
You may never know when you need that extra financial support for yourself or your family. Even after you've saved up some money, it may not be sufficient.
Hence, in these scenarios, a personal loan can aid in cushioning these emergencies, and give you a longer buffer time to restructure your financial plans.
Wedding And Vacations
Besides emergencies, a personal loan can also be used to pay for the biggest events in your life. Whether it's to celebrate your special day with your partner or to go for a holiday, you can consider taking up a loan to pay for these expenses, especially given how expensive a wedding can be in Singapore.
Learn more on how you can use a personal loan for your wedding here. 
Planning for a trip soon? Find out how a personal loan can cover your vacation expenses.
Debt Payments For Credit Cards
A personal loan is also a viable option to pay off your credit card debt. It's not advisable to do this in the long term though, so it's equally important to ensure that you spend within your means.
Education Expenses: College Tuition And School Textbooks
On top of that, if you're a student, you may also adopt a personal loan that's catered to your needs. Whether or not you require extra cash for textbooks or tuition fees, a personal loan can help support your education.
Consolidate Debts
A personal loan, such as a balance transfer and Debt Consolidation Plan, is also useful in consolidating your debt into one manageable account. Through these 2 types of personal loans, you can pay a fixed amount monthly at interest rates that are reasonably priced.
Do take note that the personal loan interest rates and other terms are still subject to your annual income and other supporting factors. Be sure to compare the interest rates and criteria of personal loans offered by various banks and financial institutions in Singapore.
What Should You Take Note Before Taking Up A Personal Loan In Singapore?
Before you apply for one, it's good to understand what it entails. While a personal loan allows you to get quick cash, it comes with interest rates.
Advantages Of Personal Loans
Here are some of the good things about taking a personal loan.
Fast Processing Time
It's a viable option for you to borrow money quickly, particularly in the case of an emergency. You can get a loan within a day to a week of your application. In addition, the documents you have to submit is also less as compared to applying for other types of loan.
No Collateral
Unlike a mortgage loan, you won't risk losing an asset such as your house when you default on your payments. Since a personal loan is an unsecured loan, it's not tied to an asset.
Fixed Interest Rates
The interest rates charged for the money you borrow are fixed. This is unlike credit cards, in which the interest rates can vary depending on your balance.
Disadvantages Of Personal Loans
However, like all things in life, a personal loan comes with drawbacks.
High-Interest Rates
A personal loan is typically charged with a higher interest rate than a secured loan. In some cases, its interest rate can be higher than some credit cards.
Age And Income Requirements
In general, you must be at least 21 years old and no older than 65 years old to take up a personal loan.
Most banks in Singapore will also require you to have a minimum income of S$30,000 per annum. While some offer personal loans to people who make less than S$30,000 a year, they're subjected to a higher interest rate.
If you're a foreigner, you'll need to have an annual income of at least S$40,000 to S$60,000 when taking a personal loan from a bank in Singapore.
However, at Crawfort, even if you have an annual income of less than S$10,000, you can still borrow up to S$3,000. If you're a foreigner living in Singapore under the same income bracket, you can borrow up to S$500. Here's a table to summarise how much you can borrow from a licensed money lender in Singapore, such as Crawfort.
Annual income
Maximum loan amount
Singaporeans and Permanent Residents
Foreigners living in Singapore
Below S$10,000
S$3,000
S$500
S$10,000 to less than S$20,000
S$3,000
S$20,000 and above
6 times of monthly income
What Else Do I Have To Consider Before Applying For A Personal Loan?
Besides weighing the pros and cons, here are a few things that you should keep in mind when taking a personal loan in Singapore.
Be Sure To Plan Ahead
Before you apply for a personal loan, ensure that you're able to pay back your debt.
Keep in mind that this debt doesn't only comprise the sum you've borrowed initially, but also the interest and any additional charges. Paying your debt on time helps you to maintain a good credit score.
A credit score reflects the health of your financial state and the risks of lending you money as a customer. The better the credit score, the more trustworthy you are as a borrower.
On the other hand, defaulting on your payments can negatively impact your credit score. When this happens, you'll have a lower chance of getting your loan applications approved in the future.
Got a bad credit score? Find out how you can still get a personal loan despite having a low score. 
Manage Your Finances Wisely
Whether or not you've taken up a loan, it's important to manage your finances. Be sure to budget wisely and only borrow within your means.
During the application, choose a repayment schedule that you can commit to. Regardless of the instalment frequency (e.g. weekly, monthly, etc.) you've chosen to pay back your debt, be sure to manage your budget accordingly.
This helps to ensure that you can pay back your loan in a timely manner.
Explore Alternatives
While a personal loan may seem like the best option you've got, you may also consider borrowing from your family and friends. Talk to them about your goals and plans, and reassure them that you're able to pay them back.
Should You Take A Personal Loan from Banks Or Licensed Moneylenders?
You might come to this point where you have decided that you need a personal loan. You're now on the hunt for where you should get a personal loan. Is it best to go for banks or take out from licensed moneylenders?
The Advantages Of Taking the Best Personal Loan From Licensed Moneylenders
Fast & Easy Online Loan Application
As they take advantage of the technology, licensed moneylenders are now using online application forms. You will just fill in the form with your initial details e.g. your I.D. type, monthly salary, and loan request. Simple steps are needed to follow. Take for example Crawfort, there are just 3 simple steps to follow: first is to apply via MyInfo, then, check your results, and finally collect your loan.
Saves Time
With the existence of an online application, you don't need to go down to the office of a licensed moneylender. This means that you can save time and can apply even in the comfort of your home. A time saver when especially when you need an urgent loan in Singapore.
Notable For Fast Approval Loan
Most licensed moneylenders are notable for their fast approval loans in Singapore. Only minutes of waiting to see your loan approval status. Crawfort is also notable for 8-minute loan approval. Therefore, no more long days to wait to collect your loan.
Easier Eligibility Requirements
Unlike banks that need you to have at least S$30,000 annual salary, a licensed moneylender can allow you to borrow even if your annual salary is less than S$10,000.
Ideal For Urgent Needs
Emergencies do come unexpectedly. Accidents and disasters may come at any time. In reality, handling this situation may need you to take some loans. Getting a personal loan from a licensed moneylender is a life-saver. Your fast cash loan can be collected within the day; Thus, it can answer your immediate need for money.
Lower Rejection Rate
Your personal loan has still the chance to be approved even if you have a bad credit score. You don't have to worry about applying for a personal loan if you have a bad credit score. Licensed moneylenders will look at the moment your capacity to repay
Short-term Loan
Licensed moneylenders also specialises in offering short-term loan. This means that you can pay much lesser interest compared to committing to a long-term loan where you need to pay more interest.
The Disadvantages
Lower Maximum Loan Amount
The maximum loan amount you can take from a licensed moneylender is up to 6x your monthly salary unlike with Banks you can borrow up to 10x times your monthly salary.
Higher Interest Rates
Since licensed moneylenders are less strict when it comes to loan eligibility, this comes with a higher interest.  The interest rate is much higher compared to banks.
But, remember to take a loan from a licensed lender to avoid getting the worst interest rate e.g. those offers coming from a loan shark or "Ah long". Licensed money lenders are regulated by the Registry of Moneylenders – Ministry of law, thus they can only charge an interest rate of up to 4% per month.
To get the advantages of getting a personal loan from a licensed moneylender, it is essential that you are knowledgeable on how to differentiate a legal lender from a loan shark.  Learn more about the differences between licensed vs unlicensed moneylender.
The Advantage of Taking Personal Loans from Banks
Higher Maximum Loan Amount
If you wanted to borrow up to 10x your monthly salary, taking a loan from a bank is the best option. An ideal answer especially if you need a larger sum of money.
Taking Advantage of Online Application
Most of the banks right now are taking advantage of using their website for loan applications. Borrowers can avoid queues and can experience convenience while applying even in the comfort of their homes.
The Disadvantages
Stricter Loan Requirements
Since they provide higher loan amounts compared to licensed moneylenders, banks are more stringent when it comes to checking the credit profile of every borrower. You need to have at least a S$30,000 annual income to apply.
Longer Approval Time
Credit Evaluation can take time. They will need to look at your credit score and other eligibility requirements. Thus, approval of your loan may take days. So, if you are asking right now where best to get a personal answer, you need to consider your annual salary and the amount you need. If your annual salary is lower than S$30,000, don't be sad, licensed moneylenders are open to serve you.
Learn more about the differences between borrowing from a bank and a licensed moneylender here. 
How to Choose the Right Personal Loan?
When you are now decided to take a personal loan in Singapore either from a licensed money lender or bank, you might be asking right now if what is the right personal loan offer for you. Below are considerations in coming up with the right decision.
Which is the best interest rate?
When taking a personal loan from a licensed moneylender, you have to consider that the interest rate must not be above 4% per month. Since there is a wide range of lenders, you can shop around and find the lowest-interest possible. Taking a loan from a bank, you have to look over its effective interest rate (EIR) rather than the advertised interest rate. EIR is considered the "real interest rate" it includes processing and other fees.
What is the ideal loan amount?
Both banks and licensed moneylenders can give a higher loan offer. Banks can provide up to 10x your monthly income while licensed moneylenders can give you up to 6x your monthly salary. It is still recommended that you get the lowest loan offer or will be based on your capacity to repay. So, it is right if you start to get to know your financial condition.
What to look for about the repayment schedule?
Although both lending institutions can offer flexibility in terms of your repayment plan, it is advisable to get one that is manageable. Remember to read and understand well the Note of Contract since late repayment entails late interest and repayment fees.  This can also affect your loan and your credit score.
What is the right loan tenure?
You have to remember the ideal loan tenure is the shortest possible since with this you can pay a much lower interest rate compared to the longest tenure. Take into consideration also your financial condition, it is best that it will align with your capacity to repay.
Thinking of taking a personal loan soon? Learn more on what to consider here. 
Need More Help?
Here are the commonly asked questions that can help you with your personal loan application journey.
Can I take a personal loan if I have a bad credit score?
Yes, this is possible, most of the licensed moneylenders have specialised offers for those who have a bad credit score. Your loan application has still the chance to be approved even if you have a bad credit score. If you got approved, it is ideal that you start first with the lowest loan offer and repay it on time to improve your credit score.
Are personal loans good for my credit score?
When you are a good debtor, repaying a personal loan on time can help you improve your credit score. Remember, you need to be a responsible borrower to take advantage of the personal loan.
What Documents Do I Need For The Application?
Here are the documents that you'll need to provide when applying for a personal loan in Singapore:
Proof of identity: Singapore Identification Card (IC) or Employment Pass (EP) and passport
Proof of address: Documents showing your residential address (e.g. utility bills with your residential address)
Proof of income: Your contribution history statement to your Central Provident Fund (CPF) for the last 12 months, latest income tax Notice of Assessment, latest computerised payslip, or salary crediting into the lender's bank account (if you're applying at a bank)
How long does it take to get my personal loan approved?
With a licensed moneylender, it can only take minutes to get your personal loan approved. Thus, they are known for disbursing fast cash loan offers. At Crawfort, loan approval can only take 8 minutes.
So, Are You Now Ready to Take Up the Best Personal Loan in Singapore?
Before you apply for the best personal loan in Singapore, be clear about your motives for applying. It's also important for you to consider the pros and cons of taking a personal loan, as well as any other advantages and disadvantages based on your own circumstances.
As you go ahead with your plans, be mindful of your spending and borrowing, and only do so within your means.
When in doubt, speak to your peers — whether they're a legal financial advisor or your family and friends. They might be able to advise you and give you a helping hand when you need it.
Apply now for a personal loan with Crawfort!