10 June 2020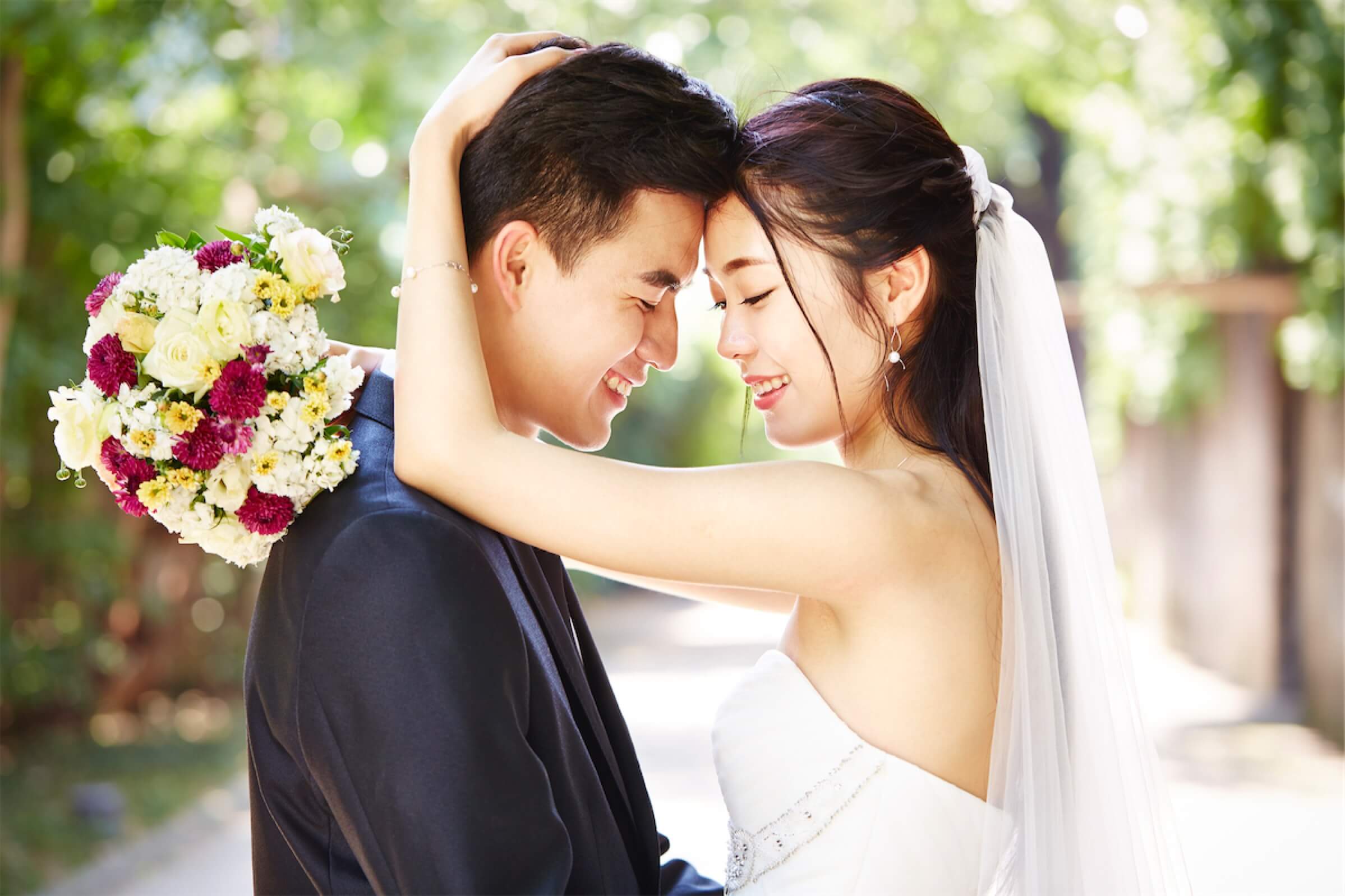 Your wedding day is probably the most significant milestone as a couple. It's a momentous and joyous occasion, where family and friends come together to celebrate the love and union between the two of you. How would taking out a personal loan in Singapore come into the picture?
Well, every couple dreams of having that perfect wedding. It's the wish of every new bride and groom for this day to be a beautiful and unforgettable success. Indeed, it is one of the most important events in a person's life.
Whether it's reserving that ideal venue, choosing a particular bridal package, or making a guest list—anticipating that special day can be both nerve-wracking and overwhelming. That is unsurprising—and especially so—since weddings in Singapore are so expensive! 
Count your lucky stars if you have enough savings to cover your wedding expenses, or if you have family members who are willing to offset a portion or all of the bill. If not, you may find yourself in a dilemma: do you scale back with a smaller once-in-a-lifetime celebration, or take up a loan to help finance the expenses? 
To help you plan for your dream wedding and cover the expensive wedding expenses, we've compiled key information on wedding costs, and how you could finance your wedding with a personal loan in Singapore. 
Learn how Crawfort can help with your wedding financing needs.
How Much Can A Wedding Cost In Singapore?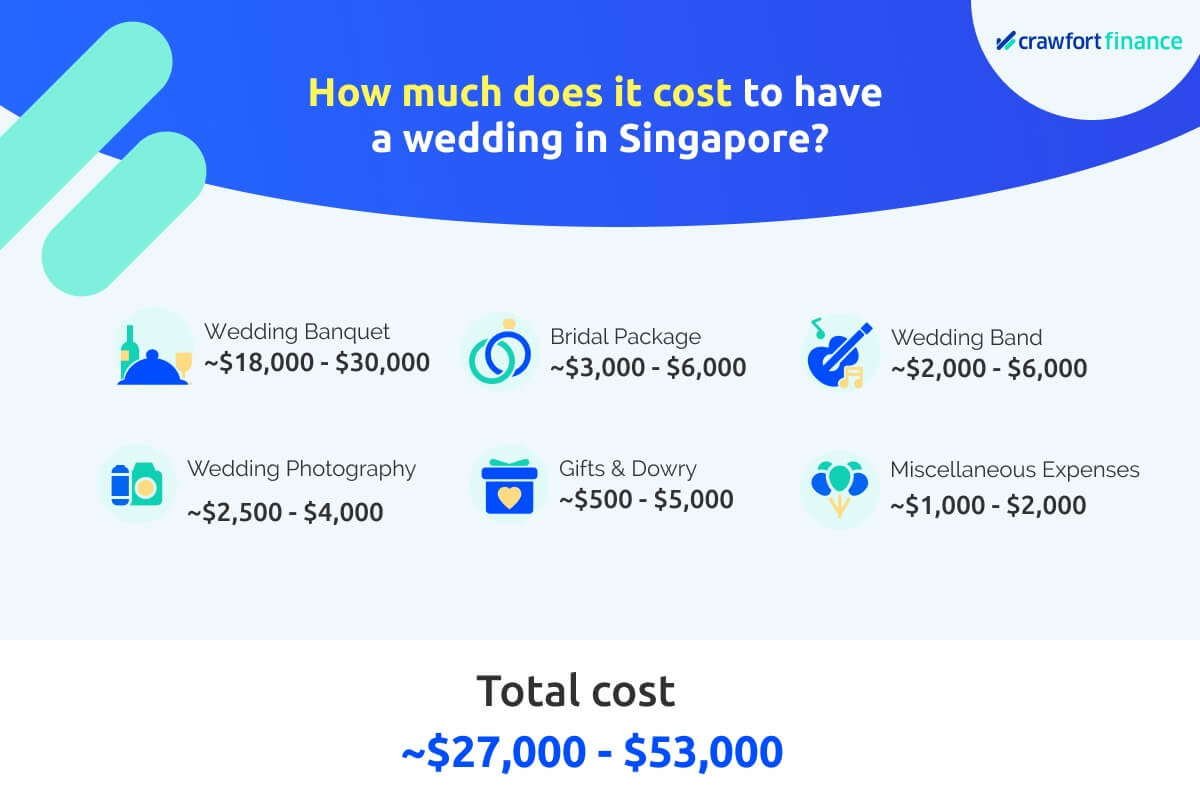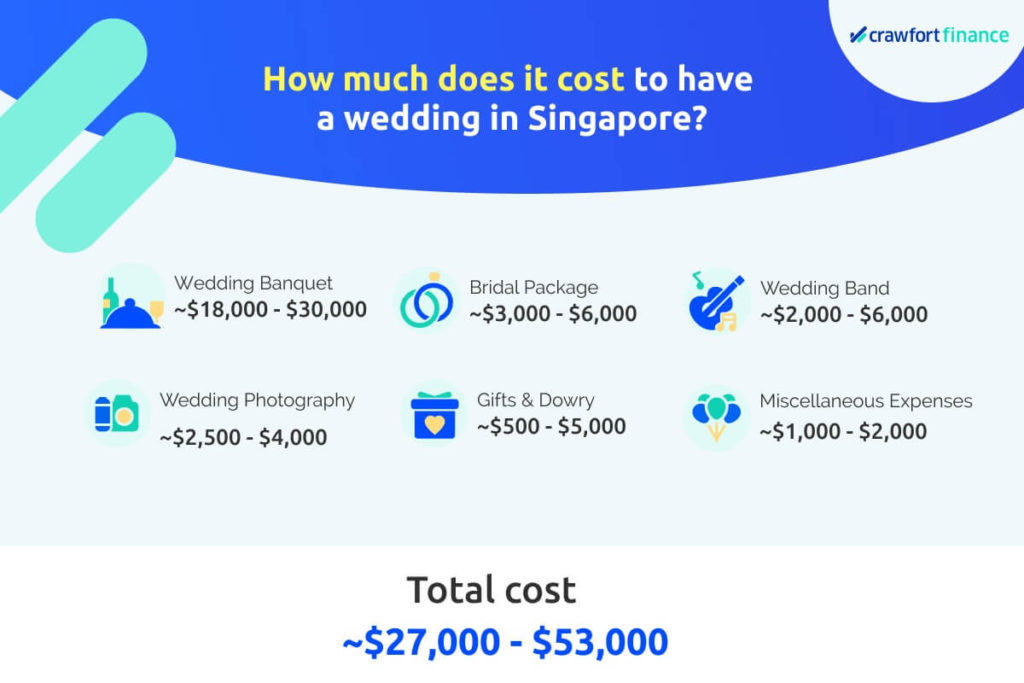 A wedding in Singapore costs about S$30,000 to S$50,000, and can go up to a whopping S$100,000 if you want it extra fancy! 
However, the actual cost of your wedding can differ depending on your budget and expectations. Hence, we've focused on breaking down the expenses into essential components and included their median costs.
The total cost of a wedding in Singapore depends on factors such as:
The type of wedding you envision: Do you want a culture-specific wedding (Malay, Western, Chinese, or Indian), mixed-culture wedding, religious wedding, or a civil one? 
The scale of it: On a scale of simple to ultra-glamorous, how big would you like your wedding to be?
The number of people you want to invite: Do you want to invite the entire extended kampong or keep it as an intimate affair?
Here are the different components of a typical wedding in Singapore and how much they cost:
| | |
| --- | --- |
| Wedding Component | Estimated Cost |
| Wedding banquet | S$18,000 to S$30,000 |
| Bridal package | S$3,000 to S$6,000 |
| Wedding bands | S$2,000 to S$6,000 |
| Wedding photography  | S$2,500 to S$4,000 |
| Wedding dowry or gifts | S$500 to S$5,000 |
| Miscellaneous  | S$1,000 to S$2,000 |
| Total | S$27,000 to S$53,000 |
Source: Value Champion
Found the estimated cost to be too expensive? Here's how you can reduce your wedding costs here. 
From the donning of a wedding gown to photography and videography, your special day can cost you an arm and leg. At the same time, it's only natural for you to want the best on such a momentous occasion. 
So what options are there to finance your wedding? 
One available option out there is to take a personal loan in Singapore, which could make you feel less overwhelmed and bring you the financial relief you need.
Are you eligible to take a personal loan in Singapore? Find out here.
How Taking Up A Personal Loan In Singapore Can Help 
A personal loan is a loan you can take for various personal reasons. You can use a personal loan to fund different types of expenses, from home renovations to paying for a vacation or wedding.
Here are some key ways a personal loan can benefit you when it comes to financing your wedding.
1. A Personal Loan Is Unsecured
With an unsecured loan, you won't be required to pledge a collateral asset (e.g. your house or car). It's unlike a secured loan, in which the licensed money lender could require collateral from you. This puts your asset at risk if you default on the loan.
This means that with a personal loan, you only pledge to pay back the debt when it's due without having to pledge any collateral. Unlike a secured loan, you don't risk potentially losing your home or car should your financial situation change and you default on the loan. 
However, interest rates are usually higher than secured loans due to the higher risk for the licensed money lender.
Learn more about the differences between a secured and an unsecured loan here.
2. Personal Loans Have Flexible Repayment Schedules
As part of the terms for a personal loan, the licensed money lender and the borrower will agree upon a reasonable repayment plan.
Personal loans have a longer tenure compared to other loan types. While the loan tenure can vary depending on the licensed money lender, a repayment period of 1 to 5 years is typically offered. Some personal loans may even have a longer time frame of up to 7 years. However, do note that the longer your loan tenure, the more interest you'll end up paying. 
Some licensed money lenders also allow you to pay off the loan early to reduce the interest that comes with the loan. If you happen to receive cash as part of your wedding gift, be sure to use it to repay your loan quickly! 
3. A Personal Loan Comes In The Form Of A Lump Sum 
A personal loan can be taken out as a lump sum. For instance, you can receive a S$15,000 loan as cash upfront and use it immediately for the wedding. 
This gives you the freedom to place an upfront deposit on your ideal wedding venue or buy that specific bridal package you were dreaming of—all without settling for less due to budget constraints. 
4. You'll Have To Come Up With A Budget For Your Wedding And Carefully Manage The Expenses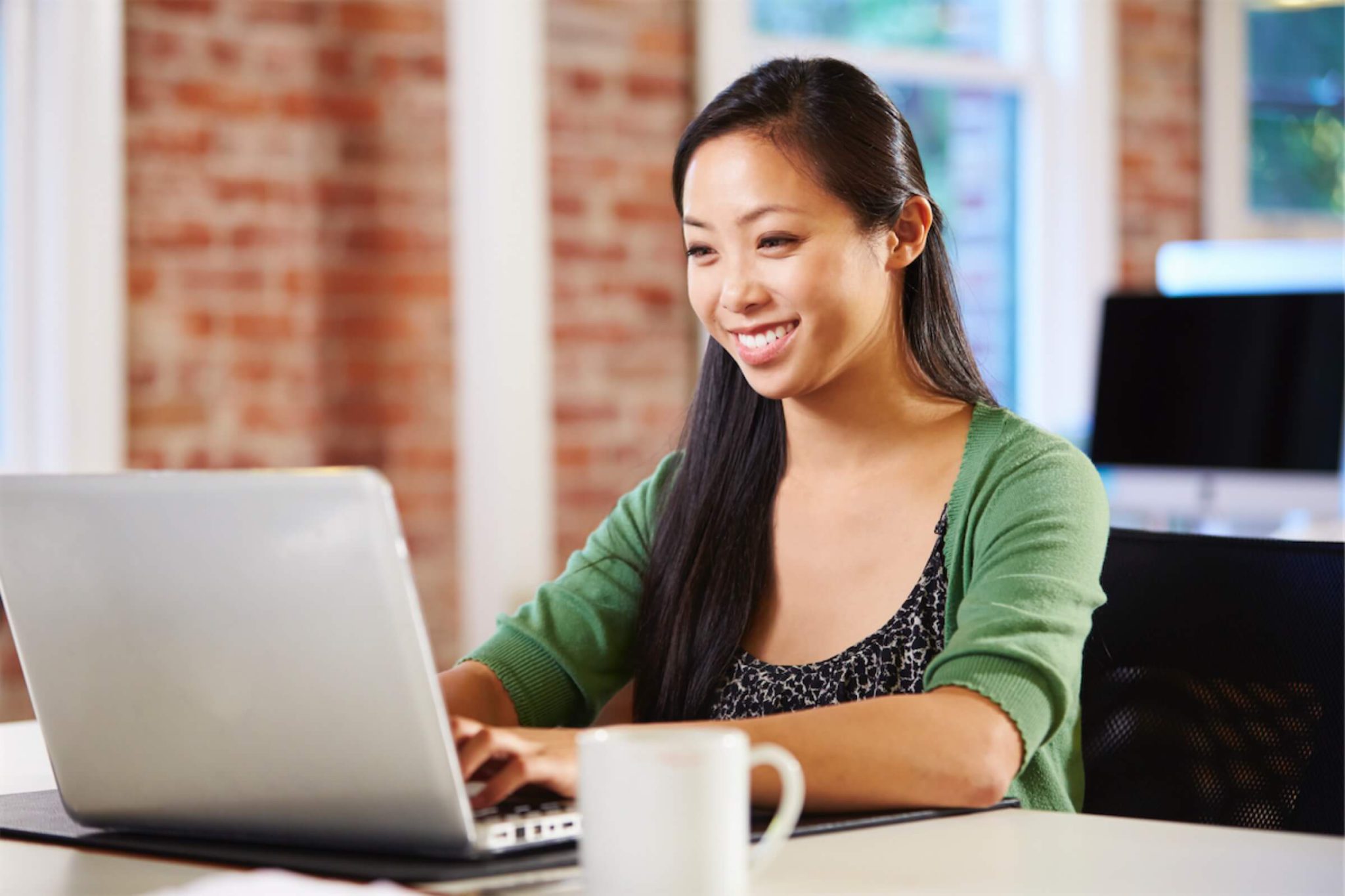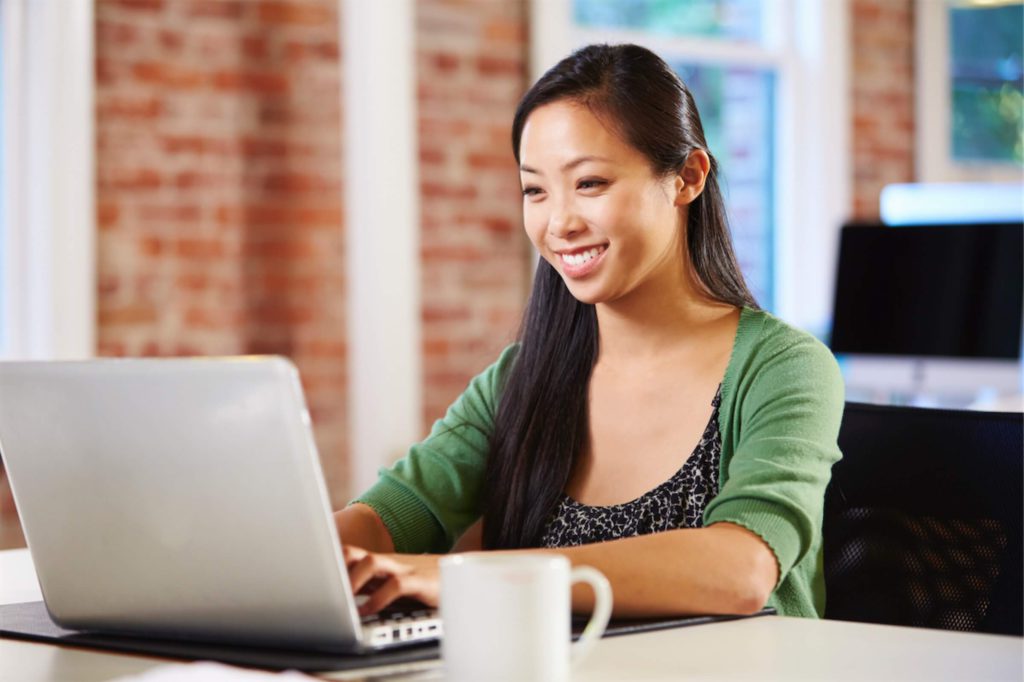 One unexpected benefit of taking a personal loan for your wedding is that it "forces" you to carefully determine a budget—as well as sticking to it.
After all, when you go to a licensed money lender in Singapore, you need to tell them how much you intend to borrow. You don't want to borrow too little such that you don't have enough—neither do you want to borrow too much since that means paying more interest. This means you'll have to carefully figure out how much money you'll need for your wedding—such as by creating a detailed spreadsheet of your estimated expenses. 
Furthermore, once you've successfully taken out the personal loan, you'll need to make sure you don't spend more than the funds you already have!
What To Keep In Mind When Taking Out A Personal Loan In Singapore For Your Wedding
Before you go ahead and say "I do" to a personal loan in Singapore, here are a few useful tips to keep in mind before taking up one:
Are you and your spouse-to-be self-sufficient and financially stable? Make sure you have a stable job and income to cover repayments. 
Agree with your partner on the amount to borrow. Have a frank discussion about your finances and ensure that you and your partner are on the same page. You don't want to be financially strapped right after saying "I do"!
Do your research and have a detailed expenses plan for the wedding. You don't want to be spending more than necessary for your wedding.
Before you take out the loan, make sure you have a healthy emergency fund to cover the loan as well as expenses for 3 to 6 months.
Keep other debts to a minimum. The last thing you want is for your debts to spiral out of control after the big day.
Still not sure if you should take a personal loan for your wedding? Here are some things to consider. 
If you're looking for a personal loan for your wedding, Crawfort can offer one that's tailored to your needs. Apply now.