31 August 2023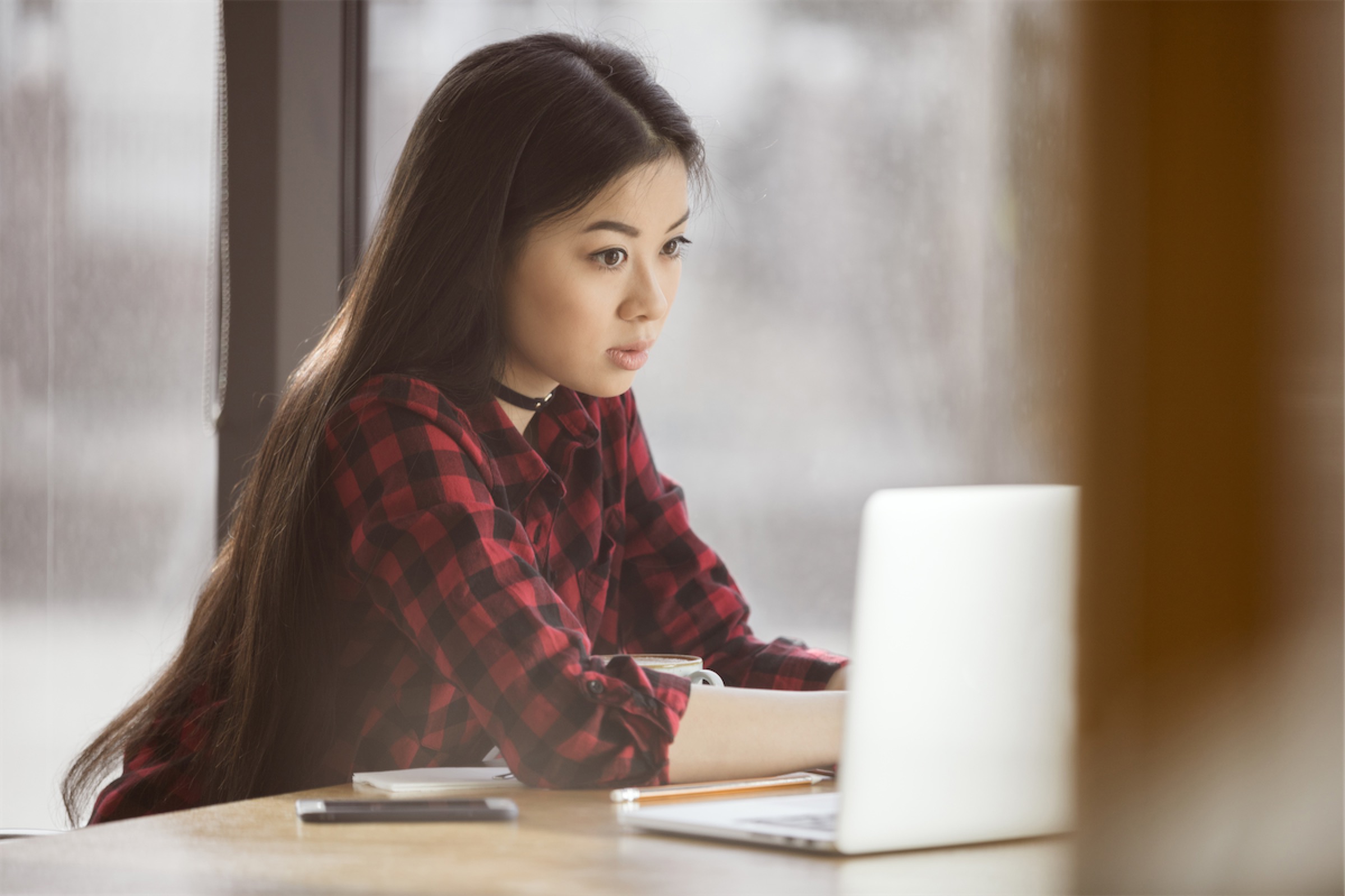 Whether it's to buy a first home or pay for education, most of us probably need to take a loan at least once in our life. However, not all loan applications can turn out successful. If you've applied for a personal loan in Singapore before but got rejected, it could be due to your credit score. 
Lenders often assess whether to give you a loan or not based on your credit score. A bad credit score can hamper your personal loan application in Singapore, but many people forget that.
Not many know what causes a bad credit score, much less what to do with a bad credit score. In fact, some may not even know what a credit score is. 
If you happen to be one of these people, don't worry. In this article, we'll tell you all you need to know about credit score and how you can get a fast personal loan in Singapore even with a bad one.
What's A Credit Score?
A credit score is a numerical value assigned to borrowers indicating how likely they are to repay their debts. This is provided by a ratings company that assesses the creditworthiness of borrowers independently and objectively.
Credit scores are also used by lenders to assess a credit applicant's risk, and is based on areas such as payment history on loans.
In Singapore, there are two credit rating systems: 

If you're looking to get your credit report, you can approach either the CBS or the Moneylenders Credit Bureau (MLCB). Banks and finance companies get their customers' credit report from the CBS, while licensed moneylenders get them from the MLCB.
CBS Credit Score
CBS credit score is a system often used by banks and financial institutions. When you apply for a personal loan from Singapore banks, the bank will request records from CBS.
The CBS credit score can range between 1000 and 2000, with 1000 being the worst and 2000 being the best. Individuals are given a risk grade based on their score range, which indicates the probability of a loan default.
Score Range
Risk Grade
Probability of Default
Min
Max
1911 – 2000
AA
0.00%
0.27%
1844 – 1910
BB
0.27%
0.67%
1825 – 1843
CC
0.67%
0.88%
1813 – 1824
DD
0.88%
1.03%
1782 – 1812
EE
1.03%
1.58%
1755 – 1781
FF
1.58%
2.28%
1724 – 1754
GG
2.28%
3.46%
1000 – 1723
HH
3.46%
100.00%
DP Credit Rating
The DP credit rating applies only to business loans. It is essentially a financial risk model that assesses the default probability of a business. A business is assigned a Probability Default (PD) score based on scorings for factors such as growth and profitability. The PD score then corresponds to an expected DP credit rating.
If you want more information on the DP credit rating system, you can take a look at the detailed rating chart here. 
Now that we know the basics of the credit rating systems in Singapore, let's look at what actually causes a bad credit score.
What Can Cause A Bad Credit Score?
Let's look at 4 common reasons why you may have a bad credit score.
1. Making Late Repayments
If your loans are overdue, you're probably going to end up with a poor credit score. Often, lines of credit require a minimum repayment before the end of the billing cycle, with the amount varying according to the type of loan you have. 
Being 30 days late on the minimum repayment will get you a delinquency status from CBS. Having to pay late fees also reduces your credit score.
To improve your credit rating, make your loan repayments on time. It's also a good idea to call your bank in advance to inform them if you think that you're going to be late with repayments.
2. Taking Several Loans Within A Short Period
Be careful not to apply for too many loans within a short time frame. 
If you take too many loans in a short time frame, your credit score will take a hit. This is because such behaviour signals to banks that you're facing financial difficulties. As such, they will naturally be concerned that you're unable to repay the loan.
One tip is to take out one large loan over multiple small ones. Before taking up a personal loan in Singapore, make sure you calculate how much you need first. This is so you don't have to take out more loans than necessary.
You should also wait for a while between taking out loans. That way, you can avoid unintentionally ending up negatively affecting your bad credit score.
3. Having Multiple Credit Card Applications
Banks and financial institutions check your credit score each time you apply for a credit card. If you apply for multiple cards within a short period, there will be multiple enquiries on your credit score during this time. Again, this can hurt your credit score.
The simple solution is to just wait.
Monthly intervals between your credit card applications should do the trick. This prevents your credit rating from dropping, thereby increasing your chances of having your personal loan in Singapore approved.
4. Defaulting On A Loan
A loan default happens when a lender writes off your debt, occurring when you cannot pay back your unsecured loan. Since unsecured loans do not have any collateral attached to them—such as most personal loans in Singapore—lenders may write off your debt or petition for bankruptcy against you.
Note that a loan default is very damaging to your credit score and will stay on your credit record forever. This will deter lenders from providing you loans since they cannot trust that you can repay your loan. Remember: one default can ruin your chances of securing a loan in future. 
Learn more about what else can damage your credit score here. 
How Can I Get a Personal Loan In Singapore With A Bad Credit Score?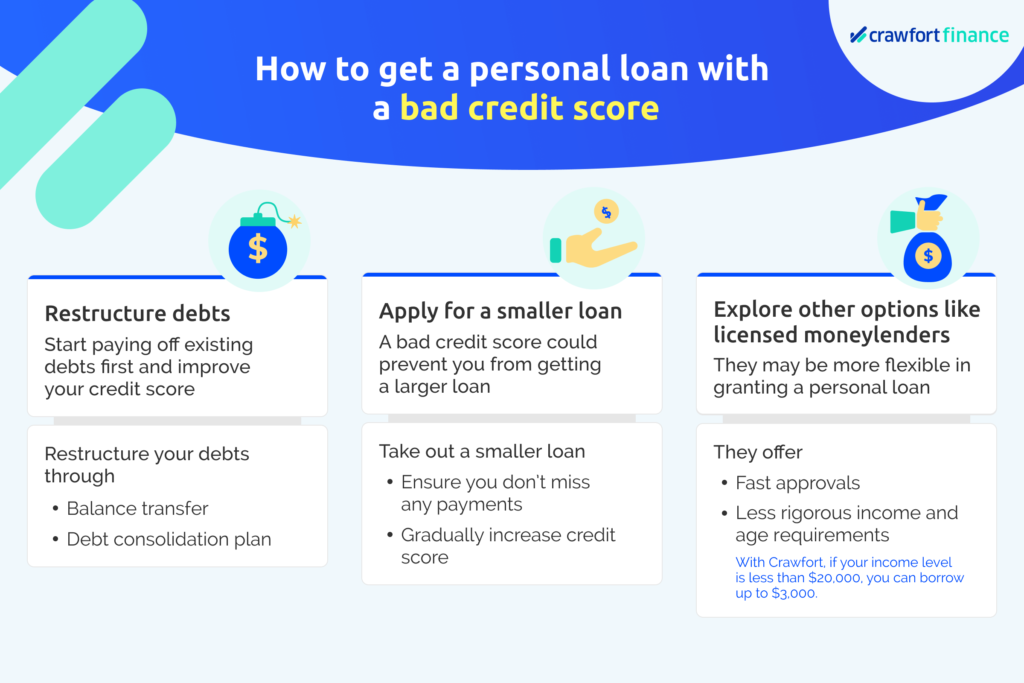 A bad credit score can hurt your chances of securing a personal loan in Singapore. But there are still ways for you to work towards getting one even with a bad credit score. 
1. Restructure Your Debts
Having outstanding unsecured debts can lead to a lower credit score. Paying off existing debts first will improve the score, giving you a higher chance of securing a personal loan in Singapore.
You can also ask banks to restructure your debt. This means negotiating with your bank to reduce the interest rates or extend the tenure of your pre-existing loan. A longer repayment period lowers the amount you must pay each month, which can be a big help to you. 
You might be surprised that banks can be quite accommodating when it comes to restructuring debts. Some means of restructuring your debt include going for a debt consolidation plan. This combines multiple debt balances into a new loan with a lower interest rate.
Learn more about how a debt consolidation plan can help clear your debts here. 
2. Apply For Smaller Loans
It might be difficult to take out a larger personal loan in Singapore with a bad credit score. What you can do first is apply for smaller personal loans.
However, remember to pay back these personal loans in time and in full each time! Doing so shows that you are capable of paying back your loans, thereby improving your credit score. You'll then have a higher chance of getting a larger personal loan approved in future.
However, note that you may need to do this a couple of times to improve your credit score sufficiently before a lender can grant you a larger personal loan in Singapore.
3. Explore Options Such As Licensed Money Lenders To Get A Personal Loan In Singapore
You don't always have to take a loan from a bank. Remember that you can also consider alternative lenders such as licensed money lenders to secure a personal loan in Singapore. 
Licensed money lenders in Singapore tend to be more flexible in granting you a personal loan even with a bad credit score. They also offer fast approval, from a day to even an hour.
In short, licensed money lenders are a good alternative if you need to take out a loan quickly if you've been rejected by banks due to a poor credit score.
However, do note that there are income and age requirements. Typically, applicants need to be younger than 60 years old, and earning a minimum annual income of S$30,000.
However, with Crawfort, you can borrow up to S$3,000 even if your income is less than S$20,000.
If you urgently need a personal loan in Singapore but have a bad credit score, approaching a licensed money lender might be your next best bet. Let us help you with your personal loan needs.