3 July 2020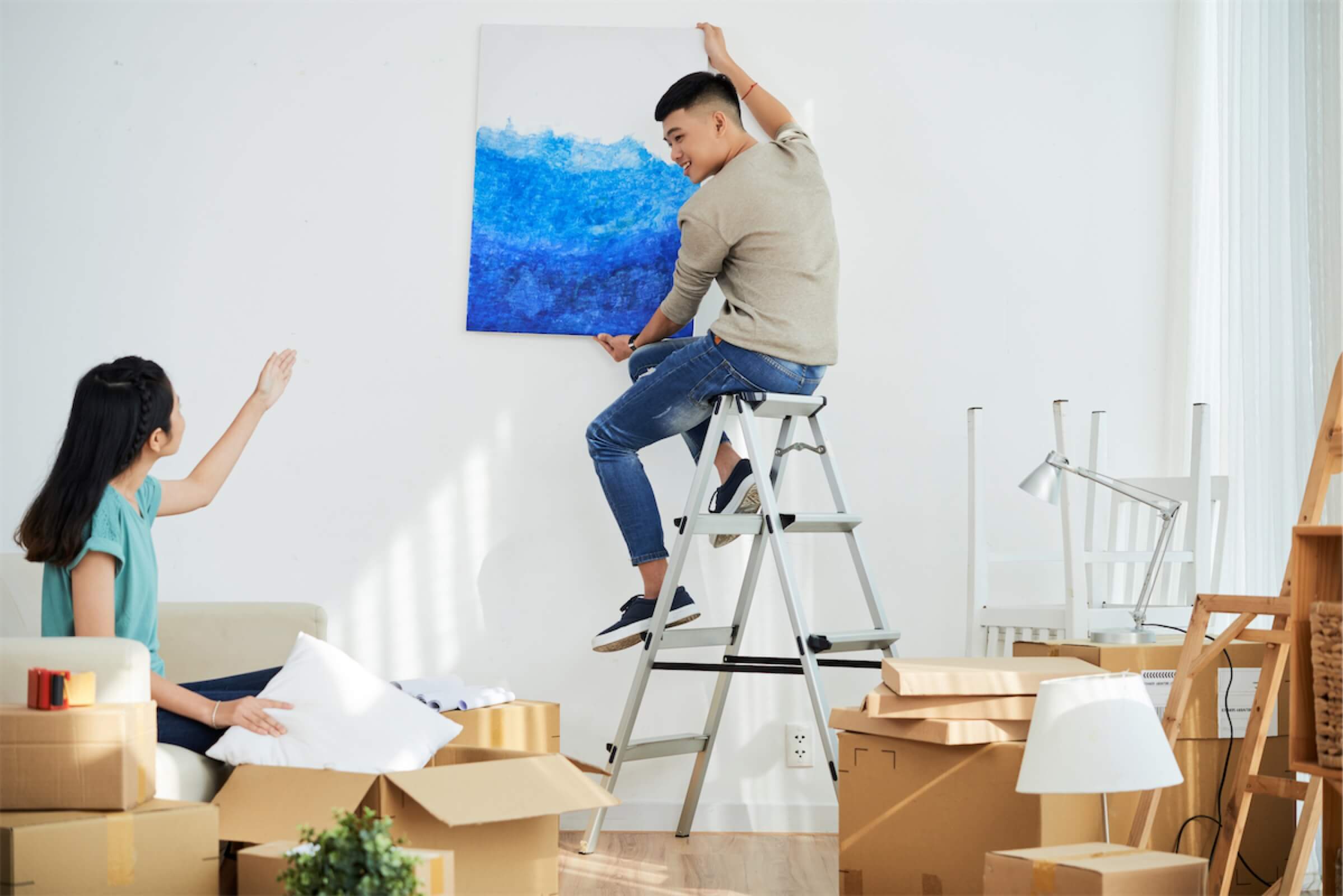 Just collected the keys to your new house? Buying a house is most likely the largest purchase in your life. After getting the keys, you'll want to renovate it to make it your dream home. But before you can renovate it, you'll need to ensure that you have enough money for it. In this article, we'll discuss the popular types of home renovations in Singapore, the costs, and financing options including personal loans to build your dream home.
How Much Does Home Renovation Cost In Singapore? 
To make their homes look as good as possible, couples in Singapore spend an average of S$50,000 to S$60,000 on home renovations. This is also the average price of renovating a 4-room HDB flat. 
Renovation costs are usually lower for executive condominiums (ECs) at S$20,000 to S$30,000 as they already come with a built-in kitchen, wardrobe, and toilet. 
If you've purchased a resale flat, you'll need to increase your budget for home renovations. Although resale flats are usually well-equipped, they often require greater makeovers than BTO flats as they might need more repairing and dismantling. 
Not to forget, you'll need to include at least another S$20,000 to S$30,000 in your home renovation budget to buy furniture and electronics. This generally depends on your furniture preference. 
If you want to cut down on the costs, consider purchasing furniture from IKEA and going hands-on. Along the way, you can make use of the furniture building activity to bond with your other half or family members. 
What Affects Renovation Costs? 
How much should you and your partner prepare for your home renovation? It truly depends on the type of design you want, the condition of the flat, and more. 
1. Type Of Home
Is your home a BTO flat, EC, condo, resale, or a landed property? 
Renovation costs in general are usually the lowest for ECs as they come with a built-in kitchen, toilets, and wardrobes. 
On the other end of the spectrum, resale flats and landed properties require a higher renovation budget as more hacking and dismantling might be needed. 
2. The Kind Of Renovation Work Chosen
How much hacking, painting, building of partitions does your house need? 
For instance, if you enjoy organising large home gatherings, you might choose to hack down the walls for one of the rooms to create a larger living room. 
Or you might convert one of your rooms into a work area if you're a workaholic. 
Here's a breakdown of the components for a home renovation and their respective costs. 
| | | |
| --- | --- | --- |
| Components | What is it about? | Estimated costs |
| Painting | Generally, a 2-3 coating paint job with primer and sealer will be required for walls and ceilings.  | S$2,000 |
| Ceiling, building partitions  | This is for building false ceilings, curtain pelmets, and false walls and box-ups to divide the space.  | S$5,000 |
| Hacking, demolition | Hacking and rebuilding, including touching up and strengthening of walls.  | S$6,000 |
| Masonry | This includes flooring, tiling, and waterproofing for sturdy and long-lasting floors.  | S$10,000 |
| Carpentry | This includes all the features that you want to build in your home, such as kitchen island, feature walls, wardrobes, tables, bed frames, storage, and TV consoles.  | S$24,000 |
| Plumbing  | Water works such as taps, shower system, toilet bowls, water filters, sinks, basins, piping, and water heaters. This includes extension and concealing work for pipes as well.  | S$1,000 |
| Electrical works | Electrical outlets for lighting, heater, power points, and wire extensions.  | S$4,000 |
| Cleaning, touching up | Debris disposal, layering, and floor protection. You may choose an acid/chemical wash for a thorough cleaning. | S$500 |
| Furniture  | Sofa, chairs, lamps, dining tables, study tables, bookshelves, beds, curtains, and more.  | S$10,000 |
| Appliances | Fridge, TV, air-conditioners, washing machine, and more. | S$15,000 |
Source: The Wedding Vow
3. Age And Condition Of The House 
As mentioned earlier, renovation costs are higher for resale flats because more hacking and demolition will be needed. Older homes generally require more work. 
Also, fittings (such as electrical works) in the house might be too old and may need to be replaced. 
4. Materials Used In The Home Renovation 
The type of material used plays a key role in the appearance of your home. 
For example, marble flooring might portray a classy home. On the other hand, wooden flooring gives homely and minimalistic vibes. 
Vinyl and laminate flooring are the cheapest, while marble and hardwood are the most expensive. 
5. Interior Designer Or Contractor Used 
For home renovations, it's more expensive if you engage an interior designer. This is because interior designers will come up with a home design catered to your needs. 
On the other hand, contractors will simply do the work according to what you want. 
If you're confident that the contractor will do the work based on your requirements, or if you're knowledgeable in interior design, getting a contractor for your home renovation is good enough. 
However, if you're new to renovations, perhaps getting the help of an interior designer will help in building your dream home. 
Learn more on how you can reduce your renovation costs here. 
Financing Options For A Home Renovation In Singapore 
If you have enough savings for a home renovation, then good for you. 
But don't worry if you don't have enough cash for it. Many couples in Singapore generally don't have much money left after purchasing a home, so they'll choose to take out a renovation loan or a personal loan for their home renovation. 
In general, there are 4 financing options for a home renovation in Singapore, namely renovation loans, credit cards, store loans, and personal loans. 
Let's evaluate each of them to find out which is the most suitable option for you. 
1. Renovation Loan
The loan amount for a renovation loan is capped at S$30,000 or 6 times of your monthly income, whichever is the lower. 
Plus, you'll need to meet the minimum annual income requirement of S$24,000 a year to apply for it. As it's an unsecured loan, you won't need to provide collateral for it. 
Although it's unlikely that a S$30,000 loan can cover all of your renovation needs, this is still the preferred choice of many homeowners. This is because of the lower interest rates of around 5.3% to 6.2% per annum. 
Most major banks in Singapore offer home renovation loans. 
Do take note, however, that you can't use the money from a renovation loan to buy furniture and electrical appliances. In fact, renovation loans can only cover the costs of the following: 
Built-in cabinets

Electrical wiring 

Structural alterations 

External works within the compound of the house

Flooring and tiling

Bathroom works 

Painting and redecorating works 
You might be wondering, how will the bank know where I'll spend my loan money on? 
Well, you'll need to submit a renovation contract when applying for a renovation loan. The contract will state the money required for each area of the renovation as well as your home ownership. The bank will then pay the contractor directly for the renovation. 
2. Personal loan
Getting a personal loan for your home renovation in Singapore is another option. Similar to a renovation loan, it's an unsecured loan, so no collateral is needed. 
While the interest rate for personal loans in Singapore is higher than that of renovation loans, personal loans are not limited to renovation works. You have the freedom to spend the money on anything you want, including furniture and electronics. 
Plus, you can get a larger loan amount with a personal loan in Singapore. The approved loan amount generally depends on your income. For instance, if you have an annual income of at least S$120,000, banks in Singapore can give you a loan of up to 10 times your monthly salary. 
If you're planning to borrow from licensed moneylenders such as Crawfort, you can get up to 6 times your monthly salary if your annual income is at least S$20,000.
Have an annual income of less than S$20,000? You can still take out a personal loan of up to S$3,000 from Crawfort. 
Wondering if you should take a renovation loan or a personal loan in Singapore? Learn more about their differences here.
3. Credit Cards
Credit cards can help you pay for your renovation, but this method is not recommended. 
While you can use them to pay for things like furniture, household products, and electrical appliances, you should consider their pros and cons. 
Even though you can enjoy benefits like cash backs and air miles with credit cards, they are known to charge extremely high-interest rates at an average of 25% per annum. 
Unless you're confident of making your monthly repayments in full, there's a high chance that your credit card bill will snowball and you'll end up in a debt trap. 
Struggling to pay off your credit card debt? Find out how you can clear it. 
4. Store Loans (Also Known As Hire Purchase) 
Retail stores offer loans as a financing option for customers as well. 
The good thing about them is that they might not require proof of income and will be approved quickly. Hire purchases such as these will allow you to pay back the loan amount through instalments. 
While it sounds like a decent deal, it can be a nightmare.  
It's a type of unsecured loan, meaning that you don't need to provide any collateral. In return, they come with extremely high-interest rates. 
A couple of years ago, someone found her store loan grow into a whopping S$30,000. Back in 2010, she took out a S$3,000 store loan to finance a laptop, a washing machine, a sofa, and a bed. While the store approved of her loan quickly, the interest rate was too high, and she found herself taking years to repay her debt. 
Thinking of borrowing from a licensed money lender? Here are 4 things to consider when borrowing from one. 
Managing Your Home Renovation Costs And Making The Best Of Both Worlds 
For renovation loans, banks will have a minimum loan amount of S$5,000. If you're only planning to do minor renovations and don't require such a large sum, you can consider taking out a personal loan in Singapore instead. You can get a personal loan approved for as low as S$500. 
It's also not recommended to take out a larger loan simply to enjoy lower interest rates. You should try to borrow the lowest amount possible. 
Another tip is that you can use a renovation loan together with a personal loan in Singapore. This is especially helpful when the renovation loan amount runs out. 
Looking for a flexible personal loan in Singapore for your home renovation? Consider applying with Crawfort today.