14 September 2023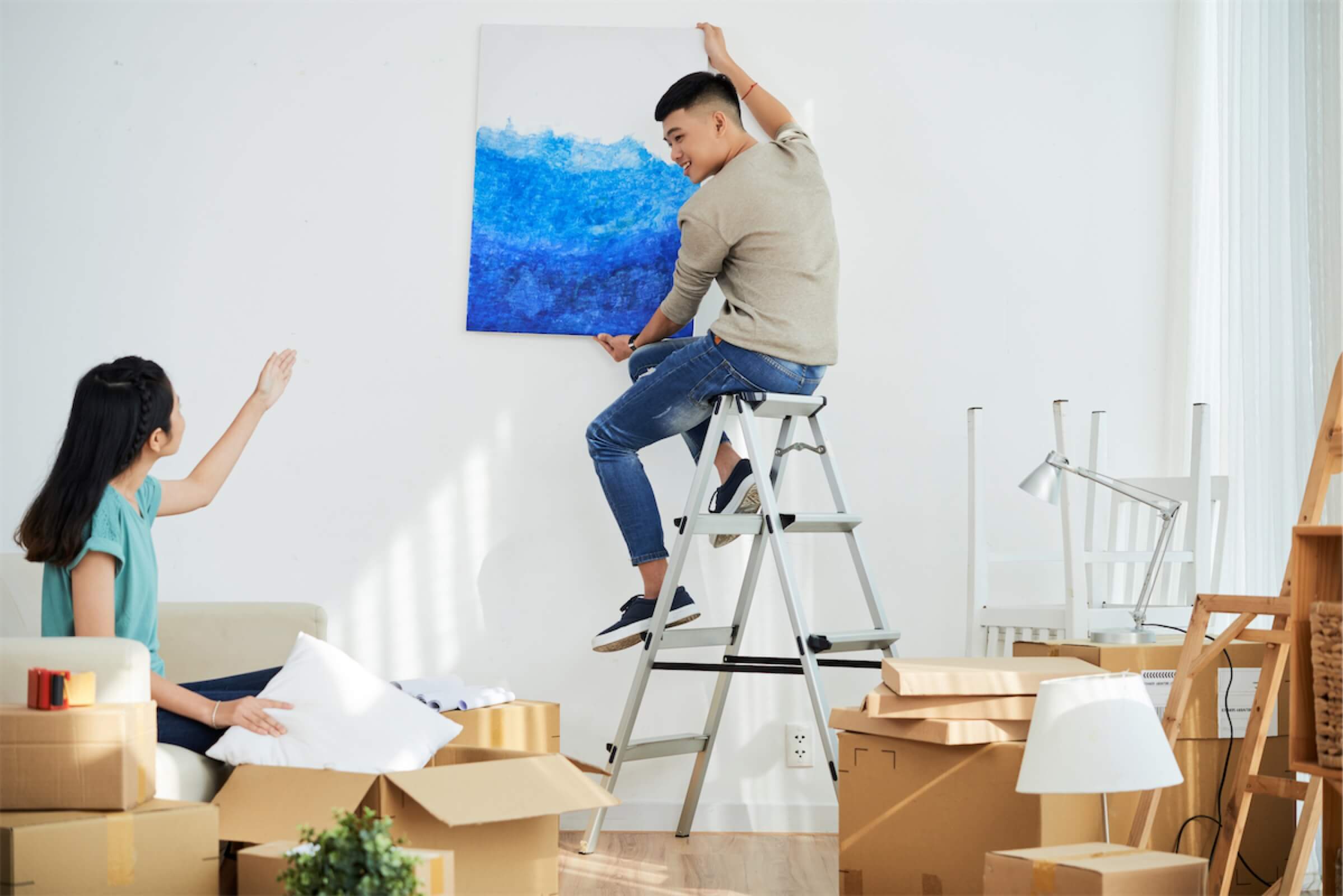 Just collected the keys to your new house? Buying a house is most likely the largest purchase in your life. After getting the keys, you'll want to renovate it to turn it into your dream home. In this article, we look at renovation costs, what affects it, as well as financing options like a renovation loan and personal loan in Singapore. 
How Much Does
Home Renovation In Singapore Cost?
To make their homes look as good as possible, couples in Singapore spend an average of S$50,000 to S$60,000 on home renovations. This is also the average price of renovating a 4-room HDB flat. 
Renovation costs are usually lower for executive condominiums (ECs) at S$20,000 to S$30,000 as they already come with a built-in kitchen, wardrobe, and toilet. 
If you've purchased a resale flat, you'll need to increase your budget for your home renovation. Although resale flats are usually well-equipped, they often require greater makeovers than BTO flats as they might need more repairing and dismantling. 
Furthermore, you'll need to include at least another S$20,000 to S$30,000 in your home renovation budget to buy furniture and electronics. The amount generally depends on your furniture preferences. 
If you want to cut down on the costs, consider purchasing furniture from IKEA and going hands-on. Along the way, you can make use of the furniture building activity to bond with your other half or family members. 
What Affects Home Renovation Costs? 
How much should you and your partner prepare for your home renovation? It truly depends on the type of design you want, the condition of the flat, and more. 
1. Type Of Home
Is your home a BTO flat, EC, condo, resale, or a landed property? 
Renovation costs in general are usually the lowest for ECs as they come with a built-in kitchen, toilets, and wardrobes. 
On the other end of the spectrum, resale flats and landed properties require a higher renovation budget as more hacking and dismantling might be needed. 
Renovating A BTO Flat Vs. Resale Flat
Renovating a resale flat can cost 20 – 40% more than a BTO flat. Aside from the extra hacking and dismantling, resale flats may need significant piping reworking and planning works.
Additionally, those moving into a resale flat may need to buy and install their own bathroom fittings, which adds to the renovation cost. On the other hand, BTO flats already come fitted with toilet bowls and sinks.
Furthermore, resale flats are generally larger than BTO flats — a 4-room resale flat can be up to 20sqm larger than a BTO flat. A bigger space naturally requires more construction materials and renovation work, resulting in added renovation cost.
2. The Type Of Renovation Work
How much hacking, painting, building of partitions does your house need? 
For instance, if you enjoy organising large home gatherings, you might choose to hack down the walls for one of the rooms to create a larger living room. 
Or you might convert one of your rooms into a work area if you're a workaholic. 
Here's a breakdown of the components for a home renovation and their respective costs.
| | | |
| --- | --- | --- |
| Components | What does it involve? | Estimated costs |
| Painting | Generally, a 2-3 coating paint job with primer and sealer will be required for walls and ceilings.  | S$2,000 |
| Ceiling, building partitions  | This is for building false ceilings, curtain pelmets, and false walls and box-ups to divide the space.  | S$5,000 |
| Hacking, demolition | Hacking and rebuilding, including touching up and strengthening of walls.  | S$6,000 |
| Masonry | This includes flooring, tiling, and waterproofing for sturdy and long-lasting floors.  | S$10,000 |
| Carpentry | This includes all the features that you want to build in your home, such as kitchen island, feature walls, wardrobes, tables, bed frames, storage, and TV consoles.  | S$24,000 |
| Plumbing  | Water works such as taps, shower system, toilet bowls, water filters, sinks, basins, piping, and water heaters. This includes extension and concealing work for pipes as well.  | S$1,000 |
| Electrical works | Electrical outlets for lighting, heater, power points, and wire extensions.  | S$4,000 |
| Cleaning, touching up | Debris disposal, layering, and floor protection. You may choose an acid/chemical wash for a thorough cleaning. | S$500 |
| Furniture  | Sofa, chairs, lamps, dining tables, study tables, bookshelves, beds, curtains, and more.  | S$10,000 |
| Appliances | Fridge, TV, air-conditioners, washing machine, and more. | S$15,000 |
Source: The Wedding Vow
The renovation cost for your home could also be estimated based on the theme you are going for. The more expensive design themes include Contemporary and Scandinavian, while Industrial and Traditional fall at the lower end of the price spectrum.
Here's the average price ranges you can expect for the different themes based on rates charged by various contractors in Singapore:
Traditional: S$40,000 – S$75,000

Industrial: S$50,000 – S$80,000

Transitional: S$55,000 – S$85,000

Modern: S$60,000 – S$75,000

Minimalist: S$60,000 – S$75,000

Vintage: S$60,000 – S$75,000

Eclectic: S$65,000 – S$80,000

Scandinavian: S$65,000 – S$90,000

Contemporary: S$70,000 – S$90,000
3. Age And Condition Of The House
As mentioned earlier, renovation costs are higher for resale flats because more hacking and demolition will be needed. Older homes generally require more work. 
Most new homeowners may also have safety concerns regarding an old flat's wiring. As such, they may opt to rewire the flat's electrical works. This can cost an additional S$4,000 to S$6,000 depending on the extent of rewiring.

Painting is one of the renovation works that can be covered by a renovation loan.
4. Materials Used In The Home Renovation 
The type of material used plays a key role in the appearance of your home. 
For example, marble flooring might portray a classy home. On the other hand, wooden flooring gives a homely and minimalistic vibe. 
Note there can be substantial cost differences depending on the material choice. For example, the cost of ceramic flooring can range between S$3.50 and S$9.50 per square foot. In contrast, marble flooring can cost at least four times more, ranging from S$15 to S$47.50 per square foot. 
In general, vinyl and laminate flooring are the cheapest options, while marble and hardwood are the most expensive. 
The same principle applies for your walls. Painting a living room can cost you only S$100. If you want to use wallpaper instead, be prepared to fork out between S$1,500 and S$2,400. 
Intending to have a feature wall in your home? Craftstone can set you back between S$14.75 and S$75 per square foot. If you're looking at wood, tiles, or slate, expect to pay S$50 – S$100 per square foot. 
5. Whether You Hire An Interior Designer Or Contractor 
Hiring an interior designer will usually be more expensive than hiring a contractor for your home renovation.
This is because an interior designer will be working with you from conceptualising and sourcing, all the way to the building and furnishing of your home. In short, he/she will manage your home renovation from start to finish. An interior designer also functions like a middleman between you and contractors and suppliers. 
On the other hand, contractors merely help you execute renovation based on designs you've provided. Working directly with a contractor will be cheaper as you'll be paying suppliers directly. You also won't have to pay for an interior designer's time and expertise. 
If you already know how you want your home to look and are confident that a contractor can fulfil your requirements, getting a contractor for your home renovation should suffice. 
Learn more on how you can reduce your renovation costs here. 
Financing Options
For Home Renovation in Singapore: Personal Loan And More 
It's great news if you have enough savings to fund your home renovation.
But don't worry if you don't have enough cash for it. Many couples in Singapore generally don't have much money left after purchasing a home, so they'll choose to take out a renovation loan or a personal loan for their home renovation. 
In general, there are 4 financing options for a home renovation in Singapore, namely renovation loans, credit cards, store loans, and personal loans. 
Let's evaluate each of them to find out which is the most suitable option for you. 
1. Renovation Loan
The loan amount for a renovation loan is capped at S$30,000 or 6 times of your monthly income, whichever is the lower. 
Plus, you'll need to meet the minimum annual income requirement of S$24,000 a year to apply for it. As it's an unsecured loan, you won't need to provide collateral for it. 
Although it's unlikely that a S$30,000 loan can cover all of your renovation needs, this is still the preferred choice of many homeowners. This is because of the lower interest rates of around 5.3% to 6.2% per annum. 
Most major banks in Singapore offer home renovation loans. 
Do take note, however, that you can't use the money from a renovation loan to buy furniture and electrical appliances. In fact, renovation loans can only cover the costs of the following: 
Built-in cabinets

Electrical wiring 

Structural alterations 

External works within the compound of the house

Flooring and tiling

Bathroom works 

Painting and redecorating works 
You might be wondering, how will the bank know where I'll spend my loan money on? 
Well, you'll need to submit a renovation contract when applying for a renovation loan. The contract will state the money required for each area of the renovation as well as your home ownership. The bank will then pay the contractor directly for the renovation. 
2. Personal loan
Getting a personal loan in Singapore for your home renovation is another option. Similar to a renovation loan, it's an unsecured loan, so no collateral is needed. 
While the interest rate for personal loans in Singapore is higher than that of renovation loans, personal loans are not limited to renovation works. You have the freedom to spend the money on anything you want, including furniture and electronics. 
Plus, you can get a larger loan amount with a personal loan in Singapore. The approved loan amount generally depends on your income. For instance, if you have an annual income of at least S$120,000, banks in Singapore can give you a loan of up to 10 times your monthly salary. 
If you're planning to borrow from licensed moneylenders such as Crawfort, you can get up to 6 times your monthly salary if your annual income is at least S$20,000. 
Have an annual income of less than S$20,000? You can still take out a personal loan of up to S$3,000 from Crawfort. 
Wondering if you should take a renovation loan or a personal loan in Singapore? Learn more about their differences here.
3. Credit Cards
Credit cards can help you pay for your renovation, but this method is not recommended. 
While you can use them to pay for things like furniture, household products, and electrical appliances, be sure to consider their pros and cons. 
Even though you can enjoy benefits like cashbacks and air miles with credit cards, they are known to charge extremely high interest rates at an average of 25% per annum. 
As such, it's recommended that you use a credit card merely as a mode of payment rather than as a credit facility. This means that after making all payments via the credit card, you should foot the full amount before the next billing cycle. 
Remember not to leave any unpaid debt on your card. Given the sky high interest rates of credit cards, any unpaid amounts can easily snowball into a significant amount. 
Struggling to pay off your credit card debt? Find out how you can clear it. 
4. Store Loans (Also Known As Hire Purchase) 
Retail stores offer loans as a financing option for customers as well. 
The good thing about them is that they might not require proof of income and will be approved quickly. Hire purchases such as these will allow you to pay back the loan amount through instalments. 
While it sounds like a decent deal, it can be a nightmare.  
It's a type of unsecured loan, meaning that you don't need to provide any collateral. In return, they come with extremely high-interest rates. 
A couple of years ago, someone found her store loan grow into a whopping S$30,000. Back in 2010, she took out a S$3,000 store loan to finance a laptop, a washing machine, a sofa, and a bed. While the store approved of her loan quickly, the interest rate was too high, and she found herself taking years to repay her debt. 
Thinking of borrowing from a licensed money lender? Here are 4 things to consider when borrowing from one. 
Managing Your Home Renovation Cost 
While renovating your new home can be costly, there are ways to reduce your overall expenses.
Forego Luxuries First
For example, you can forego luxuries such as platform beds, bathtubs, custom furniture, or walk-in wardrobes for the time being if they result in you exceeding your budget. You can always get them at a later stage once you've saved up more money. 
Get Preloved Furniture
Also consider whether you really need everything to be brand new. If you have family members or friends giving away furniture that's in good condition and looks good to you, why not take them up on their offer? You could end up saving hundreds or even thousands of dollars. 
Alternatively, you can shop for pre-loved furniture and other home items at thrift stores, flea markets, and online platforms like Carousell. In fact, you could end up with very attractive furniture bargains on these platforms. Since unwanted furniture takes up precious space in one's home, sellers may offer very low prices to get rid of them more quickly. 
Get Your Family And Friends To Help
Need to move your existing furniture over to your new home? Instead of paying for moving services, you could enlist the help of family and friends to help with the moving instead of paying a mover. 
Pick An Off-Peak Period For Renovation
Here's another tip. You could potentially save on renovation costs by choosing the right time to get your renovation done. You can avoid paying a premium simply by picking an off-peak period. If you're looking at renovating your home around the end of the year, be prepared to fork out more money since this is typically the peak period for home renovations. 
Should You Take A Renovation Loan Or Personal Loan In Singapore? 
Banks have a minimum loan amount of S$5,000 for renovation loans. If you're only planning to do minor renovations and don't require such a large sum, you can consider taking out a personal loan in Singapore instead. You can get a personal loan approved for as low as S$500. 
It's also not recommended to take out a larger loan simply to enjoy lower interest rates. You should try to borrow the lowest amount possible. 
Another tip is that you can use a renovation loan together with a personal loan in Singapore. This is especially helpful when the renovation loan amount runs out. 
Looking for a flexible personal loan in Singapore for your home renovation? Consider applying with Crawfort today.