18 April 2020
Are you looking for the best licensed moneylender in Singapore? But before that, you must first understand the things to do before borrowing from a licensed moneylender.
Paying off bills and expenses without any assistance can be really challenging, especially when you're living in one of the most expensive cities in the world — Singapore. Things like medical bills and wedding costs, for instance, can easily cost thousands of dollars in Singapore. 
When there's not enough money to pay off these expenses, most people may choose to take out loans from the bank. But banks tend to have a longer and more stringent approval process, which might not be helpful if you need cash urgently. 
This is why when it comes to loans, licensed moneylenders are a viable alternative to banks since they generally have a faster approval. But borrowing from them or with 24-hour licensed moneylenders in Singapore may not be something that sits well with everyone. 
"Is borrowing from a licensed moneylender really safe?" is one of the concerns that people have when it comes to borrowing from them. 
Well, contrary to popular belief, all licensed moneylenders are governed by the Ministry of Law (MinLaw). They're very much different from illegal moneylenders, so it's really safe to borrow from them. 
As mentioned at the start, before you start borrowing from the best licensed moneylender, here are some things to consider.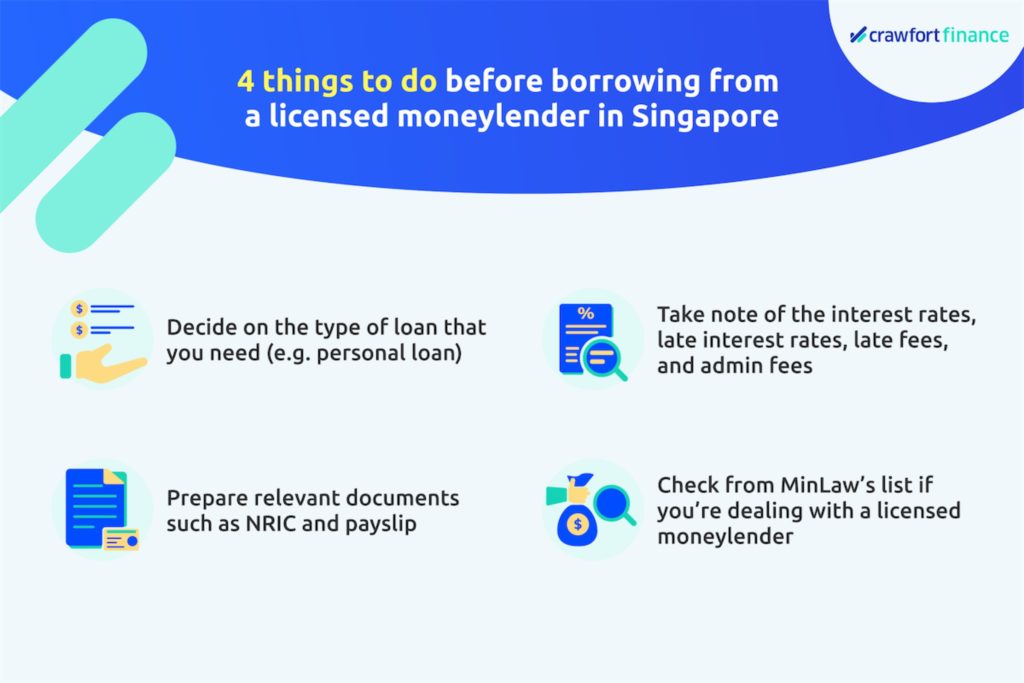 Decide On The Type Of Loan That You Need
Before applying for a personal loan, be sure to evaluate your finances to decide on the type of loan to take out. Ask yourself this question: Are you dealing with a small emergency or a major one? 
In the case of minor crises that require only a small sum of money, personal loans are an ideal choice. In addition, they are suitable for paying off home renovation, credit card debts, or to consolidate your debts. 
Research On The Loan You're Planning To Take
Once you've decided on the type of loan to take, do some research on its repayment terms. 
Get Your Credit Report
You may also consider buying a credit report from either the Credit Bureau Singapore (CBS) or the Moneylenders Credit Bureau (MLCB) to get an idea of your credit rating. 
Though many licensed moneylenders do not check a borrower's credit report, especially in the case of personal loans, some lenders do not approve loans to borrowers with a bad credit rating. 
If you have a bad credit rating, it's better to clean it up a bit before making a loan application.
Got a bad credit score? Find out how you can still get a personal loan here.
Check Your Eligibility
Be sure to also check if you're eligible for the type of loan you're taking. Keep in mind that in Singapore, the maximum loan amount you're eligible for depends on your annual income. 
Here's a table illustrating the maximum loan amount you can borrow from licensed moneylenders in Singapore based on your income and citizenship. 
| | | |
| --- | --- | --- |
| Annual income | Singapore Citizens and Permanent Residents | Foreigners residing in Singapore |
| Less than S$10,000 | S$3,000 | S$500 |
| At least S$10,000 and less than S$20,000 | S$3,000 | S$3,000 |
| At least S$20,000 | 6 times of monthly income | 6 times of monthly income |
Prepare All The Documents You'll Need
Once you're clear on the finer details, start collecting all the documents you'll need to apply for the loan. These include:
Proof of income and employment
NRIC
Current credit score and past CPF statements
Residency proof
Tenancy agreement, employment letter, employment pass, and bank statements (for foreigners)
When it comes to approving unsecured loans such as personal loans, licensed moneylenders usually approve them based on annual income and not credit history. This is why they usually ask for payslips to evaluate your financial ability to pay back the loan. 
Is There A Cap On The Costs Involved?
All licensed moneylenders in Singapore are required to adhere to the rules set by MinLaw. There's a limit on interest, late fees, and other costs that they can charge borrowers. 
As of 1st October 2015, licensed moneylenders can only impose the following: 
Interest rate of not more than 4% per month
Late interest of not more than 4% per month
Late fee of not more than S$60 per month
Administrative fee that must not exceed 10% of the principal loan granted
Legal costs ordered by the court for the licensed moneylender to recover the loan amount
In general, the total cost charged by a licensed moneylender, including interest, late interest, administrative fees, late fee, and other related charges, must not exceed the principal loan amount. 
How To Check If I'm Dealing With A Licensed Moneylender Or A Loan Scam?
One important thing to learn before borrowing from a moneylender is differentiating between licensed moneylenders from the unauthorised ones. 
Check If They're On Minlaw's Registry
The easiest way to check if a moneylender is licensed or not is to refer to the list of licensed moneylenders in Singapore on MinLaw's website. 
Besides checking if their license is still valid, you should take some time to read through the reviews on them. 
Take Note Of Their Advertisements
If a moneylender is offering you loans through phone calls or text messages, you're probably dealing with an unlicensed moneylender (often called "Ah Long" in Singapore) or a licensed moneylender violating the rules. 
According to MinLaw's website, licensed moneylenders can only advertise through the following channels: 
Business or consumer directories 
Websites belonging to the licensed moneylender
Advertisements placed in the interior and exterior side (such as the wall, door, shutter, gate, and window) of their place of business
Ensure That You're Issued With The Relevant Documents
Licensed moneylenders will always return your NRIC and other personal identification documents after evaluating them. They'll also issue you with a loan contract. 
And before you sign the loan contract, they'll also make it a point to explain to you each term mentioned in it. The loan contract should also include all the relevant details, including interest rate, repayment terms, and repayment period. 
Ready to borrow from a licensed moneylender in Singapore? Get started with Crawfort. 
What Should You Do Once Your Loan Has Been Approved?
Once your lender has approved your loan and has given the principal amount to you, make sure they've charged you the correct amount for the approval fee. As noted earlier, licensed moneylenders can only charge up to 10% of the principal amount for the administrative fees. 
Documents To Keep
You should also have the following documents for your reference:
A copy of the loan contract
Receipts for every payment you've made towards your loan
A statement of account for all your loans
Copies of all accounts, receipts, and any other relevant document
Pay Your Repayments On Time
Ensure that you're paying each instalment by the due date.  
Paying them late will not only lead to your instalments accumulating, but also incurring late fees and late interest. Having your debt accumulate can also make it harder to pay it off. 
What Are Your Legal Options In Case You Find Yourself Unable To Pay Back The Loan?
When borrowers default on their payments, licensed moneylenders usually hire debt collection agencies to collect debts. 
While there are no laws that regulate debt collection in Singapore, licensed moneylenders and debt collectors are encouraged to abide by the code of ethics laid down by the Credit Collection Association of Singapore. 
Debt collectors are not allowed to use violence, harassment, or intimidation as a means to collect debts. In the unfortunate event that you find yourself facing such a situation, be sure to report them to the police.
Learn more about what licensed moneylenders can't do when collecting debts here. 
Request For Extension
The best way to deal with the situation is to talk to your lender and negotiate for an extension. You may also consider going to social services to seek help in credit counselling and debt management. 
Learn more about how credit counselling and debt management work. 
File For Bankruptcy
However, if your debt amounts to at least S$15,000 and you find yourself unable to pay it off even after you've restructured your loan repayments, you may consider filing for bankruptcy. 
When a borrower files for bankruptcy, the accumulation of interest is stopped. It also prevents the lender from carrying out any legal proceedings against the borrower. 
Find what happens if you file for bankruptcy here.
Some Organisations That You Can Approach For Help
If you find yourself in huge debt, filing for bankruptcy should only be your last resort. You should consider approaching any of these organisations for help.
Credit Counselling Singapore is a non-profit organisation that helps people with debt management through financial counselling and education. If you need help in arranging a debt repayment schedule to pay back your loan comfortably, this is the organisation to go to. 
The Registry of Moneylenders is responsible for the regulation of moneylenders in Singapore. Before borrowing from a moneylender, be sure to verify if it's a licensed one by checking on the Registry's list. You should also refer to their FAQ to understand more about borrowing from licensed moneylenders. 
Credit Collection Association of Singapore represents all the credit agencies and associations in Singapore. They ensure that all credit agencies uphold their code of conduct. In addition, they provide dispute resolution services for agencies and clients. Should you find yourself in a dispute with your lender, you may approach them to resolve the matter. 

If you take out a loan or find yourself unable to pay off your loan due to gambling addiction, you should get in touch with the NCPG. The organisation helps gamblers and their families manage problem gambling. 
Credit Association of Singapore is an association for all licensed moneylenders in Singapore. You may contact them for more information on borrowing, as well as the various licensed moneylenders in Singapore. 
ComCare is a fund under the Ministry of Social and Family Development (MSF). It works to empower low-income individuals and groups, enabling them to become self-reliant. There are various kinds of assistance that you can get from them, including urgent financial aid. 
The Final Word
At the end of the day, there might be times when you find yourself strapped for cash. And one good way of dealing with it is to take a short-term loan and pay it back on time. 
While most people will turn to banks to get loans, there are some who turn to moneylenders for faster approval. Unfortunately, it's also uncommon that borrowers run into unauthorised moneylenders, who charge very high interest rates or even scam them. 
To safeguard yourself against these illegal moneylenders, be sure to engage with only licensed moneylenders. If you encounter any unauthorised moneylenders, you should report them to the police.  
In need of cash urgently? Apply now with Crawfort, an established licensed moneylender in Singapore.