Obtaining a Loan
You can apply for your loan directly online. This can be done at any time of the day, while banks may require you to go there physically in order to apply for a loan.
Most banks usually close around 4:30pm to 6pm, making it difficult for working adults to make a trip down. Through Crawfort's efficient loan system, you can save plenty of time.
If you are employed:
1. NRIC *
2. Singpass & 2FA *
3. 3 months official computerised payslip
If you are self-employed:
1. NRIC *
2. Singpass & 2FA *
If you are a Grab/Taxi driver:
1. NRIC *
2. Grab statements or taxi license
*denotes a compulsory field
Loan Information
For foreigners:
– If your annual income is less than $10,000, you are eligible for a loan of up to $500.
– If your annual income is between $10,000 to $20,000, you are eligible for a loan of up to $3,000.
For Singaporeans:
– If your annual income is less than $20,000, you are eligible for a loan of up to $3,000.
– If your annual income is at least $20,000, you are eligible to loan up to 6 times your monthly income.
The amount you are eligible for will be determined on both your assessed ability to repay and your annual income. Those who submit all the completed required documents will tend to have a higher approval rate.
– A processing fee is deducted upfront from each loan; you don't have to pay anything extra.
– A $60 fee will be incurred on overdue payments, so be sure to make payment on time!
– Nominal interest rates start from 1.8% per annum.
– Late interest fees will be incurred on overdue payments, so don't be late for repayment!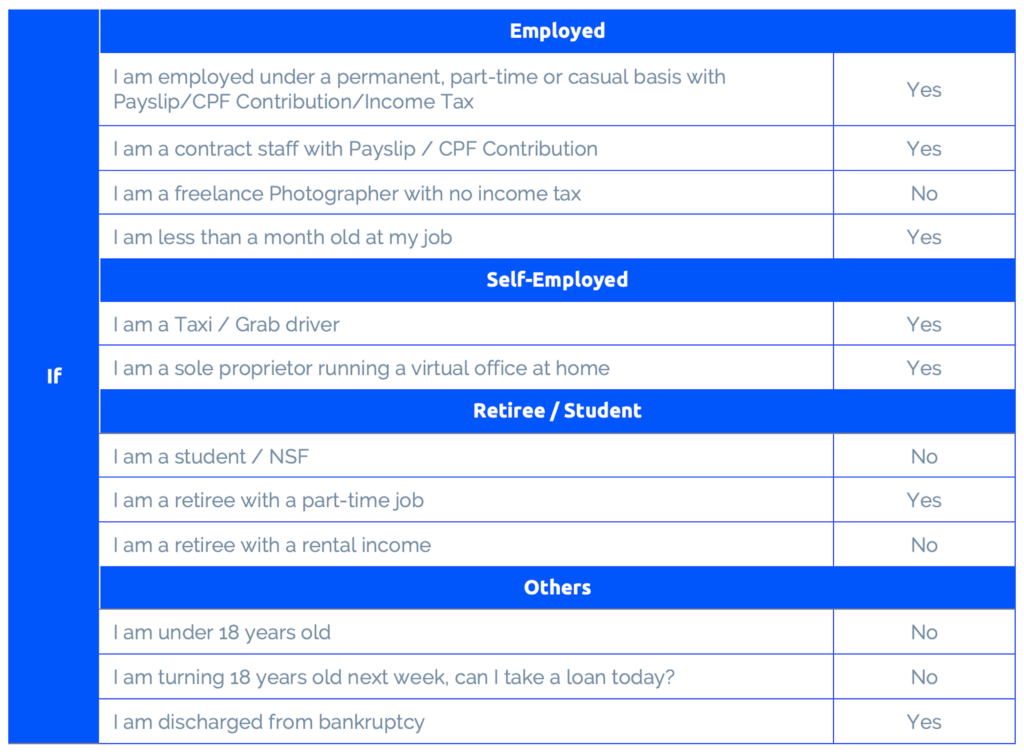 – Even if you have outstanding loans or a bad credit history, you are still eligible for a loan as long as you are timely with repayments.
– Our professional consultants will provide you with a structured loan plan tailored to your financial capacity.
You can choose a repayment method that is the most suitable to your convenience:
– Weekly
– Bi-weekly
– Payday
– Monthly
No guarantors are required for personal loan applications.
We have personal loans that cater to multiple needs. Examples include loans for studies, renovations, travel/leisure, weddings, and medical purposes.
Certainly, as long as you can provide us with the latest proof of residence with your name and address.
Crawfort Pte Ltd (UEN No. 201406595W) is a company incorporated under the laws of Singapore. Crawfort Pte Ltd is a licensed money lender (License No: 87/2020) by the Ministry of Law. You can verify this information at the Ministry of Law's website.
Many illegal money lenders have emerged in recent years. If you're not sure if a lender is legitimate, you can check on the Ministry of Law website.
Crawfort allows you to deal directly with a personal financial consultant who will offer loans that suit different situations.
Accepting a loan from a friend or family member may allow you to avoid interest rates. However, failing to set up clear and defined terms for repayments could be problematic for your interpersonal relationships.
Apart from late payments, friends and families may also require cash urgently, and ask for earlier payment. Failing to make payment may also complicate your personal life.
Banks and finance companies usually look for long term loans, resulting in long term commitments and higher cost on loan interests.
We only request straightforward documents, and successful applicants can receive funds within a business day. We also provide hassle-free and simple application processes and flexible refinancing options.
There is no commitment. You can connect with us via online chat, call, email, or whatsapp chat.
In the event of a successful loan application, we will keep your loan application form for a minimum of five years. However, we do not retain any submitted documents if the application is rejected by either party.
Unfortunately, we can only accept applications from one borrower.
Office address:
1 North Bridge Road
#01-35 High Street Centre
Singapore 179094
Operation hours:
Monday to Saturday from 10:30am – 7:30pm
Sunday, Public Holidays: Closed
During Application
We adopt the MyInfo system, which speeds up the application process as your information is taken directly from Singpass.
This allows us to process your loan request within 8 minutes, and we will notify you of the approval afterwards.
Upon approval of your application, you can head down to our office to complete some paperwork. Your funds will be disbursed to you immediately after.
Yes, but it's subject to approval and cannot be used to refinance your current loan.
No, you can only apply for a reloan one day after you make your payment.
If you have an active loan with us 6 months prior, we will send the statement of account of your loan to you. We will send you a digital copy, unless you opt for a physical copy.
We will not call your home/workplace for any verification unless we have your verbal consent.
We will send you a reminder two days prior to your payment date.
You can login to the loan portal to check your outstanding balance. With each payment yoau make, we will also send you information on your outstanding balance.
You are strongly advised to talk to us in the event of being unable to make repayment. However, do note that delayed payment will negatively affect your credit history and accrue debt due to late payment penalties.
You should also be aware that a poor credit score will make it difficult for you to borrow from other financial institutions under the Moneylenders Credit Bureau in the future.
Before taking legal action, we always opt to settle the issue through internal arrangements with our customers.
Unfortunately, if no agreement can be made, we reserve the right to take legal action, involving court proceedings against the defaulter.
There are many reasons as to why your personal loan application is rejected. Each rejection is subject to circumstance. Poor credit history, and/or holding a large amount of debt are some of the common reasons why an application is rejected.
You can pay via AXS, SAM, or cash payment at all Singpost offices. You can also make payment at our retail branch.
Customers are advised to check carefully before entering their personal information. In event of wrong entry, please contact the respective payment channels.
You may make repayment at any time you see fit. No additional fees will be incurred for making payment prior to the end of the contract period.
No. Credit bureaus in banks are different from money lenders. We do not create any records in our applicant's bank credit reports.
After Loan Application
Your loan status can be checked from the loan management portal. An e-receipt will also be sent to you after every payment in the form of an SMS/email, with your outstanding balance included in the notification.
Yes, absolutely. The safety and security of your personal information is very important to us. We employ ChaCha20-Poly1305 to protect your data whenever we transfer information between your devices and our servers.
We will refund you via PayNow. In the event that you do not have PayNow, you may request for a DCA form from our contact centre via email, or from our office. A refund in this manner will take an estimated 14 business days to process.
All payments will be reflected in our system on the next working day, regardless of the payment method.
We value responsible borrowers. If you have applied for frequent loans and have a good track record with repayment, we will gradually increase your limit.
We take great pride in our services. If we were unable to meet your expectations, we may address your concerns directly by email at loansg@crawfort.com, or on the phone at +65 6777 8080.
Other Information
1. Types of Loans
Before you decide to take a loan, you should understand the different loan options that are available. At Crawfort, we provide both secured and unsecured loans.
a. Unsecured loans are based on credit score, with no collateral necessary.
b. Secured loans require some form of collateral before a loan can be granted.
2. Interest Rates
You should be aware of any interest rates that come with your loan before you apply, along with any hidden fees.
Examples of hidden fees include:
a. Origination fees
b. Appraisal fees
c. Underwriting fees
d. Credit report fees
At Crawfort, we do not include any hidden fees in our rates.
3. Duration of Loan
The duration of the loan will also play a part in determining your total loan cost. Since there are many different loan durations, it is best to discuss your options with our Relationship Manager.
4. Current Financial Situation
The most important factor in deciding whether to borrow money is your financial situation.
By looking at your monthly and yearly budgets, you can make a better decision on the loan amount that you are able to take out.
We need to conduct face to face verification in order to prevent identity fraud.
We keep all the contracts and documentation submitted by you for 5 years.
8

Minutes is All You Need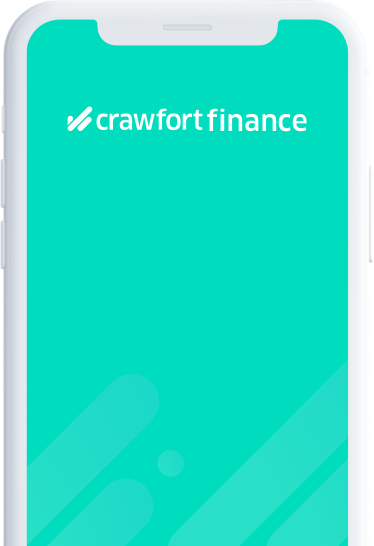 Get Your Loan
Approved by
Tomorrow