Obtaining a Loan
You can apply for your loan directly online via MyInfo at any time of the day, while banks may require you to go there physically in order to apply for a loan.
Most banks usually close around 4:30pm to 6pm, making it difficult for working adults to make a trip down. Through Crawfort's efficient loan system, you can save plenty of time.
If you are employed:
1. NRIC *
2. Singpass & 2FA *
3. 3 months official computerised payslip
If you are self-employed:
1. NRIC *
2. Singpass & 2FA *
If you are a Grab/Taxi driver:
1. NRIC *
2. Grab statements or taxi license
*denotes a compulsory field
Loan Information
For foreigners:
– If your annual income is less than $10,000, you are eligible for a loan of up to $500.
– If your annual income is between $10,000 to $20,000, you are eligible for a loan of up to $3,000.
For Singaporeans:
– If your annual income is less than $20,000, you are eligible for a loan of up to $3,000.
– If your annual income is at least $20,000, you are eligible to loan up to 6 times your monthly income.
The amount you are eligible for will be determined on both your assessed ability to repay and your annual income. Those who submit all the completed required documents will tend to have a higher approval rate.
– A processing fee is deducted upfront from each loan; you don't have to pay anything extra.
– A $60 fee will be incurred on overdue payments, so be sure to make payment on time!
Nominal interest rates start from as low as 1.8% per annum.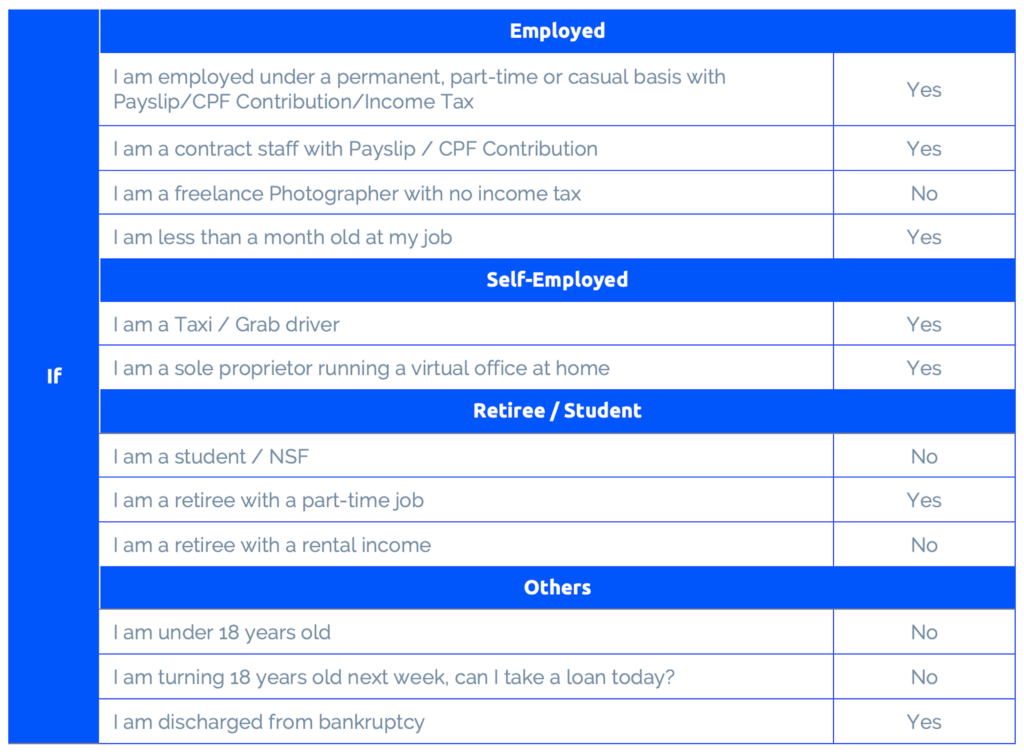 – Even if you have outstanding loans or a bad credit history, you are still eligible for a loan with us as long as you are timely with repayments.
– Our professional financial consultants will provide you with a structured loan plan tailored to your financial capacity.
We offer different loan plans with different repayment schedule.
You will be able to choose one that best fits your needs:
– Weekly
– Bi-weekly
– Payday
– Monthly
No guarantors are required for personal loan applications with us.
Our loan products cater to multiple needs. Some examples include loans for studies, renovations, travel/leisure, weddings, and medical purposes.  Feel free to contact us at +65 6777 8080 to find out more!
Certainly, as long as you can provide us with the latest proof of residence with your name and address.
Crawfort Pte Ltd is a licensed money lender (License No: 86/2023) by the Ministry of Law. You can verify this information at the Ministry of Law's website.
Many illegal money lenders have emerged in recent years.  Please be vigilant and beware of anyone approaching you with attractive loan offers through calls, SMSes or any other media forms.  Do not fall into theses traps.
Licensed money lender can only advertise through 3 channels:
– Official corporate website e.g. crawfort.com
– Advertisements placed within or on the exterior (the side of the wall, door, shutter, gate, and window) of their outlet
– Business or consumer directories (in print or online media)
So, if you ever come across advertisements/marketing messages in other channels such as flyers, phone calls, text messages, emails, facebook posts and any other media forms, please DO NOT respond to them as they are likely to be scams or from unlicensed money lenders.
For more tips on differentiating between a licensed and unlicensed money lender in Singapore, you may read our blog post: https://crawfort.com/sg/licensed-vs-unlicensed-money-lender-singapore/
If you're still unsure if a lender is legitimate, you can always check on the Ministry of Law website.
Crawfort allows you to deal directly with a personal financial consultant who will offer loans that suit different situations.
Accepting a loan from a friend or family member may allow you to avoid interest rates. However, failing to set up clear and defined terms for repayments could be problematic for your interpersonal relationships.
Apart from late payments, friends and families may also require cash urgently, and ask for earlier payment. Failing to make payment may also complicate your personal life.
Banks and finance companies usually look for long term loans, resulting in long term commitments and higher cost on loan interests.
We only request straightforward documents, and successful applicants can receive funds within a business day. We also provide hassle-free and simple application processes and flexible refinancing options.
Definitely NO.
You are more than welcome to connect with us via whatsapp, phone call (+65 6777 8080) or email ([email protected]) to enquire about our loan products and services.
In the event of a successful loan application, we will retain your loan application form for a minimum of five years. However, we do not retain any submitted documents if the application is rejected by either party.
Unfortunately, we do not accept joint applications.  We only accept applications from single borrower.
Outlet address:
1 North Bridge Road
#01-35 High Street Centre
Singapore 179094
Operation hours:
Monday to Saturday from 10:30am – 7:30pm
Sunday, Public Holidays: Closed
During Application
Our loan platform allows you to log in with your Singpass to pre-fill information, hence eliminating time and effort for manual inputs. This greatly increases the efficiency of loan applications, as accurate information can be quickly retrieved from multiple government agencies and inserted accordingly, eliminating possible human errors.
Loan processing and approval within 8 minutes are made possible by the use of an automated system that leverages big data capabilities to analyse comprehensive data sets to score applicants with unparalleled precision.
Funds will be disbursed immediately after you have accepted our loan offer and completed the face-to-face verification at our outlet.
Yes you can, but it's subject to approval and cannot be used to refinance your current loan.
Unfortunately, you cannot.  You can only apply for a reloan one day after you make your payment.
We typically send our customers their loan statement of account in digital format, unless you requested for a physical copy
We respect the privacy of our customers.  We will not call your home/workplace for any verification unless we have your verbal consent.
We understand that everyone is busy and hence may lose track of repayment schedule from time to time.    This is why we send out payment reminder two days prior to your payment date.
You can login to our loan portal to check your outstanding balance easily. And, with each payment you make, we will also send you information on your outstanding balance.
Delayed payment will negatively affect your credit history and accrue debt due to late payment penalties.  Having a poor credit score may also make it difficult for you to borrow from other financial institutions under the Moneylenders Credit Bureau in the future.
In view of this, we strongly urge you to speak to us in the event that you are unable to make repayment.
Before taking legal action, we always opt to settle the issue through internal arrangements with our customers.
Unfortunately, if no agreement can be made, we reserve the right to take legal action, involving court proceedings against the defaulter.
There are many reasons as to why your personal loan application is rejected. Poor credit history, and/or holding a large amount of debt are some of the more common reasons why an application is rejected.
Apart from our outlet, you can also easily make payments at AXS.
Customers are strongly advised to check carefully before entering their personal information or loan information.
In event of wrong entry, please contact the respective payment channels for assistance.
You may make repayment at any time you see fit. No additional fees will be incurred for making payment prior to the end of the contract period.
No. Credit bureaus in banks are different from money lenders.
Getting a loan from us does not create any records in your bank credit reports.
After Loan Application
Your loan status can be easily checked from our loan management portal.
An e-receipt will also be sent to you after every payment in the form of an SMS/email, with your outstanding balance included in the notification.
Alternatively, you can also send us an email at [email protected], or call us at +65 6777 8080 to check.
Yes, absolutely! The safety and security of your personal information is of utmost importance to us. We employ ChaCha20-Poly1305 to protect your data whenever we transfer information between your devices and our servers.
We will refund you via PayNow.
In the event that you do not have PayNow, you may request for a DCA form from our customer service department via email ([email protected]), or directly from our outlet (1 North Bridge Road #01-35 High Street Centre Singapore 179094).  Please be informed that a refund in this manner will take an estimated 14 business days to process.
All payments will be reflected in our system on the next working day, regardless of the payment method.
However, in the event that your payment is not reflected by the next working day, please email us at [email protected], or call us at +65 6777 8080.  Our friendly customer service associates will be more than glad to assist you in checking the status.
We value our customers and will certainly explore increasing loan limit for your future loan(s) where possible.
We take great pride in our services. If we were unable to meet your expectations, please let us know by emailing us at [email protected], or you can speak to us directly on the phone at +65 6661 0909
Other Information
1. Types of Loans
Before you decide to take a loan, you should understand the different loan options that are available. At Crawfort, we provide both secured and unsecured loans.
a. Unsecured loans are based on credit score, with no collateral necessary.
b. Secured loans require some form of collateral before a loan can be granted.
2. Interest Rates
You should be aware of any interest rates that come with your loan before you apply, along with any hidden fees.
Examples of hidden fees include:
a. Origination fees
b. Appraisal fees
c. Underwriting fees
d. Credit report fees
At Crawfort, we do not include any hidden fees in our rates.
3. Duration of Loan
The duration of the loan will also play a part in determining your total loan cost. Since there are many different loan durations, it is best to discuss your options with our Relationship Manager.
4. Current Financial Situation
The most important factor in deciding whether to borrow money is your financial situation.
By looking at your monthly and yearly budgets, you can make a better decision on the loan amount that you are able to take out.
At Crawfort, we pride ourselves in offering loan package that is tailored to your needs and financial situation.
While we understand that it may cause inconvenience to some of you, this is a regulatory requirement designed to protect the interest of borrowers like you.  The face to face verification process seek to prevent identify fraud.
8

Minutes is All You Need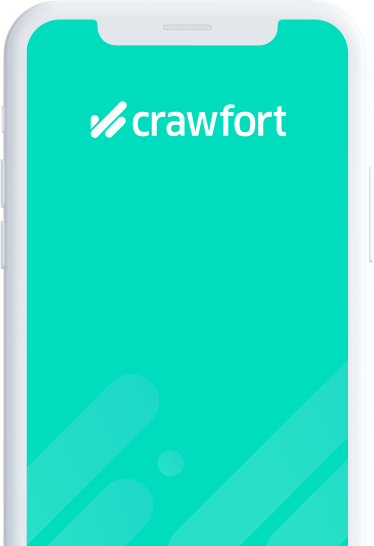 Get Your Loan
Approved by
Tomorrow