22 June 2020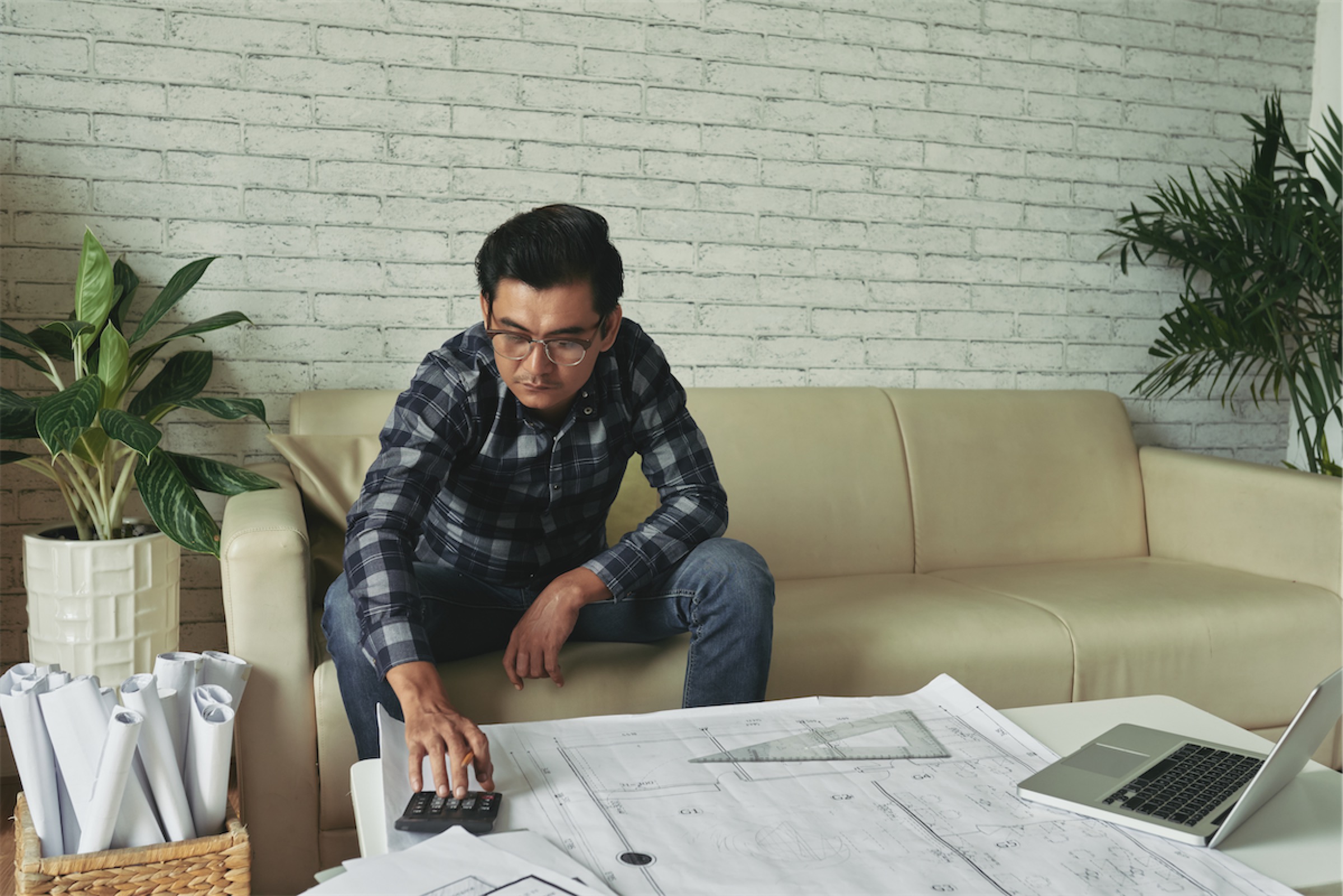 Now that you've collected the keys to your new home and browsed countless web pages for decor inspiration, it's time for the next step. Imagine, after a long day at work, going back to a home that's furnished and personalised just the way you like it. Isn't that exciting?
That is until you realise the costs you'll incur in creating your dream home. 
Unless you've been diligently saving up for your home renovation, you may not have sufficient funds on hand to cover the costs incurred. So what could you do in a situation like this? Well, a personal loan may come in handy for the renovation. 
In general, there are 2 types of loans you can use to fund your renovation project: personal loan and renovation loan 
So when should you consider taking a personal loan over a renovation loan in Singapore? 
How Much Does Home Renovation In Singapore Cost? 
Typically, the average cost of renovating a 4-room HDB flat is about S$50,000 to S$60,000.
There are many factors that come into play, which makes the ultimate cost of renovations difficult to answer. Depending on these factors below, a renovation for a 4-room HDB flat can range from as low as S$4,888 to as high as S$110,000. 
Type of home: HDB flat, EC/condo, or landed house? Renovations for resale flats tend to be more expensive and are estimated to be about S$67,000. On the other hand, renovations for BTO flats are estimated to be around S$44,000. 
Age and condition of home: The extent of renovation work for an old property would vastly differ from a newer one.
The extent of renovation you want: Are you happy with the current state of the house or would you prefer to start from a blank slate by hacking everything down?
Type of materials: If you have atas taste and want granite or marble flooring, be prepared to fork out more. 
The contractor/interior design firm you pick: Obviously, different firms offer different rates. Be sure to do your research beforehand!
Common Renovation Works In Singapore
Do you know that the most expensive components of a renovation are hacking, masonry, and carpentry? And the most expensive areas to renovate in your house are typically your kitchen and toilets!
Here's a table of common renovation works in Singapore and their average costs:
| | | |
| --- | --- | --- |
| Component | Inclusions | Average cost |
| Hacking /demolition | Hacking and re-building walls (i.e. plastering and touch up) | S$6,000 |
| Masonry | Flooring, tilework, wet works, and waterproofing | S$10,000 |
| Carpentry | Built-in features (i.e. custom-build wardrobes, tables, storage) | S$24,000 |
| Plumbing | Installation of water features (i.e. sinks, shower system), and extension and concealing work for pipes. | S$1,000 |
| Ceiling and partition | False ceilings, curtain pelmets, and partition walls | S$5,000 |
| Electrical works | Electrical outlets for power points, heater, lighting | S$4,000 |
| Painting | 2-3 coats of paint for walls and ceilings with primer and sealer | S$2,000 |
| Furniture | Beds, dining table, chairs, etc. | S$10,000 |
| Appliances | Fridge, washing machine, air-conditioners, etc. | S$15,000 |
Source: The Wedding Vow
Situations In Which You May Need A Personal Loan Over A Renovation Loan In Singapore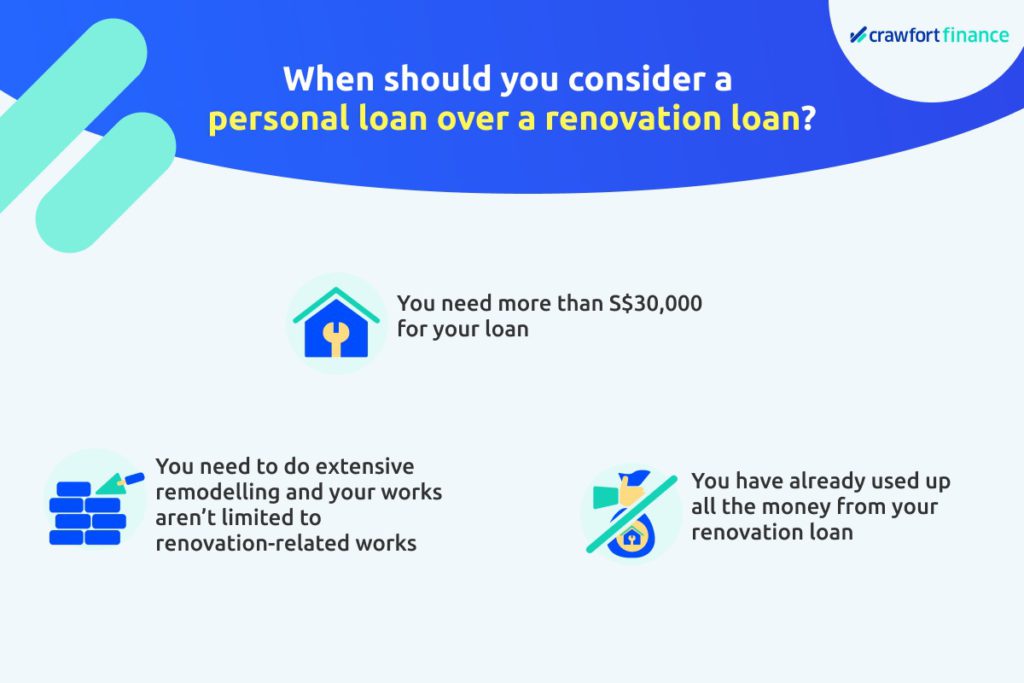 Renovation loans are specifically meant for financing your home renovations. On the contrary, personal loans are a fixed amount of money that you can borrow for any purpose. 
Interested to find out more? Learn more about other differences between a renovation loan and a personal loan here.
So is using a personal loan to pay for the renovation of your dream house in Singapore a good idea? 
Yes — in certain conditions, personal loans can help fund your home renovations.  
Here's a list of circumstances where personal loans in Singapore could be more beneficial than a renovation loan:
1. When You Need To Do Extensive Remodelling That Isn't Limited To Renovation-related Works
If you want to remodel your house beyond the common renovation related works, a personal loan might be a better option. 
 A renovation loan can only be used for these particular works:
Electrical and wiring works
Built-in cabinets
Painting and redecorating works (e.g. wallpaper)
Structural alterations
External works within the compound of the house
Flooring and tiling
Basic bathroom fittings
With a renovation loan, the bank needs to know that you are using the money specifically for the works mentioned above. Hence, you'll need to submit a renovation contract or detailed quotation from a contractor. Once approved, the money will be disbursed directly to the contractor or interior design company. 
Additionally, the bank may also conduct visits after disbursing the money to check that the loan is used for the renovation works stated in the contract or quotation. 
On the contrary, a personal loan gives you the flexibility and freedom of spending on anything you want! This means that you could use the money to purchase furniture or pay for the installation of curtains.
Thinking of getting a personal loan for your renovation? Learn more about what you should consider when taking a personal loan here.
2. You Need More Than S$30,000 To Cover Your Renovation Works
The next question you'd probably have is "Can I borrow more from a renovation loan or a personal loan?" 
Generally, there is a lower cap for renovation loans compared to personal loans in Singapore. Renovation loans in Singapore have a maximum cap of S$30,000 or 6 times of your monthly income, whichever is lower. 
This means that even if you can afford to take out the best renovation loan in Singapore with a large loan amount, it may not cover the full cost of the renovation. 
In terms of how much you can borrow, personal loans hold an advantage. Personal loans can be beneficial since a ballpark figure of a typical HDB renovation in Singapore already costs around S$53,000. 
And as long as your annual income is more than S$20,000 per annum, you can borrow up to 6 times of your monthly income from licensed money lenders such as Crawfort.
Thinking of borrowing from a licensed moneylender? Here are some things to consider before applying for a loan.
3. You Have Already Used Up All Your Money From Your Renovation Loan
There are also unforeseen circumstances where you may find a personal loan useful. 
Something May Go Wrong With The Renovation 
Perhaps the outcome is beyond your worst nightmare, so you decide to fire them and hire a new contractor (fingers crossed this doesn't happen to you). 
If you've used a renovation loan for the former contractor, you are not eligible to apply for a renovation loan again. In this case, you could get a personal loan to finance the renovation.
Looking for more options to finance your renovation? Here are a few choices for you to consider. 
How To Lower Your Renovation Cost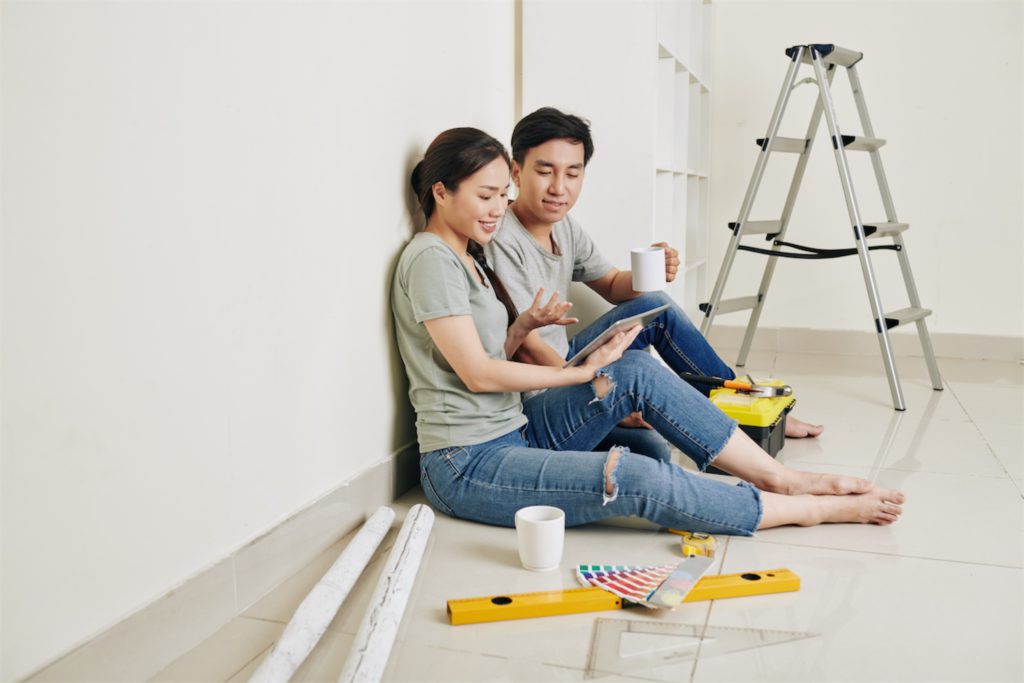 There are many ways to carry out your home renovation without burning a hole in your wallet. 
To help you lower your renovation costs, we have compiled some tips below:
1. Split Your Renovation Works In Phases 
As built-in works like wardrobes, kitchen, and electrical works are tedious and messy to work on once you move in, they should be prioritised at the start to prevent extra work.
2. Overlay, Don't Hack
Besides the fact that hacking is expensive, there are cost-effective options such as using vinyl flooring. It's inexpensive, hardy, waterproof, and can be overlaid on top of existing tiles!
3. Avoid Odd-shaped Carpentry 
They require a lot more effort and workmanship, which is certainly going to jack up the costs. Instead, choose built-ins that are simple and linear like Scandinavian designs.
4. Opt For Paintings Instead Of Fancy Wallpapers
As compared to wallpapers, having your walls painted is fuss-free, pocket friendly, and requires low maintenance.
5. Make Use Of Natural Lighting, Mirrors, And Light Colours 
All these help to brighten up your home, all while reducing the need to install more lighting points. 
Plus, electrical works like lighting generally rack up a pricey sum, so be mindful of that.
6. Keep Leftover Materials Such As Paint, Flooring, And Tiles 
This will save you big bucks and cut down costs for when you need to do renovations in future. 
7. Stick To Original Plumbing Points 
Plumbing is amongst the costliest part of a renovation, which is why you should try to work with existing configurations. 
8. Look For Second-hand Finds And Furniture
Keep your eyes peeled for good deals! If you're lucky, you might be able to get a decent dining table at a fraction of the original price. 
If you're looking for a personal loan for renovations, Crawfort may be able to offer one that is tailored to your needs. Apply now.