28 August 2019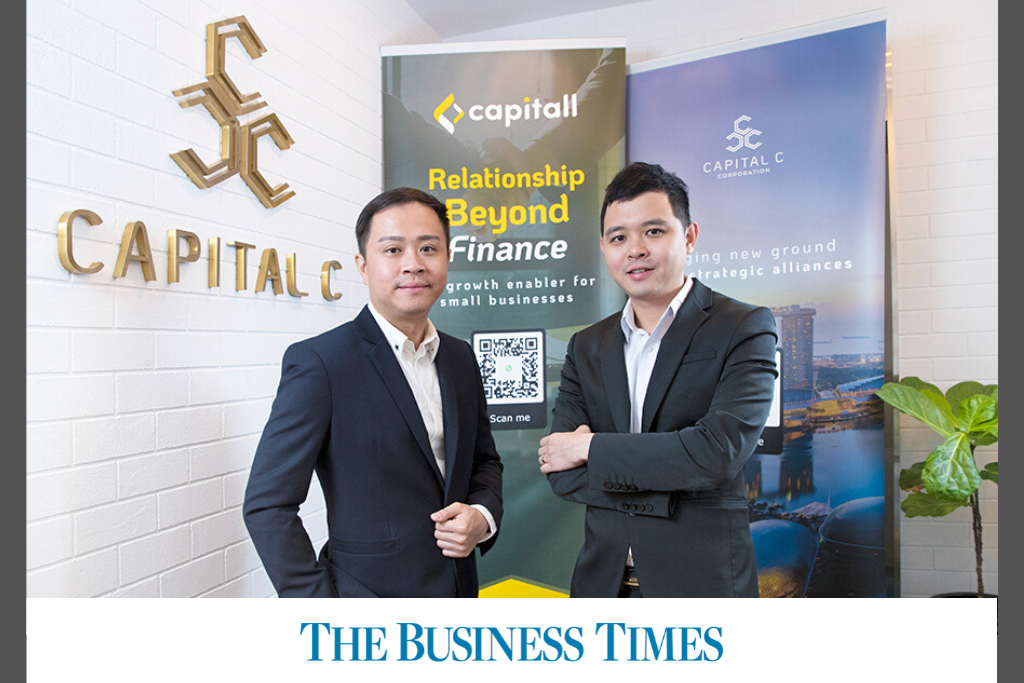 The Business Times
Capital C Corporation is leveraging technology to serve underbanked customers in the region.
---
Singapore-based Capital C Corporation has come a long way since the inception of its money lending arm in 2011.Paragraph
In recent years it has expanded its financial services to corporate customers as well as overseas markets through a digital lending platform. In the long term, the company aims to become a leader in digital micro-finance in Asia; "empowering unserved individuals and businesses to solve funding issues".
To realise this vision, the company will be rolling out a proprietary digital lending service in the Philippines in the fourth quarter; its first foray outside of Singapore. The Philippines operations will use an automated solution that uses customer data to do credit-scoring, thus making the lending process more efficient. In a way, the founders were waiting for technology to catch up to their vision of serving underbanked customers around the region.
"In our offline business there is a lot of form filling and manual tasks, so we are using technology to fill the gaps and make the process more seamless. Everyone today has a smart phone and internet access, so we can process loans in a short time and close the gap for underserved customers. If we were not in this current era of technology, we would not be able to do that," explains James Cheow, Capital C's CEO & Co-Founder.
By going digital, Capital C can achieve mass scale at a lower cost per customer. Using data can also offer more accurate credit-scoring, compared to traditional methods of credit analysis, which relies in part on human instinct rather than concrete data. "When we decide to give a loan previously, we would have to make a decision on whether to trust this client, but now we are able to use data to more accurately make that call," says JJohn Cheow, the firm's CIO and Co-Founder.
The company decided on the Philippines for their first overseas venture due to the market's lack of language barriers, and the fact that it had established banking and ICT infrastructure. "We also considered Myanmar, but most people there didn't even have 3G mobile access. Many also don't have a bank account, which is necessary for us to disburse our funds," explains JJohn.
Despite it being a primarily an online business in the Philippines, Capital C will also set up a customer service centre in the financial hub of Makati for customers who want to talk to someone face-to-face.
If successful, it will seek to replicate its model in other markets in Southeast Asia. The long-term goal is to be in all ASEAN markets in the next three years. The challenge lies in being able to obtain the necessary licences to operate in these markets.
An Entrepreneurial Spirit
Capital C's co-founders have both been entrepreneurs since their 20s when they ran an food and beverage business. That was when they first experienced the difficulties that small business owners face when trying to obtain financing from a bank. "It was not easy getting a loan from the bank. That was when we realised that there were a lot of underserved customers in the financial sector," says James.
As such, the partners decided to set up a business to lend money to consumers and SMEs who could not get financing from traditional sources. Two years ago they decided to set up a separate team to cater to their corporate customers.
"After a while we realised that the needs of SMEs are different from individuals, so we set up a different team to handle the corporate business," says James.
Capital C's corporate offering, known as Capitall, has been well received, and that business now makes up around 25 per cent of their aggregate sales revenue. The goal is for this to reach 50 per cent in the next few years. Looking ahead, the company will continue to invest in data analytics and machine learning capabilities to improve its credit-scoring capabilities.  To this end, it has built up an in-house technology team, which is complemented by the expertise of external vendors. The company currently has a total staff strength of 38 employees.
The firm's growth plans and business model have also attracted external investors. In October 2018, Capital C Corporation closed its first institutional financing round, led by Luminor Pacific Fund 2. According to Luminor, "the capital infusion will help the company to further accelerate and to build upon its early success in catering to the target markets that are underserved by banks and other financial institutions."
"Through this expansion, Capital C Corporation expects to support more financially underserved markets, leverage on the best of technology to connect people through micro-financing and allowing opportunities that otherwise may not exist for persons who do not fall within traditional models of financing."