27 November 2023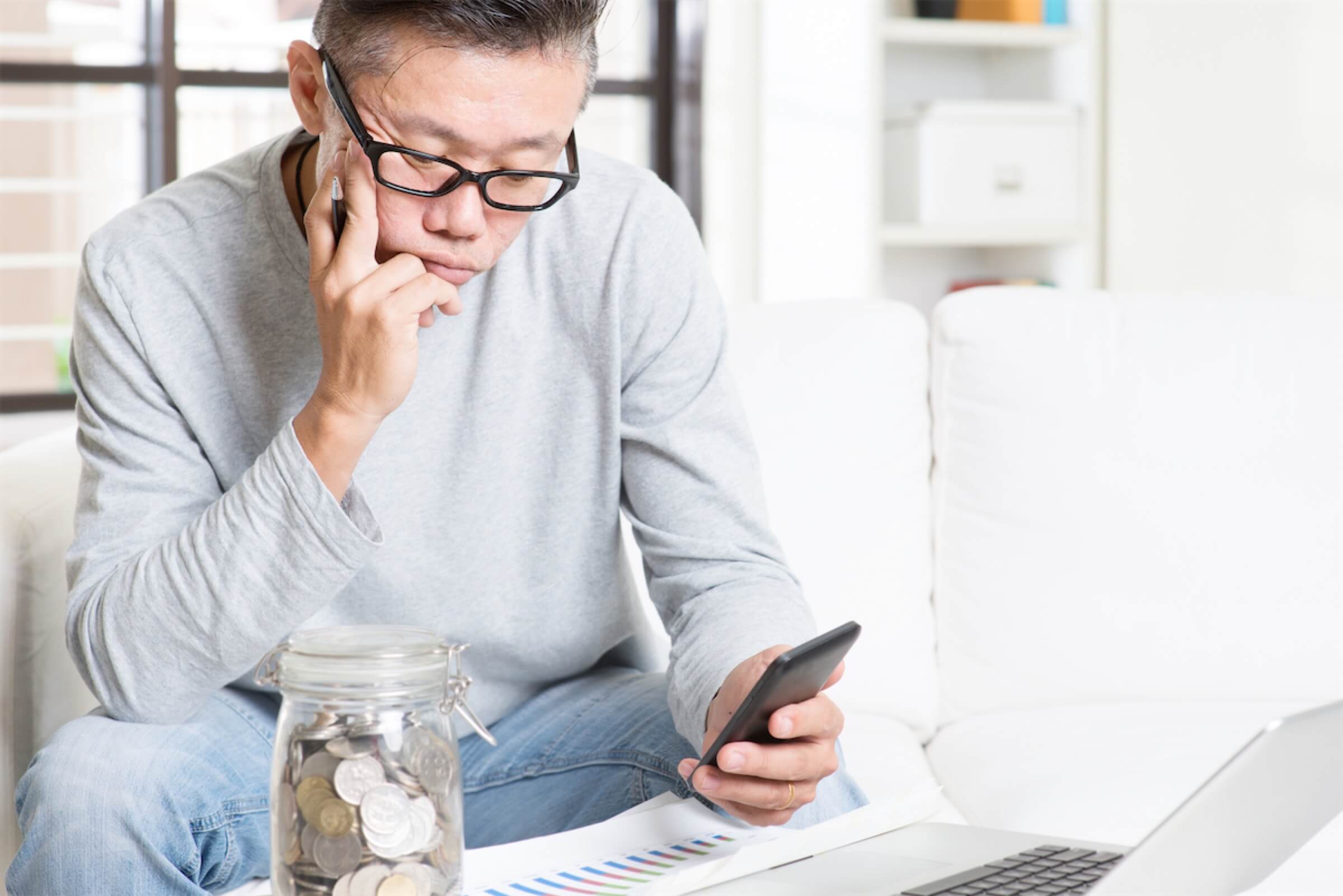 Need a personal loan with bad credit score?  It's tough to get a personal loan in Singapore with bad credit. With a bad credit score, you automatically leave a poor impression on financial institutions, lenders, and banks.
The truth is that having bad credit can happen to anyone. A job retrenchment, a wrong choice in your twenties, or a medical emergency can bury you in debt and ruin your credit score.
However, there's always a way out.
Even if it seems like you'll never be able to get a personal loan in Singapore because of your bad credit, there are ways to improve your situation and increase the chances of your loan approval. 
Read on to find out more about the options you can explore!
What's Considered Bad Credit? 
To answer this question, let's clarify the concept of "credit score" first.
If someone were to ask you for a loan, would you say yes? Probably, but only to someone you trust. That's the same in the financial world.
Since financial institutions don't know you personally to figure out whether you're trustworthy, they rely on your credit score. 
This credit score is based on your credit report, which is a summary of your credit history. Your credit report informs lenders of your financial activities and how good you are with repaying loans. 
Now, let's learn more about the factors that will influence your credit score:
Number of recent loans: If you've taken too much credit within the last months, you give the impression that you're credit hungry. It raises suspicions from lenders that you're knee-deep in debt.

Utilisation pattern:

If you have too much credit compared to your income, you may appear to be incapable of planning your finances. This is a sign that you're spending out of your means.

Account delinquency data:

If you make late payments, financial institutions will infer that you're not trustworthy enough to make timely payments.

Past transactions:

How and what you spend your money on is essential. If you've recently changed your spending habits or started spending significant amounts, you may seem fickle or desperate.

Available credit:

Too many credit accounts are a red flag. Credit cards are notorious for their high-interest rates and usually, one will be tempted to spend more with more credit cards. In the worst-case scenarios, spenders are unable to repay their credit card bill in full, leading to debt.

Enquiry activity:

The number of credit applications you make shows whether you're a responsible or desperate credit user. 
All this information is crucial in allowing them to gauge your creditworthiness. It enables them to figure out:
If you can take a new loan now

How much they can lend you

What interest rate to charge you 
Banks generally use the credit score devised by Credit Bureau Singapore, while licensed moneylenders use the credit score from Moneylenders Credit Bureau (MLCB).
A Score Rating Of 1,000 To 1,723 Is Considered Bad Credit 
At the same time, all this information regarding your financial history translates into a credit score of between 1,000 and 2,000. You can check your credit score by purchasing a credit report from CBS and MLCB.
A higher rating means a better credit score and vice-versa. According to CBS, bad credit is anything between 1,000 and 1,723.
Here's the credit score table devised by CBS:

Score range


Risk grade
Probability of default
Min
Max

1911-2000

AA

0.00%

0.27%

1844-1910

BB

0.27%

0.67%

1825-1843

CC

0.67%

0.88%

1813-1824

DD

0.88%

1.03%

1782-1812

EE

1.03%

1.58%

1755-1781

FF

1.58%

2.28%

1724-1754

GG

2.28%

3.46%

1000-1723

HH

3.46%

100%
Source: Credit Bureau Singapore
Referring to the table, someone with bad credit has a high probability of defaulting (not paying their debt).
Therefore, if you have bad credit, you're more likely to be rejected by banks. 
On the flip side, the credit score from MLCB is based on information provided by other licensed moneylenders. So the credit score you have with MLCB might be different from the one with CBS, potentially opening up more loan options.  
What Causes Bad Credit? 
If you want to get a personal loan in Singapore while you have bad credit, your best bet is to try and fix it first. And you can do so by understanding what might have caused your bad credit score. 
The first step is to get your credit report from CBS, which will only cost you around S$6.50. Based on the credit report, you can figure out what might have caused your credit score to plummet. 
Lack Of Credit History 
You're probably thinking that never taking a loan tells financial institutions that you're self-sufficient.
Not a lot of people know this, but if you've never taken any loan before, it doesn't mean that your credit score is high.
In fact, never taking a loan lowers your overall score because financial institutions don't know whether you're good at repaying your loan, or how your financial standing is. 
Having a pre-existing loan or a credit card means there's a track record of:
Being a loyal customer of a bank

Making timely payments

Repaying each instalment in full
Late Payments
Late and/or partial payments are a sure sign that you may not be able to repay a new loan. 
But there are times where faulty programmes can result in errors on credit reports, even if you're always paying your bills and loans on time. 
Luckily, you can dispute these errors once you get a hold of your credit report. This is also why it's essential to check your credit report regularly. 
Loan Defaults
Defaulting your loan means not paying it. In this case, the bank writes it off as a loss.
However, even when the bank agrees that you can't repay your loan, you're not entirely off the hook. It'll still be reflected in your credit history, which can result in: 
Having difficulty finding work, especially in the financial sector

Having money seized from your accounts 

Losing the assets with which you've secured the loan

Losing the assets that you've bought with the loan, a trend that's on the rise among

Singapore's homeowners

Going through legal proceedings

Having difficulty obtaining a new loan
So it's best that you avoid loan defaults as much as possible. 
Plus, the good thing is that banks are open to restructuring your loan or allowing you to just pay the interest for a few months until you get back on your feet.
Multiple Credit Facilities
Having multiple credit facilities reflects that you may be overstretching yourself.
It's almost impossible to ignore all those promotions that banks in Singapore offer regularly. But it's also important to say no to them, especially when you don't need them. 
Here are some useful insights to keep in mind about taking on multiple credit facilities:
Maxing out on your credit card

tells financial institutions that you can't prioritise your financial needs.

Banks analyse outstanding credit

by comparing it to your earnings. Too much credit shows you can't manage your finances.

Applying for a lot of loans

doesn't maximise your chances of getting one. Instead, it may seem like you're desperate for credit.

If you have a lot of active loans

, banks believe that you don't know how to spend money according to your financial means.

If you always have the card you need for discounted purchases

at vendors around Singapore, it shows banks that you're more interested in perks rather than wise spending.
Wondering what else might have brought down your credit score? Learn more about it here. 
How To Increase Your Chances Of Getting A Personal Loan In Singapore With A Bad Credit
Now that you know what bad credit is and what causes it, it's time to do something about it.
Avoid Mass Applying
You should never apply for various loans within a short period of time.
If you do that, you'll send the wrong message to financial institutions. They can infer that you're going through extreme financial distress and that you need a loan urgently.
Besides, financial emergencies can signal a higher probability that you'll default on your loan.
So, even if you want to take advantage of excellent loan promotions, you should not take it unless you really need it. Applying to 5 different loans within a few weeks seems hugely desperate.
Moreover, mass applying signals to the credit bureau that you're credit hungry, and this can lower your score. 
Here's what you should do instead: 
Only apply for a second loan if a financial institution has rejected your first application

Spread your loan applications over several months

Do your research before applying to ensure your chances of success
Apply For Smaller Loans
Applying for smaller loans is a good idea as it increases your chances of getting one. 
Financial institutions are more likely to refuse bigger loans to people with bad credit scores, but they'll be more eager to extend a smaller one. For example, if you intended to take on a loan of S$10,000, try lowering the amount to S$4,000. This increases the chances of getting your loan approved. 
And here's the best part about applying for a small loan. Not only does it make timely repayments easier, but it also helps you to demonstrate that you're financially responsible. 
This also helps you to improve your credit score and get out of your financial jam quickly. 
Apply With Licensed Moneylenders
Unfortunately, a lot of people with bad credit scores in Singapore turn to loan sharks when they can't get a personal loan with the bank. However, it's important to remember that unlicensed moneylenders are extremely dangerous and you should never borrow from them. 
Applying with licensed moneylenders is a much better solution because they don't look at credit scores as much as banks, and don't charge exorbitant fees like loan sharks. 
For instance, some licensed moneylenders in Singapore use their own systems to figure out if you're creditworthy. If banks have rejected you, you can try applying at a licensed moneylender. 
Rest assured that licensed moneylenders won't charge extremely high-interest rates. The maximum interest rate all licensed moneylenders in Singapore can charge is capped at 4% per month. 
If you're looking for personal loans in Singapore, licensed moneylenders like Crawfort can help you even if you have bad credit. Crawfort allows you to get a personal loan even with a minimum annual income of less than S$20,000. 
Another benefit of applying with Crawfort is that their interest rates start from 1.8% per annum. This makes their loan packages one of the more affordable ones in the market. 
Regardless of your credit score, you should never borrow from unlicensed moneylenders. They are known for their sky-high interest rates and harassment tactics which may hurt you and your family! 
Not sure how else to differentiate between a licensed and unlicensed moneylender? Learn more about their differences here.
Planning to borrow from a licensed moneylender? Be sure to check out the things they aren't allowed to do here. 
How To Clear Bad Credit History In Singapore 
Of course, the number one way to ensure you get a loan is to clear that bad credit history.
You won't be able to do that in a day or a month, but with determination, you'll be able to clear it eventually. 
Here's what you have to do. 
Make Loan Payments On Time
Start paying off your existing debt, and commit never to miss a deadline again. 
This is where you need to instil discipline in your monthly expenses. Think about it: what have you been overspending on? How can you lower your expenses? 
Find out the ways to lower your spending and repay your debt. This way, you'll be able to avoid late fees that make repaying your debt even harder. Doing so also reflects your tenacity to follow through with your financial obligations.
Restructure Your Debt
The first step to restructuring your debt is to negotiate with your lender. For instance, you can ask for a longer repayment period or a lower interest rate.
In some instances, an extension of the loan tenure might result in higher interest rates. While this doesn't sound pleasant, it definitely is a better option than defaulting on your loan.
Loan defaults are almost detrimental to your credit score and should never be taken lightly. Where possible, you should always aim to repay all of your loans. 
Use A Balance Transfer
This is a technique not known to many. An excellent way to repay outstanding credit is to get a more manageable loan to clear your debt.
An example of this is a balance transfer, which allows you to consolidate your credit card balances to a zero-interest account for a period of time. It gives you more time to make timely repayments, while improving your credit score faster. 
Learn more about how you can clear your credit card debt with a personal loan here.  
Use A Debt Consolidation Plan
Sometimes, the numerous loan repayments can make things confusing, causing you to miss out on a deadline. A debt consolidation plan can help to simplify everything for you. 
It works by combining small, high-interest loans into one, allowing you to just make a single payment every month for several loans. 
A debt consolidation plan is a personal loan in Singapore that's extremely helpful in tidying up your finances, helping you clear bad credit history when you repay according to the schedule. 
Learn more about how a debt consolidation plan works here. 
Go For Credit Counseling
Financial habits can be difficult to change once they're formed, especially if you have had poor financial habits for years. 
If you need assistance in restructuring your debt, credit counselling can help you negotiate with your lenders and manage your debt. 
The first step is to get in touch with a trustworthy credit counsellor from the Credit Counselling Singapore. This non-profit organisation has plenty of resources on their website that can help you restructure your debt. Alternatively, you can request a credit counselling session with them. 
Learn more about the services offered at Credit Counselling Singapore here. 
Limit The Number Of Open Credit Facilities
If you have more than 3 credit facilities, close the additional ones as soon as possible.
Out of sight, out of mind. No extra credit cards, no extra spending. 
Pay all your credit cards and loans, or refinance those you can't repay on time, and make sure you have just 3 open credit facilities.
The first reason is that more credit tells financial institutions that you can't manage your finances. It shows that you're overextending and that you're possibly credit hungry. 
It also makes you become more prone to missing your payments, which can result in a bad credit history. 
Moreover, all these open credit facilities require you to pay a lot of annual fees. So, it's best to just stick to a few credit facilities. 
Wondering what else you can do to improve your credit score? Learn more about it here. 
How To Apply For A Personal Loan Within 8 Minutes 
Getting a personal loan with bad credit in Singapore isn't as tough as you may think. With the latest technology and development, loan application at Crawfort, a licensed moneylender, is fast and fuss-free.
Plus, you can use your MyInfo login to apply, and get it approved as fast as 8 minutes. 
Ready to apply for a personal loan? Get it approved fast at Crawfort.