10 November 2023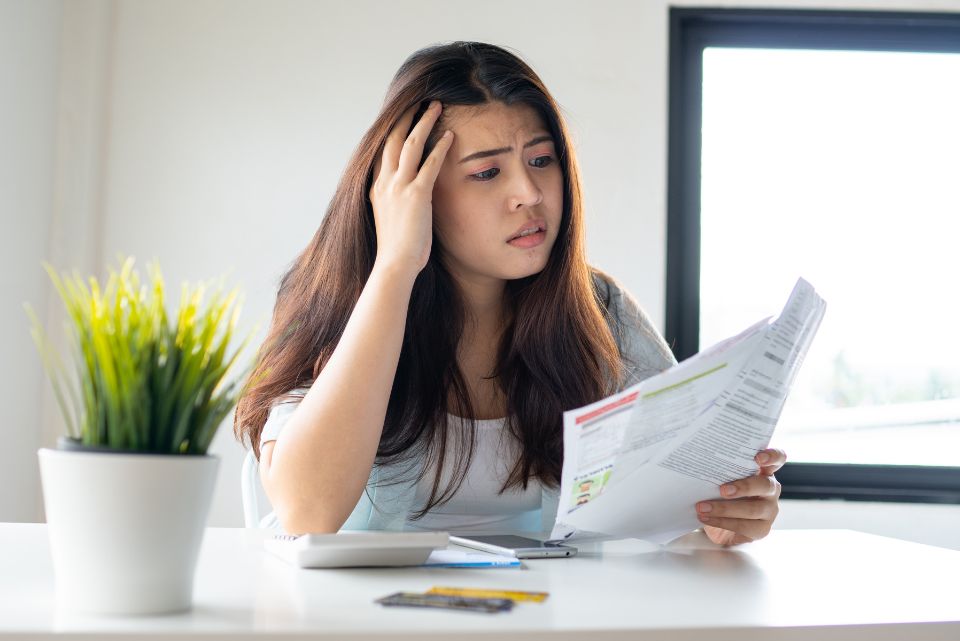 Encountering financial difficulties, whether due to unexpected expenses or a job loss, can lead to challenges in paying off credit card bills. This might prompt the question: "What can I do if I'm unable to pay my credit card bill?"
Failure to clear credit card bills can result in escalating debt. It's crucial to understand that an unpaid credit card balance accumulates increasing interest and fees over time. With interest rates averaging around 25% annually, delaying repayment significantly amplifies the debt. While this situation can be stressful, there are ways to reduce the adverse impact of high interest rates.
Continue reading as we uncover the ways to prevent further debt accumulation from credit card bills.
How Do Credit Cards Work?
Before delving into strategies on managing unpaid credit card bills, it's essential to understand how credit cards work.
Essentially, a credit card operates as a short-term loan provided by a credit card company. Users are assigned a spending limit for purchases, bill payments, and cash withdrawals.
When you use a credit card for purchases, the quantity of available credit diminishes and you have to pay back the amount that you have used. For processing, the authorised bank, receives the transaction data. The money is taken out of the credit card balance after the credit card company gives their approval.
The credit card company sends out a statement at the end of each billing cycle, which is typically once a month that lists all of the transactions, the amount owed, and the necessary payment. A grace period is typically offered for repayment without incurring interest.
On the other hand, interest charges—expressed as an annual percentage rate, or APR—apply if a balance carries over into subsequent months. The interest on the loan as well as other expenses like yearly fees are included in the APR. The majority of credit cards feature a variable annual percentage rate (APR) that is based on the prime rate, which could result in higher fees over time.
So, What To Do If I'm Unable To Pay My Credit Card Bill?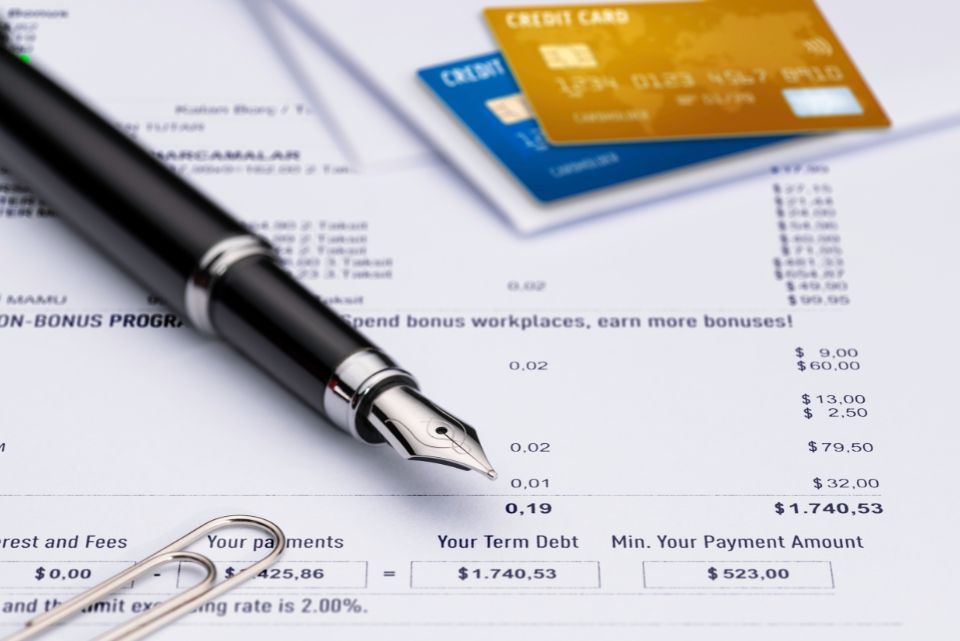 Assess Your Financial Situation
First, determine your financial situation. To better comprehend your financial situation, list your income, expenses, and current debts. Decide how much you can realistically put towards paying off your credit card debt without compromising other important expenses.
Contact Your Credit Card Issuer
Proactively communicate with your credit card provider. Financial assistance programmes are offered by several Singaporean issuers to clients who are having difficulties.
To resolve any issue, get in contact with their customer support team. Options including changing interest rates, adjusting payment schedules, or providing short-term relief could be offered.
Check if You Can at Least Pay Off the Minimum Repayment
If paying back the full amount is not possible, you still need to make a minimum payback. Not only can missing this requirement result in further late penalties, but it will also negatively affect your credit score. In the future, you might find it more difficult to get financial services if your credit rating is low.
Most credit cards usually have a minimum repayment requirement of S$50, or 3% of the total amount owed, whichever is greater. Make sure you pay back this amount as soon as possible if you can. Monthly late fines of up to S$100 per card may result from failing to make or postponing the minimum repayment.
If you find it difficult to make the minimum repayment, let your bank know ahead of time. By getting in touch with them, you might be able to work out a different payment schedule.
Consider a Balance Transfer
For instance, you owe S$3,000 on a credit card and can't pay it off right now. This S$5,000 (minus interest) may take three to four months to pay off. Instead of letting credit card debt increase, transfer it to a 0% balance transfer account. You'll still owe S$5,000 (plus a small processing fee), but this transfer gives you 6–12 months to repay the debt without interest.
Do not use your credit card for new purchases during the debt transfer period.  Concentrate on reducing your existing debt before using your credit cards again.
Explore Debt Consolidation Plans
You must take immediate action if you have several credit cards that are fully paid off and your debt is at least 12 times your monthly salary. Your debt will get larger the longer you put it off, making repayment more difficult.
A debt consolidation plan (DCP) might be a useful tool in this situation to help you pay off your outstanding credit card amounts. This entails paying off all of your unsecured debt with a single loan.
Most personal loans have maximum terms of six times your monthly income, or S$18,000, which is not enough to pay off all of your current debts. The bank, however, provides a single S$40,500 loan to pay off all outstanding obligations when a DCP is used. By doing this, you may manage the repayment of a single loan to the bank rather than juggling the payback of several credit cards at once.
In addition to making debt management easier, a DCP frequently has a longer repayment term and a cheaper interest rate. Compared to paying off debts without a DCP, this not only saves you money on interest but also results in more manageable monthly payments.
Consider a Personal Instalment Loan
Personal instalment loans commonly carry an interest rate of around 6% per annum. Occasionally, promotional offers may feature personal loans with a 0% p.a. interest rate for a limited period, typically the initial three months.
If you find yourself unable to utilise a balance transfer, considering a personal instalment loan to settle your credit card debt could be an alternative. This functions similarly to a balance transfer, with the primary difference being that personal instalment loans require fixed repayments, allowing for an extended repayment period.
It's essential to note that attempting to repay the entire loan amount before the specified tenure (for example, taking a loan for one year but aiming to complete payment within four months) might result in a prepayment penalty.
Discover more about how you can clear credit card debt with a personal loan in Singapore.
Budgeting and Cutting Expenses
Conduct a thorough analysis into your typical spending habits and build a detailed financial plan in order to effectively handle unnecessary expenses. You might be able to free up additional income to use towards paying down your credit card bills if you temporarily cut back on spending on things that aren't essential.
Seek Financial Counseling
Seek the assistance of a financial expert or counsellor in order to obtain helpful insights into the management of your debt. They assist in navigating through optimal options that are personalised to your particular financial situations, in addition to providing advise on budgeting and debt management.
Learn more about credit counselling in Singapore.
Understand the Consequences
If you don't make your credit card payments on time, you could end up accruing interest charges, paying late penalties, and ultimately seeing your credit score suffer as a result. Your credit history will be impacted favourably if you are honest about your current financial status and if you take proactive measures to improve it.
Avoid Using Any New Credit Until Your Debt is Fully Paid
Refrain from getting new credit until your debt is paid. The above techniques seek to clear your debt rapidly, but you must avoid adding to it.
Consider keeping your credit card secured by either locking it away until you've paid off your balance entirely. In addition, a DCP will close your credit lines until your debt is less than 8 times your monthly salary.
Effectively managing credit card debt requires careful planning and the commitment to follow through.
Consider a Temporary Side Hustle
To supplement your main income, think about looking into other sources of money. You can make extra money to help manage and pay off your credit card debt by selling items, taking up part-time work, or exploring freelance options.
Stay Informed about Regulations
Keep yourself updated about Singapore's credit policy and financial rules. You may make better use of the financial system by being aware of your rights and obligations as a borrower.
The Bottom Line
In conclusion, dealing with difficulties in paying a credit card bill in Singapore might be stressful, but it is essential to resolve the issue as soon as possible.
It is essential to take proactive measures, get support from your credit card issuer, investigate the various financial solutions that are accessible in Singapore, and efficiently manage your expenses in order to successfully overcome this obstacle.
Remember, seeking assistance and staying proactive are fundamental in managing and successfully resolving financial difficulties.
Need a personal loan to prevent your credit card debt from snowballing? Apply for a personal loan at Crawfort today.