19 October 2023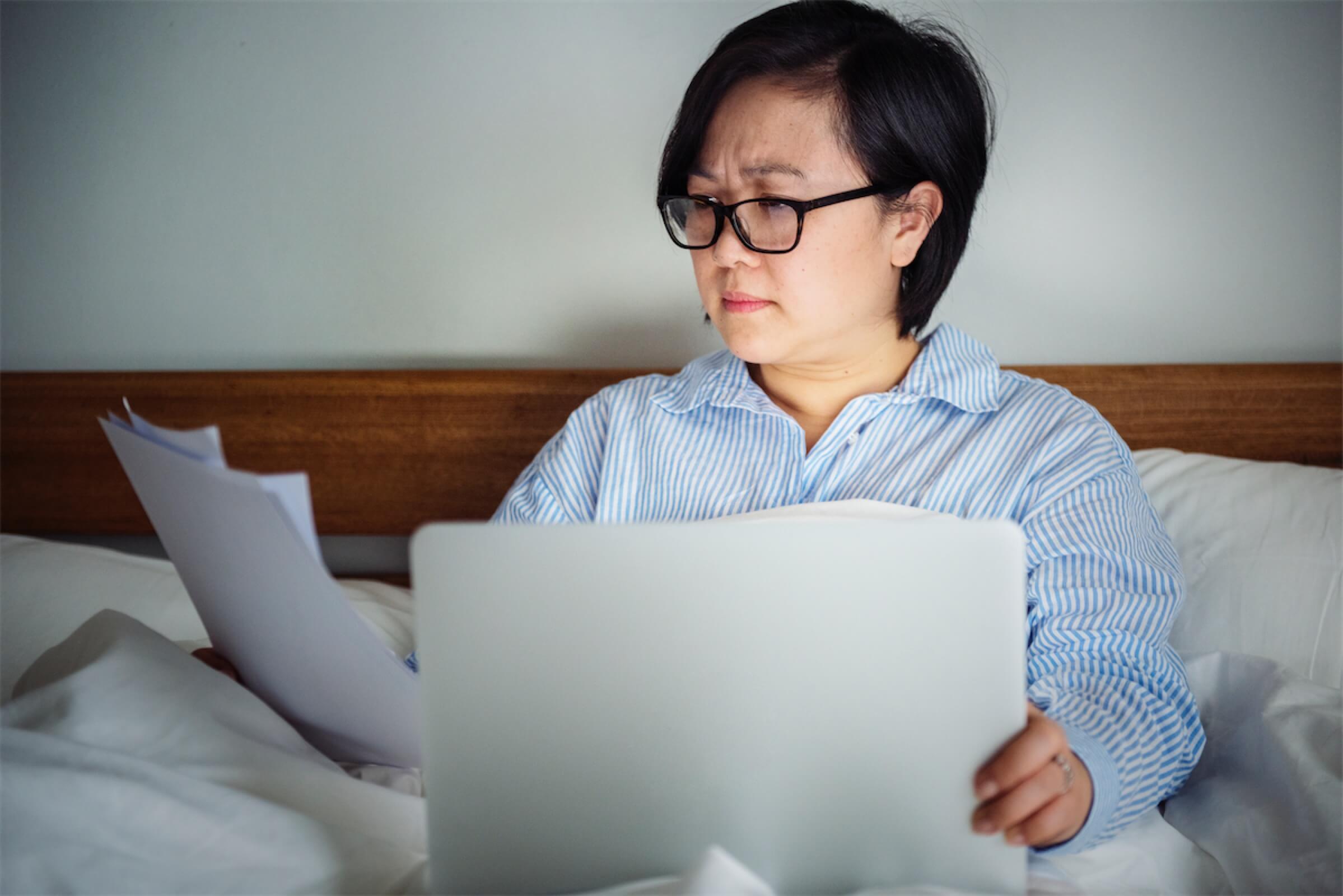 Perhaps it's a time right now when you require extra financial support for your needs—for an emergency, for a dream vacation for you and your partner, or even for a plan to move forward and venture out of your comfort zone. However good your reasons may be, you may have faced problems having your personal loan approved in Singapore. "Why is this so?", you may have asked. 
Firstly, it's essential to understand the point of view of the lender, be it banks or licensed money lenders. They will always consider the risk of lending out money to any borrower, way before extending their loans. 
"How much will I lose if my client fails to pay on time or have defaulted their loan?"
"How much risk am I willing to take for my client?" 
These are common questions that will cross their mind.
Hence, this is the reason why financial institutions in Singapore, particularly banks, go through risk assessments of any individual who approaches them for personal loans. Such risk assessment measures include requiring customers to submit their spending records, credit history, and income and employment history.
Financial institutions might have their own set of guidelines and policies when assessing each individual. Yet amidst the differences, there are still some common factors that loan officers will investigate into after receiving your application. 
Here Are 5 Crucial Things That Will Get Your Personal Loan Application Rejected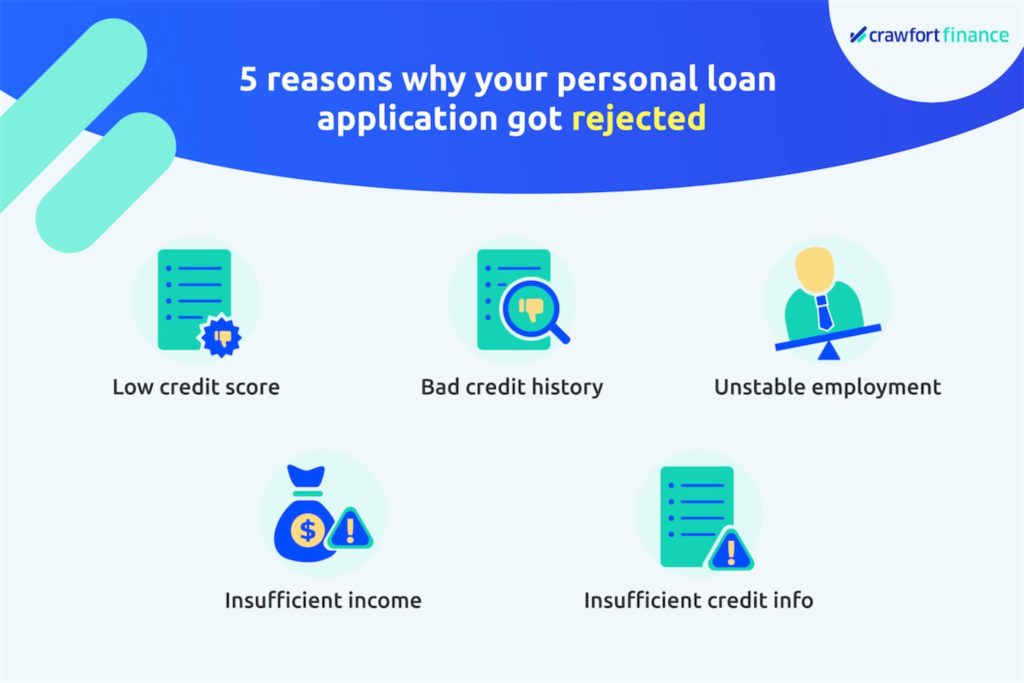 1. Low Credit Score
A credit score is a statistical number that financial institutions such as banks consider during the loan approval process. 
It reflects the health of your financial state and the risks of lending you money. Essentially, credit scores indicate the likelihood of one repaying his debts and the probability of defaulting on payment obligations. 
A credit score is an association to a number; in Singapore, this number is later translated into a credit grade. The higher the number (up to 2000) and the better the grade (AA rating), the better your credit score is. 
The lower your number, the worse you will be in their records, putting yourself as a "high-risk" client. This will deter financial institutions in Singapore from extending their personal loans to you.
Here's a table to illustrate the range of credit scores and their corresponding probability of default. 
Score Range
Risk Grade
Probability of Default
Min
Max
1911 – 2000
AA
0.00%
0.27%
1844 – 1910
BB
0.27%
0.67%
1825 – 1843
CC
0.67%
0.88%
1813 – 1824
DD
0.88%
1.03%
1782 – 1812
EE
1.03%
1.58%
1755 – 1781
FF
1.58%
2.28%
1724 – 1754
GG
2.28%
3.46%
1000 – 1723
HH
3.46%
100.00%
Source: Credit Bureau Singapore
2. Bad Credit History
Loan officers at banks will check your credit history to assess whether you're able to commit to future repayments, and if you have a low risk of defaulting.
Whenever you fail to pay your debts on time and have chosen to default your payments, they will be reflected in your credit account. This will result in a bad credit history. 
Essentially, a credit history would show all your active and closed accounts, how well you've paid your past and present credits, and other information regarding your credit-related history.
Factors such as collections, legal action, and garnishments such as bankruptcies and foreclosures will leave loan officers with a bad impression. These factors are indicators of defaulted loans or credit, and your personal loan application is more likely to be rejected if you have them. 
However, unlike banks, licensed money lenders generally don't scrutinise your credit score when looking through your loan application. They pay more attention to your income and outstanding loans. 
3. Unstable Employment
If job changes are frequent to you, especially when they occur in the midst of your loan applications, they may be a warning sign to your loan officer. Job changes may falsely portray that you lack a stable income to pay off your loans, and that you're at risk of losing your job.
It's good to note, though, that your chances of loan approval shouldn't be affected even if you're self-employed, or if you've switched jobs but remained in the same field. You will not be discredited for your hard work!
4. Insufficient Income
While you may have attained a high degree of job stability, loan officers will still look into your monthly and/or annual income when considering your application.  
A low income signals that you may not be able to pay off your debt in future. This means that you might need to wait for an income raise to increase your chances of getting your loan approved. 
5. Insufficient Credit Information
This is a rather complex situation. 
Perhaps it's been a couple of years since you graduated, and have never applied for a credit card or any form of loan before. 
While you might have had other ways of managing your finance—which is commendable too, this will result in a lack of information about your credit history and spendings. 
Hence, it's difficult for loan officers to thoroughly assess you and decide if they should extend a loan out to you eventually.
After having looked at these 5 factors that may have caused your application to be denied, what are some of the things that you can do to increase your chances?
Wondering what else to consider when applying for a personal loan? Here are some things to take note.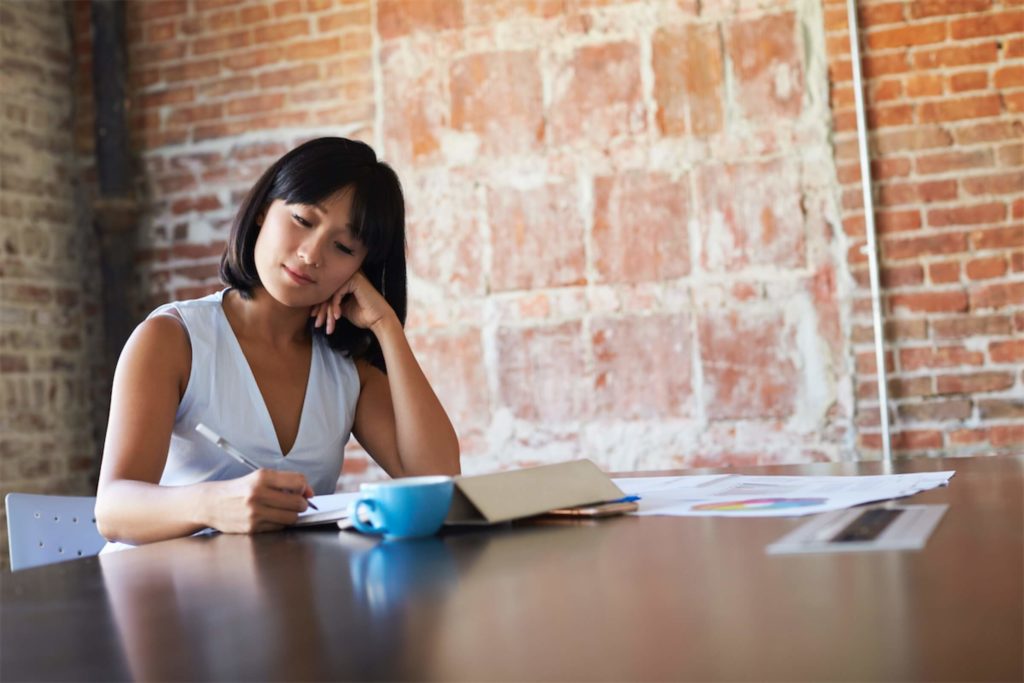 5 Simple Tips For You To Get Your Loan Approved
1. Pay Off Your Existing Loans And Bills To Keep A Clean Credit History
This will help improve your credit score and your chances of getting your personal loan in Singapore approved. 
Remember that your credit history plays a very big role in determining whether or not you're a low risk or high-risk client. Indicators such as defaulted and late payments are almost detrimental to the health of your financial state. 
By maintaining a clean record, not only does it showcase your ability to manage your finances, but also becomes a confidence booster for you to keep a good record.
Find out how else you can improve your credit score here. 
2. Get A Steady Job
Having a stable job is a reflection of not just a regular income, but also your ability to take on a new financial responsibility as a borrower. 
It's good to note that besides having a steady job, you also ought to have an income that can pay off your loan. If you've been denied, wait until your income improves for a few months, then apply for a loan again.
3. Restructure Outstanding Debts
Before applying for any loan, it's better if you could pay off your current outstanding debts. 
However, if you're struggling to do so, you can reach out to your bank and request for alternatives to restructure them. For instance, you may negotiate with your bank to reduce the interest rate charged to the current amount you owe and ask for a longer repayment period to lower the repayment amount each month.
Restructuring your debts can also mean signing up for a balance transfer and a debt consolidation plan. 
You may also consider approaching Credit Counselling Singapore for any assistance that you may need in setting up a debt negotiation meeting.
Wondering how credit counselling can help you restructure your debt? Learn all about it here. 
4. Take A Small Loan And Pay It off Punctually
You may not have been granted a large personal loan because of your credit score or bad credit history. 
To improve your credit score and credit history, you may consider taking out a smaller personal loan. After that, always keep track of your repayment dates to ensure that you repay on time.
It's extremely important that you demonstrate your ability to repay dutifully and punctually. Being granted a large loan (eventually) can take some time—you may need to borrow and repay small loans on multiple occasions beforehand to build up your creditworthiness. 
5. Consider Alternatives To Banks In Singapore
Apart from banks, licensed money lenders in Singapore also offer personal loans. They operate under the Ministry of Law (MinLaw), which restricts and regulates the amount that they can lend, the fees that they can charge, and the interest rate deemed acceptable for the general public. 
Check from the list of licensed money lenders at the Ministry of Law's website to make sure you're borrowing from a licensed one. As of April 2020, there are a total of 156 licensed money lenders here in Singapore, and one of them is Crawfort.
Unlike banks, licensed money lenders generally require you to clear less red tapes, and they are more open to extending loans even if you cannot meet the bank's criteria.
Got a bad credit score? Here's what you can do to get a personal loan. 
Before you approach any bank or licensed money lender in Singapore to apply for a personal loan, take a step back to evaluate your financial state. It's important that you understand the requirements for a loan application. 
Essentially, the most important thing is to ensure that you pay your loans on time and keep a clean financial record. With these 2 in place, you're more likely to get your loan approved! 
Thinking of applying for a personal loan with a licensed money lender? Apply now with Crawfort!